Landstuhl hospital imposes smoking ban on medical campus
---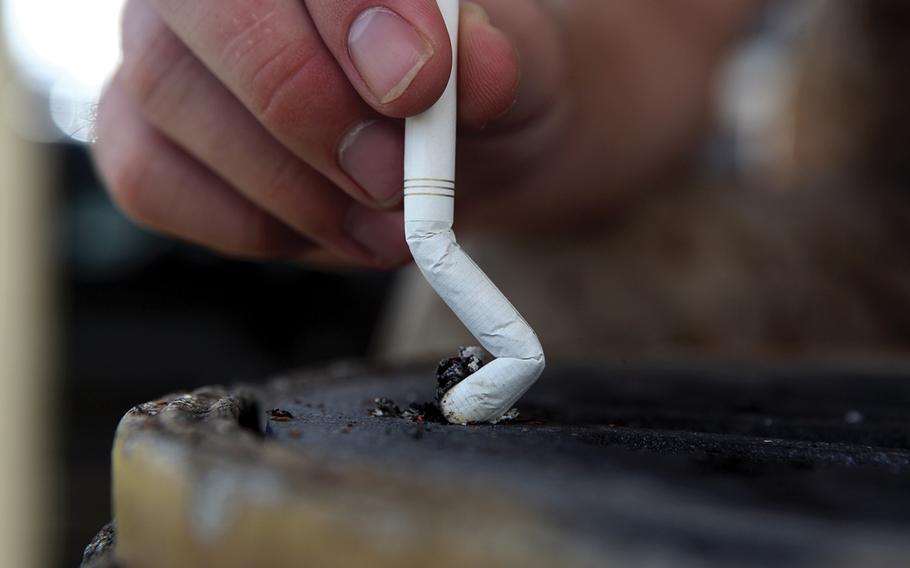 KAISERSLAUTERN, Germany — Now might be the right time for smokers who work at Landstuhl Regional Medical Center to kick the habit.
Starting Feb. 1, the U.S. military's largest overseas hospital will become a tobacco-free medical campus, hospital officials said Friday.
That designation means no employees, patients or visitors will be permitted to use tobacco products or electronic nicotine devices on hospital grounds. Included in the ban are cigarettes, cigars, pipes, smokeless tobacco — such as snuff, snus and chewing tobacco — and e-cigarettes.
The policy applies to all personnel assigned to U.S. Army Medical Command, including military members, civilians, contractors and local national employees, hospital officials said.
Outdoor smoking areas near the hospital will be moved farther away from medical buildings to outside the green-fence perimeter of the medical campus. The new areas are only a few minutes' walk from current designated smoking areas, officials said. But only visitors, patients and local nationals who aren't on duty will be allowed to use those, said Stacy Rzepka, a hospital spokeswoman.
Under the new policy, U.S. military members, civilians and contractors employed at the hospital won't be allowed to smoke during their duty day, even while on lunch breaks away from the hospital, Rzepka said.
Unlike local nationals, U.S. employees are still considered on duty while on lunch break, she said. "If they drive in vehicles, go to restaurants off post, it's still considered their duty day and they should refrain from smoking," she said.
For servicemembers assigned to U.S. Army Medical Command, the no-tobacco rule also applies anytime while they are in uniform.
When asked about how the policy will be enforced, Rzepka said: "It's not meant to be punitive in any way," but rather to encourage individuals to reduce or eliminate their tobacco use.
The hospital offers a variety of tobacco cessation programs for TRICARE and non-TRICARE beneficiaries. Local national employees can seek treatment through their host nation providers. Anyone can access the Army's online tobacco cessation program, UCanQuit2, at ucanquit2.org. It offers live chat sessions with a cessation coach and provides medication information.
LRMC officials said about 15 percent of their employees, both civilian and military, use tobacco.
"We understand the hardship this lifestyle change can create for some users of tobacco products, but U.S. Army Medical Command is taking the lead to improve the overall health for everyone in the MEDCOM family," as well as for patients, Col. James Laterza, LRMC's commander, said.
"As medical providers, every leader and employee should become a part of this health education process by modeling healthy behaviors to everyone around them by reducing or quitting their own tobacco use and supporting others who desire to do the same."
The new policy at LRMC is in support of U.S. Army surgeon general initiatives that promote tobacco-free living and tobacco-free medical campuses, officials said.
LRMC isn't the first Army hospital to go tobacco-free, but its new rules prohibiting servicemembers and U.S. civilian employees from smoking at all during the duty day appear more strict than others.
A year ago, Tripler Army Medical Center in Hawaii went tobacco-free. A commander's memorandum on the policy says that employees who want to use tobacco products during the duty day may do so during their official break and lunch periods as long as they are outside the designated medical campus boundaries.
Madigan Army Medical Center in Washington went tobacco-free in 2013.
LRMC officials said that other Army medical facilities in Europe are scheduled to become tobacco-free no later than May 2016. Those facilities include Army health clinics, veterinary clinics, dental clinics and Army Public Health Command Europe.
Several town halls are scheduled for those interested in learning more about the new LRMC policy. Two will take place in the LRMC chapel: on Jan. 25 at 4 p.m. and on Jan. 27 at 7 a.m.
A garrison informational meeting will also be held on Jan. 26 from 10-11 a.m. at the KMC Onstage Theater (Building 3232) at Kleber Kaserne.
---
---
---
---