Kosovo disturbances mimicked in training scenario
by
Steven Beardsley
November 18, 2011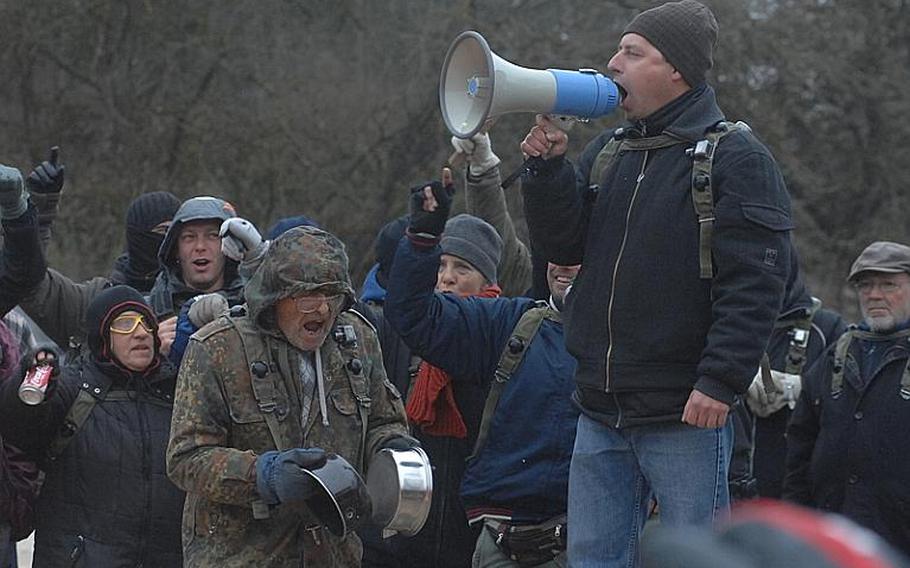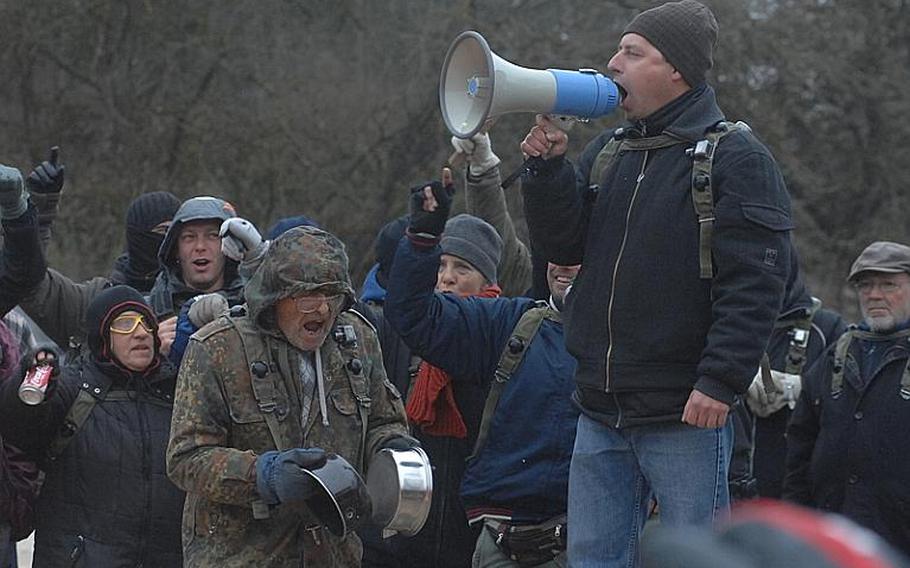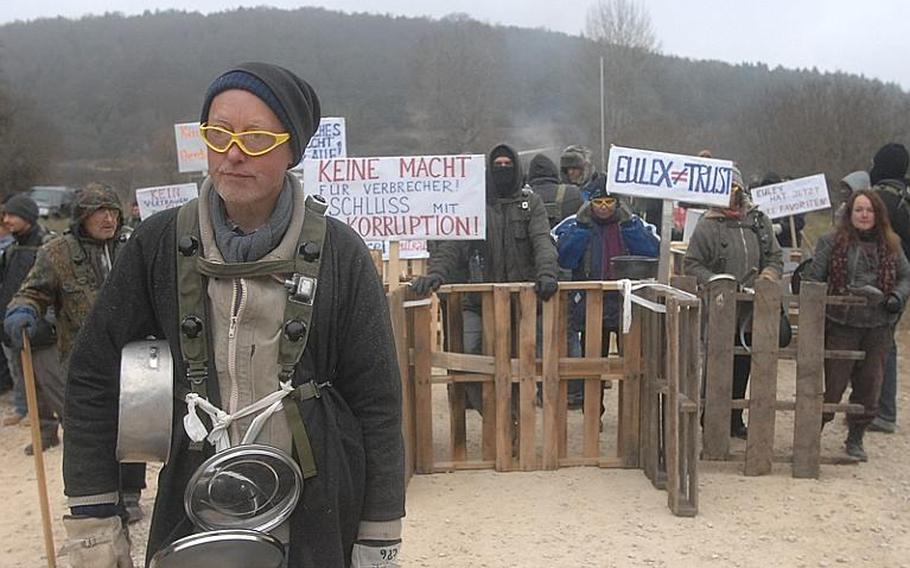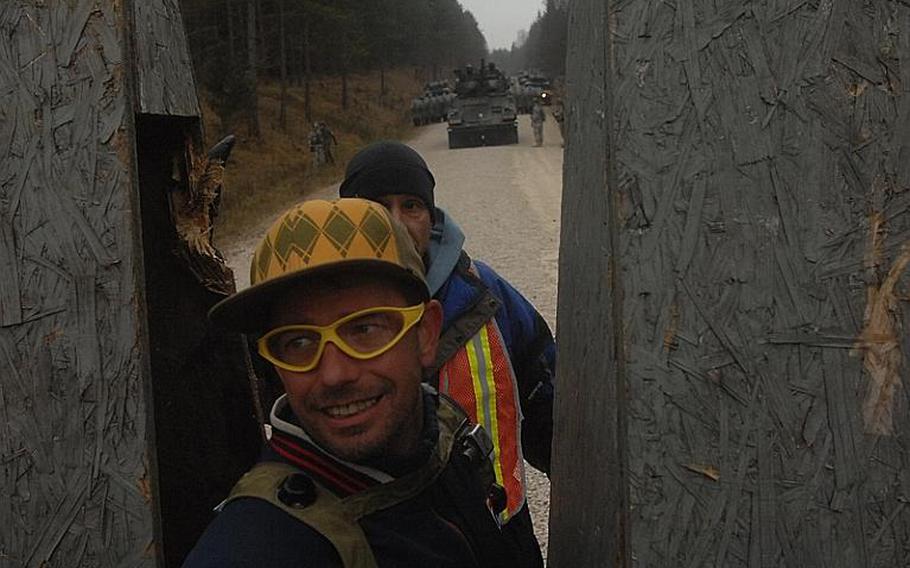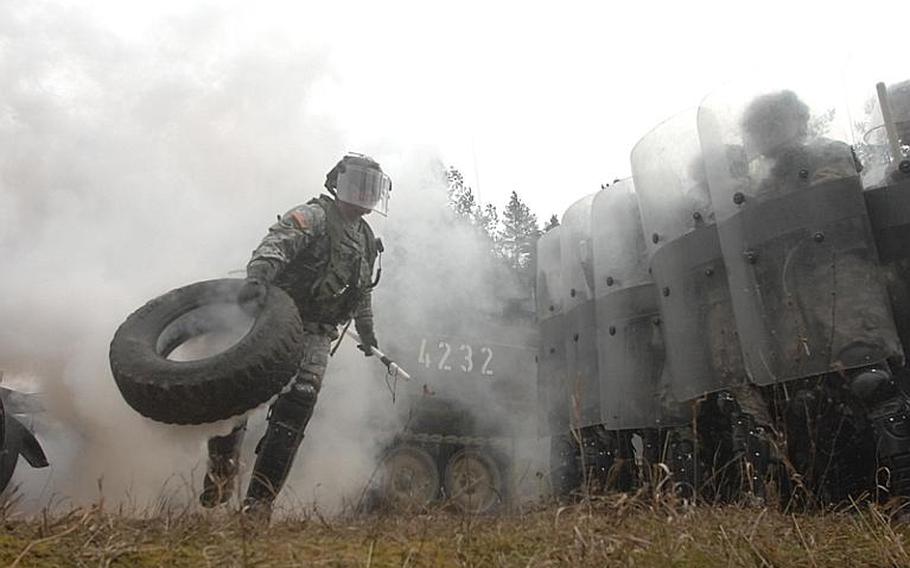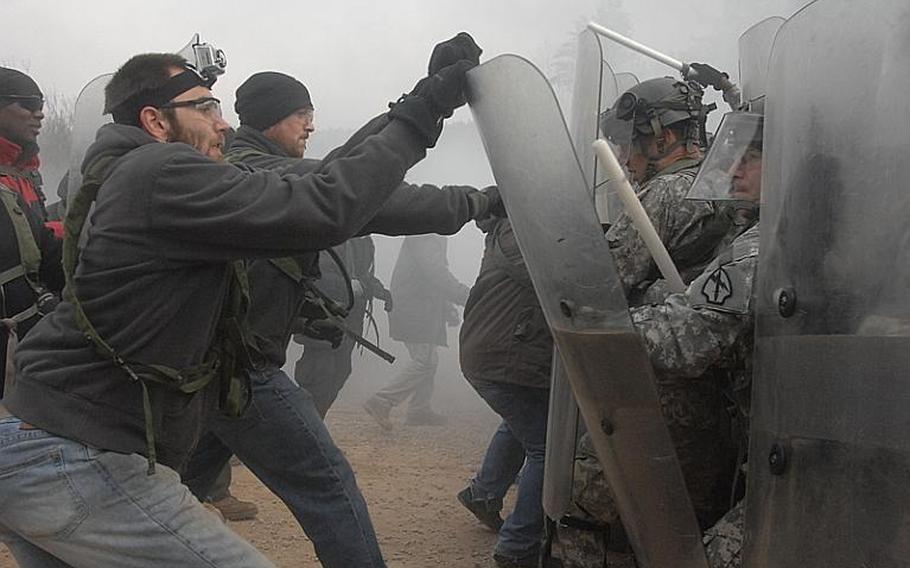 HOHENFELS, Germany – The chaos arrived in the early afternoon, hours after negotiations failed.
As soldiers in riot gear approached a makeshift roadblock and the mob that erected it, they were met with taunts and jeers. "U.S. go home!" the crowd began to chant. Then someone hurled a rock.
The riot that ensued was a training simulation – the "rocks" were sandbags, the mob was a group of role-playing Germans, retired soldiers and an active-duty platoon.
Yet it was a mimic of real events in Kosovo, the newly independent Balkan state — and the destination of a National Guard unit that recently trained at the Joint Multinational Readiness Center in Hohenfels. This summer, ethnic Serbs erected barriers on roads in the country's north, in a dispute over border crossings into Serbia, forcing violent confrontations with local police and a tense standoff with NATO peacekeepers.
Officials at JMRC, which regularly prepares U.S. and multinational soldiers for the NATO force known as KFOR, or Kosovo Force, decided to re-create the events as a training tool after a visit to the country last month.
Important tasks during a civil disturbance include holding formation in a line, minding flanks, responding with appropriate force and generally keeping composure at a time when emotions run high, said Lt. Col. Eric McFadden, a training leader at JMRC.
Judging by the action on Thursday, that's easier said than done.
The Guard unit, a maneuver company from Georgia, arrived with a track vehicle posing as a tank and several Humvees.
The roadblock — an assemblage of plywood planks, stacked wooden pallets and old tires — was easy enough to handle. The tank pushed through, slowly advancing on the mob, which backed away. Soldiers then formed a line the width of the road, their shields held together to form a barrier.
That's when the rioters emerged from the crowd, a dozen or so civilians played by a platoon with 1st Battalion, 4th Infantry Regiment, U.S. Army Europe's opposition force. Harassment was their tactic, 1st Lt. Todd Pitt, the platoon leader, advised his men before the exercise began.
"Try to steal batons, try to steal shields," he said. "Don't go jumping into their lines."
Platoon members taunted the soldiers. They grabbed at shields while dodging baton swipes, threw sandbags and rolled tires with smoke grenades inside. Someone suddenly hurled a smoking tire into the crowd.
In a pattern that repeated itself several times, the Guard line surged forward with abandon, an apparent effort to push the rioters back. Each time, the 1-4 took advantage of the resulting disorder in the line, gaining clean hits with sandbags and grabbing shields or batons.
"They tried to incite emotion from the soldiers to cause them to lose their focus and discipline," McFadden later said. "And once they lose focus and discipline, of course, the (opposition force) can take advantage of those situations."
Some soldiers seemed to take things personally. Several times, a soldier dropped his shield and baton to tackle one of the rioters. JMRC observer-controllers, referees in the exercise, broke each scuffle up to resume the scenario.
"That's where they failed—they got angry," offered Lt. Col. Mitchell Watkins, the 1-4 battalion commander and a participant with his platoon.
They also appeared to improve over the course of the exercise. Soldiers began to move in lock-step, counting out each step forward. They moved to protect their flanks, keeping shields up and preventing individual soldiers from lurching forward. They learned to hold their shields properly, preventing them from being pushed against them and causing injuries.
The rioters were eventually thinned out at the discretion of the observer-controllers, taken out by a range of nonlethal weapons — among them rubber bullets — that KFOR soldiers might actually use, but didn't use in the exercise. The company eventually reached the boundary line that was its goal.
McFadden said the simulation achieved what trainers wanted, making the company adjust to the situation around them.
"It's better to learn the hard lessons here than have to deal with the hard lessons once you deploy," he said.