Italy could face Christmas lockdown if new surge in coronavirus cases isn't curbed, expert warns
by
Nancy Montgomery and Norman Llamas
October 15, 2020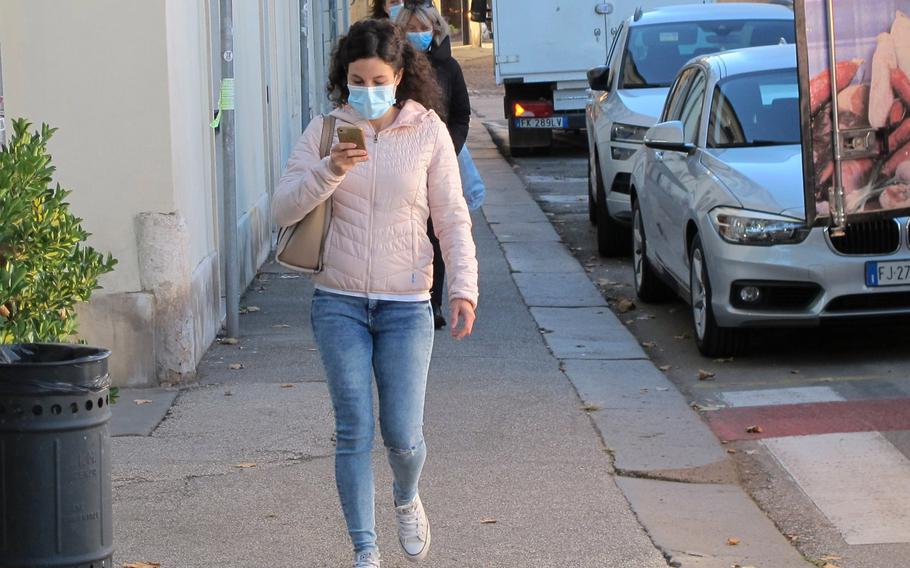 Stars and Stripes is making stories on the coronavirus pandemic available free of charge. See other free reports here. Sign up for our daily coronavirus newsletter here. Please support our journalism with a subscription.
VICENZA, Italy — Italy reported a record 7,332 new coronavirus cases Wednesday as officials scrambled to contain the virus and scientists said a new lockdown might be needed.
The sharp increase in cases, up from 5,898 a day earlier, exceeded the nation's previously highest tally of 6,557 on March 21, during the first wave of the virus, which hit Italy particularly hard.
Some of that may be explained by testing surges, health officials said, but the percentage of positive tests also rose from 5.4% on Tuesday to 8.4%.
The country could face a second nationwide lockdown at Christmas to "lower the transmission of the virus and boost contact tracing," Andrea Crisanti, Padua University virologist and coronavirus expert, told Italy's Rai News 24 channel on Wednesday.
"I think a lockdown at Christmas is in the scheme of things," Crisanti said. "As cases increase, the capacity for contact tracing and taking swabs decreases, and we enter a vicious cycle that increases the transmission of the virus."
"The virus must be stopped," he added. "In 15 days' time, I would not like to find myself discussing 10,000 to 12,000 cases a day."
Italy was the first country in Europe to be hit hard by the virus and began locking down in February. The country began reopening in May.
There have been at least 372,700 confirmed cases of coronavirus in Italy, according to the Italian Department of Civil Protection. As of Thursday morning, 36,289 people had died.
American military officials have followed Italian measures or imposed stricter rules since the beginning of the pandemic.
As case numbers rose last week, Italy required masks to be worn outdoors as well as indoors across the nation. On Wednesday, a new decree extended measures aimed at stemming the spread of the virus.
School field trips and informal games of contact sports are banned under the new rules, Aviano Air Base officials said on the base's website. Baseball, football, rugby, numerous forms of martial arts and cheerleading are among the sports prohibited.
"Contact sports are only allowable if played by a professional club or an amateur association or club recognized by the Italian Olympic Committee," according to the website.
Military ceremonies, such as for retirement and promotion, are still allowed, but receptions that follow them must be limited to 30 attendees, all of whom must wear masks and follow physical distancing rules, which in Italy means they have to stay at least one meter apart.
Indoor and outdoor public gatherings have been banned, and authorities have recommended that people don't have more than six people from outside their immediate circle in their homes at any one time.
"A sense of great responsibility on the part of everyone, to avoid the increase of infections as much as possible, must continue to prevail," said Massimiliano Fedriga, president of the Friuli Venezia Giulia region, which includes Aviano. "On the other hand, we obviously have to keep an economic working system in place. That cannot be discarded."
montgomery.nancy@stripes.com Twitter: @montgomerynance
llamas.norman@stripes.com Twitter: @normanllamas