Islamic State claims responsibility for Ansbach attack
by
Michael S. Darnell
July 25, 2016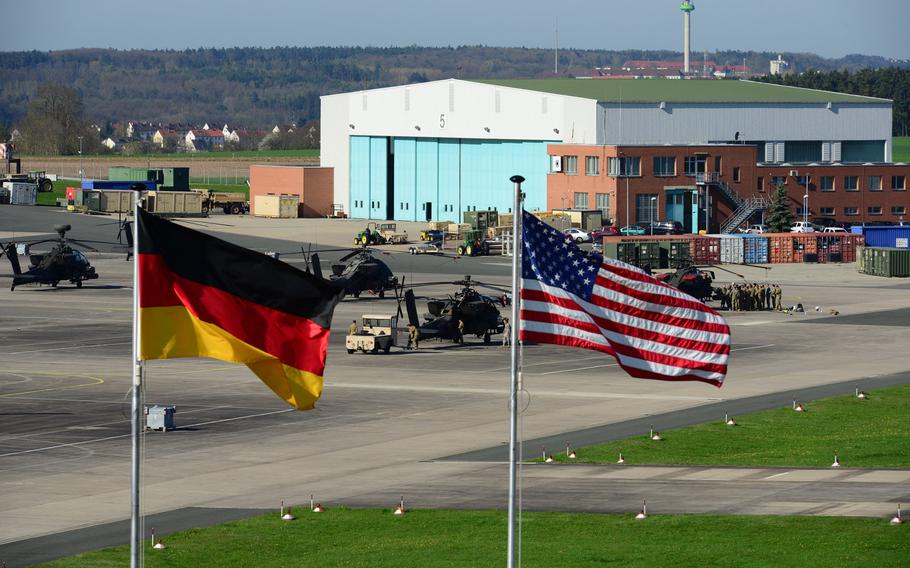 GRAFENWOEHR, Germany — Security on the U.S. Army base in Ansbach was stepped up Monday following a suicide attack in the city over the weekend, with authorities saying the attacker had pledged allegiance to the Islamic State group.
U.S. officials said no Americans were among the injured when a 27-year-old Syrian asylum-seeker blew himself up after being denied entry to a music festival because he didn't have a ticket.
The Bavarian interior minister, Joachim Herrmann, said a video was found on the man's cell phone in which he professed allegiance to the leader of the Islamic State group, Abu Bakr al-Baghdadi and pledged to take revenge on Germans for killing Muslims.
Meanwhile, The Associated Press reported from Beirut on Monday that the militant group had claimed responsibility for the attack.
Fifteen people were injured, four of them seriously, officials said. Casualties could have been higher if the attacker had been admitted to the venue, which was attended by about 2,000 people, police said. There were pieces of metal packed in the explosive that were strewn over a wide area. Prosecutor Michael Schrotberger said the bomb was constructed to kill "as many people as possible."
It wasn't yet clear, he said, if there was a network involved in the attack.
The federal prosecutor's office said in a statement Monday evening that it was suspected the bomber acted as a member of the Islamic State. The prosecutor's office was investigating whether there were others involved or behind the attack.
The bombing was the first of several recent attacks in Germany to target a town with a large American military population.
A 100 percent accountability check was issued for the roughly 7,000 military and civilian personnel in the U.S. military community scattered throughout Ansbach, Katterbach and Illesheim in the southeastern state of Bavaria.
"As of right now, we have no knowledge of any American personnel being injured," said Connie Summers, spokeswoman for U.S. Army Garrison Ansbach. Capt. Jaymon Bell, spokesman for the 12th Combat Aviation Brigade, operating out of nearby Illesheim and Katterbach, said the same.
In a post on the garrison Facebook page, officials said some access points on base were being closed and people should expect delays getting on base.
"In light of last night's incident, to reinforce the security of our community members, force protection measures will be modified at U.S. Army Garrison Ansbach," the garrison said.
The U.S. military also offered assistance to German authorities after the attack.
"First responders from U.S. Army Garrison (Ansbach) were prepared to assist last night; however, they were not needed due to the number of German emergency personnel who reported to the scene," said Ray Johnson, a spokesman for Installation Management Command Europe.
German officials said the man had previously attempted suicide twice and had been in psychiatric treatment. He had been in Germany for about two years. His asylum request was denied, but he had been allowed to stay in the country because of the situation in Syria. The federal Interior Ministry said later Monday that the man was to have been deported to Bulgaria, as he had registered as a refugee there before arriving in Germany.
He also was known to police for petty crimes and drug possession.
Herrmann earlier told the German news agency dpa he considered it "very likely that a true Islamist suicide attack has taken place here."
Germany has been rocked by four attacks in just over a week. On Friday, an 18-year-old identified as a dual German and Iranian citizen shot dead nine people and injured many more in downtown Munich in a rampage that brought the city to a standstill. He later killed himself. Mass shootings in Germany — with four or more people killed — are extremely rare, the last carried out in 2009 in the town of Winnenden by a teenage gunman.
Earlier Sunday, a pregnant woman was hacked to death in an attack by a Syrian refugee known to German police in Reutlingen, south of Stuttgart, where U.S. European and Africa Commands have their headquarters.
Neither of those incidents appears to have been motivated by any connection to the Islamic State group or other Islamic extremist organizations, German authorities have said.
Last week, an Afghan refugee attacked passengers aboard a train in Wuerzburg, injuring four tourists from Hong Kong and a fifth person after he fled the train. He was killed by police. A hand-painted Islamic State flag was among items found in the Afghan refugee's room, German media reported.
The Bavarian justice minister, Winfried Bausback, said in a Facebook post of Sunday's attack and the ax attack on the train, "Islamist terror has reached Germany."
Germany took in more than a million refugees and migrants last year — most from Syria, Iraq and Afghanistan.
While there has been a wave of terrorist attacks across Europe during the past year, stretching from Brussels and Paris to small German towns, so far there has been no sign that attackers are targeting the American military community spread out across the Continent.
Illustrating how on edge Germans have become in light of the recent attacks, police in Kaiserslautern — home to the largest U.S. military presence outside the continental United States — reported that passersby were alarmed by a man wearing a U.S. Army uniform and face mask walking down the street. The man was German, police said.
Marcus Kloeckner and Stars and Stripes reporter John Vandiver contributed to this report.
---
---
---