Incoming senior enlisted leader brings blunt talk, high standards to the job
by
John Vandiver
November 6, 2019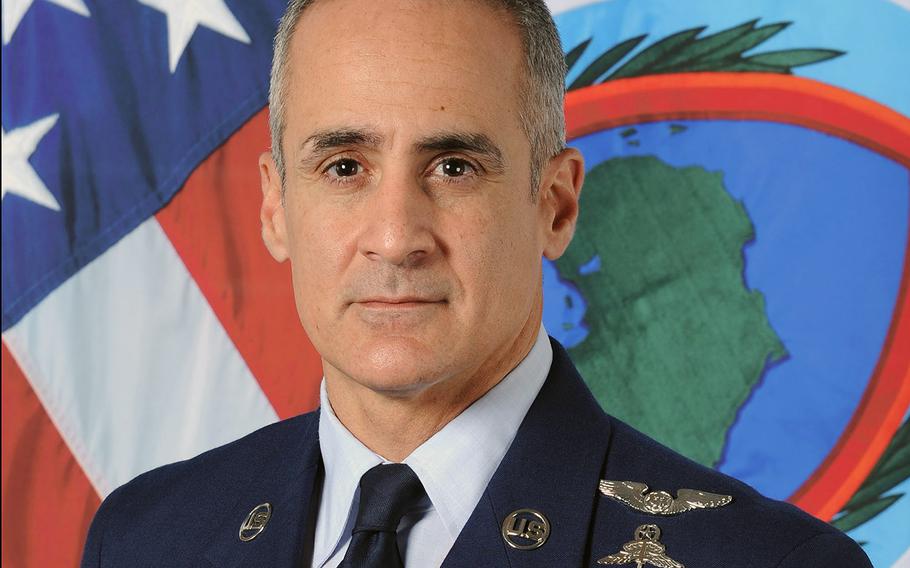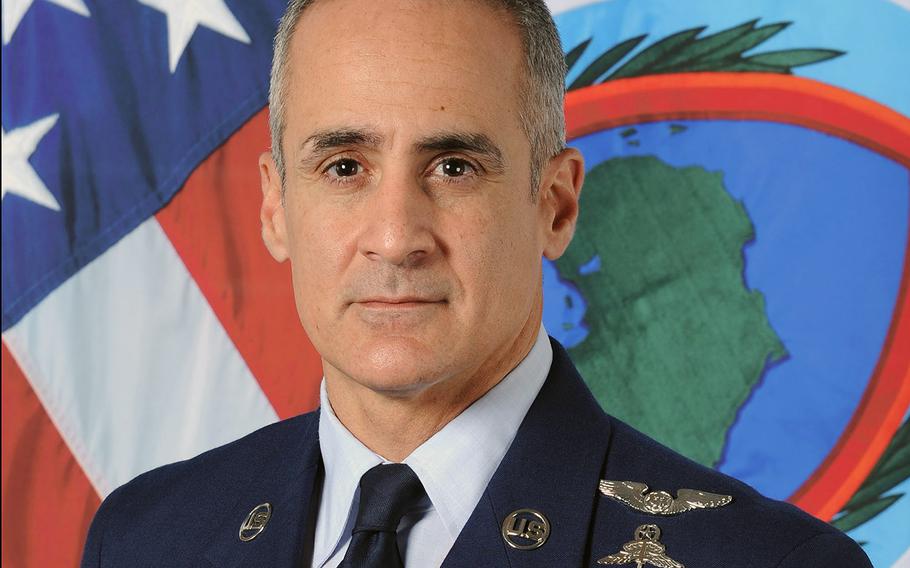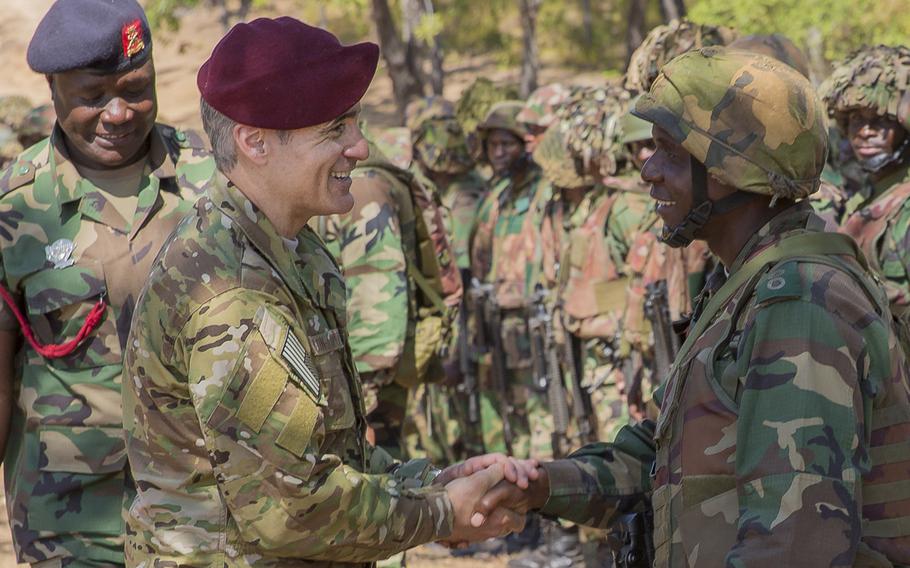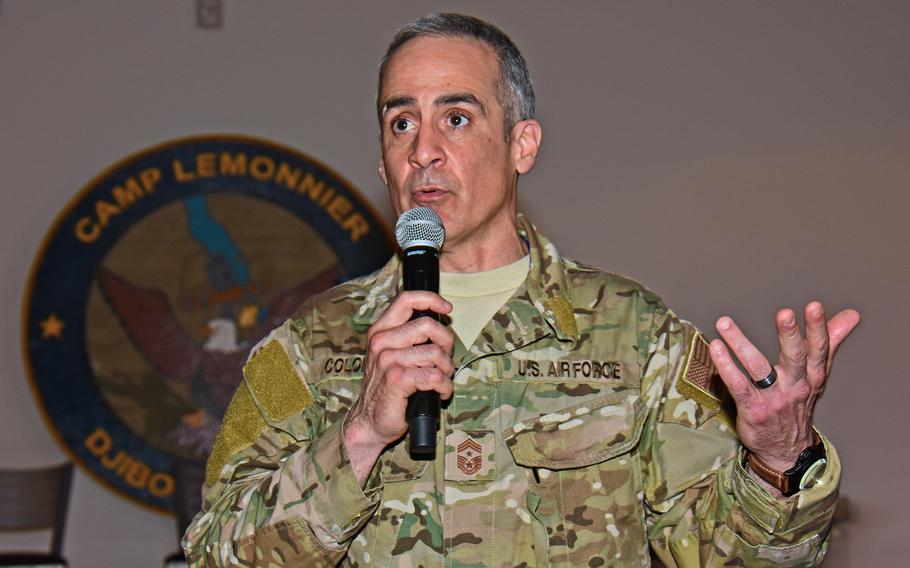 STUTTGART, Germany — When Ramon "CZ" Colon-Lopez was a freshman at Sacred Heart University in Connecticut 30 years ago, he had the fire of a future hard-charging Air Force pararescueman but lacked discipline.
"I had too much energy," he said. "I wasn't a bad student, but I wasn't a focused student."
In search of purpose, Colon-Lopez did what millions of youngsters have done for generations: he turned to the military.
Now, 29 years after joining the Air Force, Chief Master Sgt. Colon-Lopez is poised to become the military's top enlisted service member, capping a career that has included long stints as a special operator in Afghanistan.
When he formally assumes his new duties next month as senior enlisted adviser to Chairman of the Joint Chiefs of Staff Gen. Mark Milley, Colon-Lopez will bring with him a penchant for blunt talk, a fixation on maintaining military standards and a focus on discipline that's been honed over three decades.
As the military's senior enlisted leader, a position established in 2005, Colon-Lopez will also be a voice to military brass on issues facing the enlisted ranks.
One focus will be connecting with the special operations community from which Colon-Lopez came, he said during an interview at his office in Stuttgart where he serves as U.S. Africa Command's senior enlisted leader.
Numerous high-profile instances of misconduct within the ranks of the elite units over the past few years have revealed what senior special operations commanders have described as a damaged culture of discipline.
"Clearly, our special operations forces have been gunning and running pretty hard for the last two decades," Colon-Lopez said. "There are some cracks in the armor that we have to pay close attention to.
"By virtue of credibility and being a member of that community, I think it is going to facilitate a lot of the conversations," Colon-Lopez said.
Discipline and standards Service members curious about Colon-Lopez's priorities can look to his writings on leadership and conduct.
Known in Air Force circles for his essays on "carnivore leadership" – an idea that involves a push to exceed standards – Colon-Lopez has written at length on the dangers of rewarding mediocrity.
"We have sunk down a slope of entitlement and selfishness that has eroded the honor of being a U.S. service member," he wrote to his airmen while serving in 2013 as command chief of the 18th Wing at Kadena Air Force Base in Japan. "This false sense of self-worth and value to the organization is a product of many years of leadership ignoring weak performers and failing to help them become productive Airmen."
When it comes to underperformers, "Mediocrity must be killed and mediocracy overthrown," he said at the time.
In a similar vein, Colon-Lopez is unlikely to advocate for relaxing military grooming standards or granting "waivers in order to be lazy and non-compliant."
"Always make it a point to look your best upon waking up. Do not spout excuses when you fall short of a standard," he wrote in one of his leadership essays.
Plaques and memorabilia cover the walls in Colon-Lopez's Stuttgart office, including a bat from retired Yankee Derek Jeter that he will be taking with him to his new job in Washington.
A lifelong fan, he said he's learned lessons from the Yankees over the years about how standards and winning go hand in hand. The Yankee pinstripes are the same as those worn by Babe Ruth a century ago. The players must keep their hair short. No beards are allowed, unlike other ball clubs.
Finding focus as a PJ Born in Puerto Rico, Colon-Lopez moved to Connecticut when he was a teenager.
It was in Bridgeport, Conn., that he wound up in the Air Force, almost by accident. At the local recruiting station, the Marines weren't around and the Army guy was busy, Colon-Lopez recalled. That left the Air Force recruiter.
"I need to get the heck out of Bridgeport, Connecticut. How do I do that?" Colon-Lopez asked at the time. The answer was to sign on as an Air Force transportation specialist.
"I had a couple of rough years adjusting," he said. "I was a good airman, but I started reverting to my ways at college. Too much energy, not enough focus."
Eventually he realized a desk job wasn't for him and, after meeting a pararescueman, decided to give the program a try. His first reaction when training started was, "What the hell did I get myself into?"
After 12 weeks, the class of more than 100 airmen at the demanding special operations school had been whittled down to 12 – and Colon-Lopez was one of them. By the time the two-year course was done, only Colon-Lopez and a couple of others had made it through.
"That's when my life was defined," he said. "I knew I was going to be an airman for life. And the pararescueman code, that became the script for my life."
Soon after Sept. 11, 2001, Colon-Lopez deployed to Afghanistan, where he took part in numerous combat search and rescue missions to capture or kill high-value targets. In 2004, he provided personal security for Hamid Karzai, then the newly elected president of Afghanistan.
During his time in Afghanistan, he was awarded the Bronze Star with Valor and was among the first to receive the Air Force Combat Action Medal.
Impacting Africa During his three-year tenure in Stuttgart, Colon-Lopez has changed how AFRICOM coordinates with NCO corps across the African continent. In 2018, regional training hubs were launched in four African countries and four more such "centers of excellence" will be set up in the year ahead.
AFRICOM's Gen. Stephen J. Townsend said Colon-Lopez's "leadership and innovation will positively impact generations of African military partners."
"His Africa Enlisted Development Strategy will be an enduring legacy and key to building and increasing the capacity of our partners," Townsend said in a statement.
Malawi now runs a sergeant majors academy where 12 other countries send personnel for schooling.
"We are seeing dividends," Colon-Lopez said. "It's creating sustainable options for our African partners."
vandiver.john@stripes.com Twitter: @john_vandiver