GALLERY
Hundreds at Ramstein Air Base greet stars and watch early screening of 'Jack Ryan'
---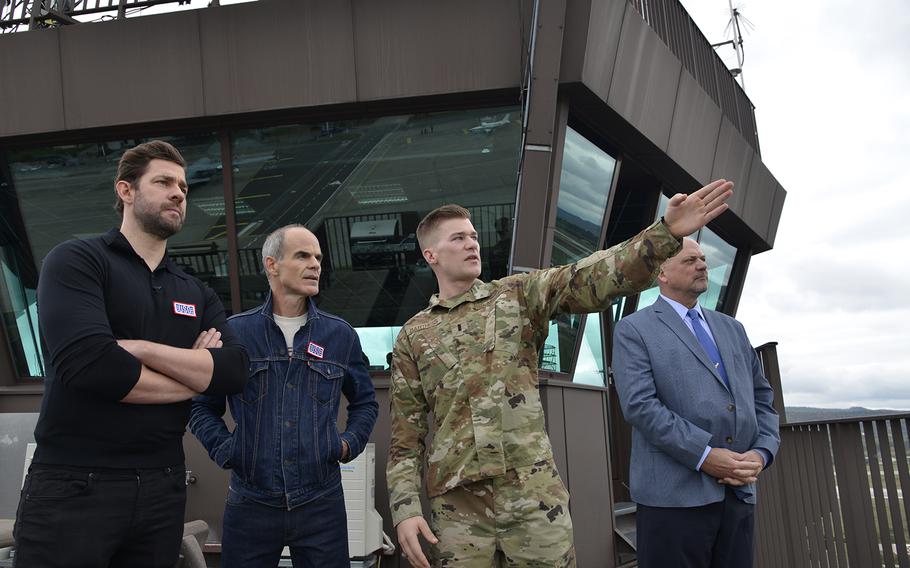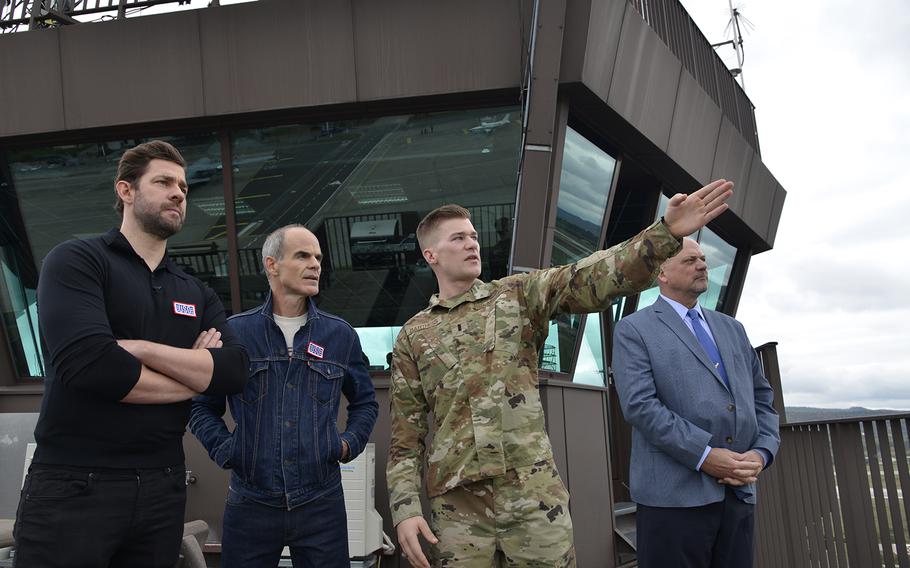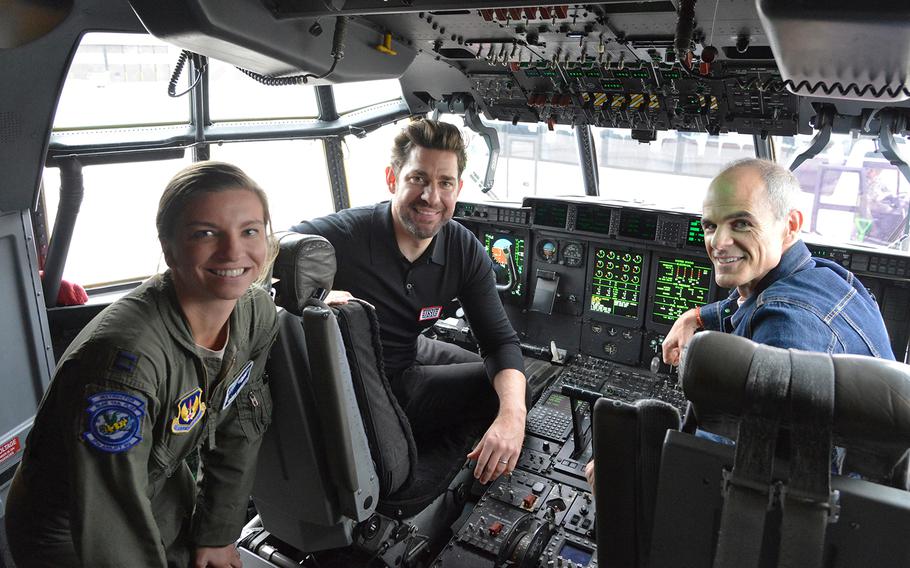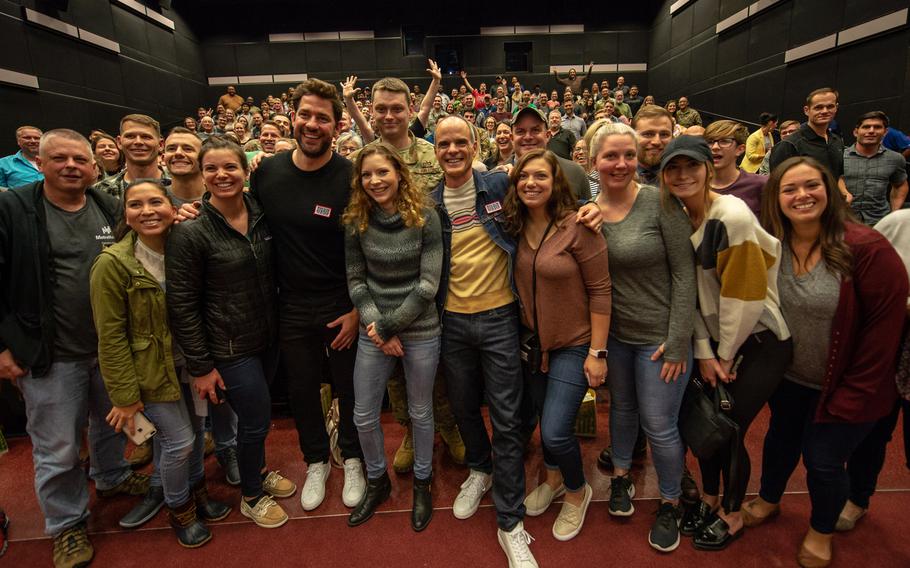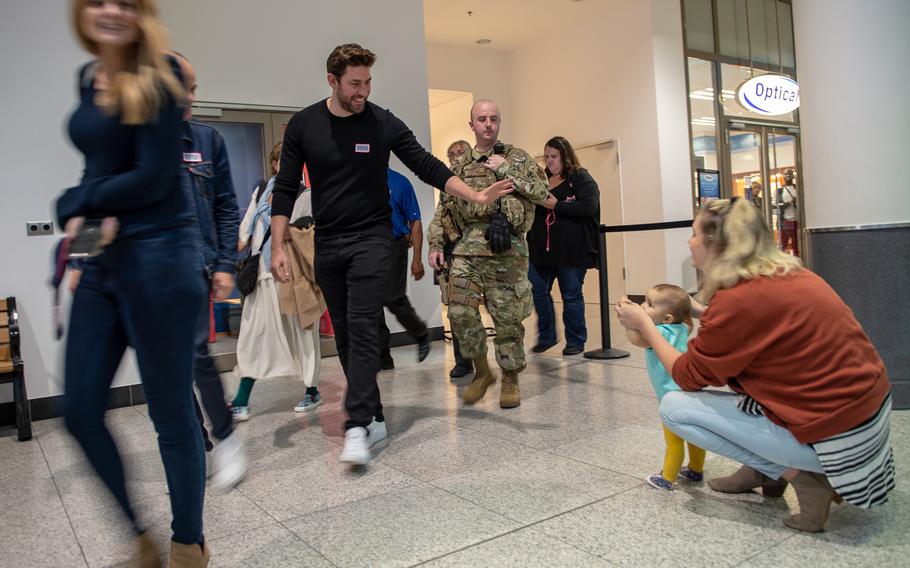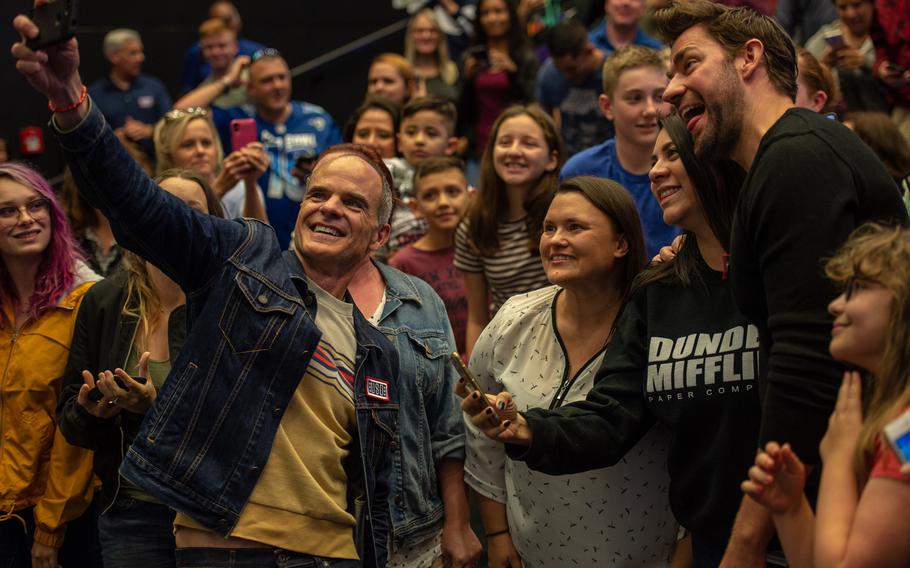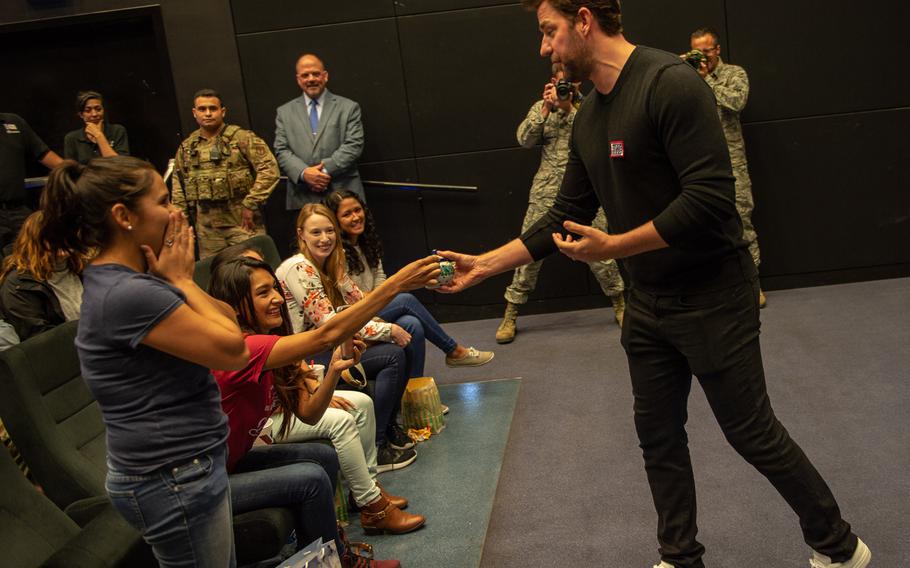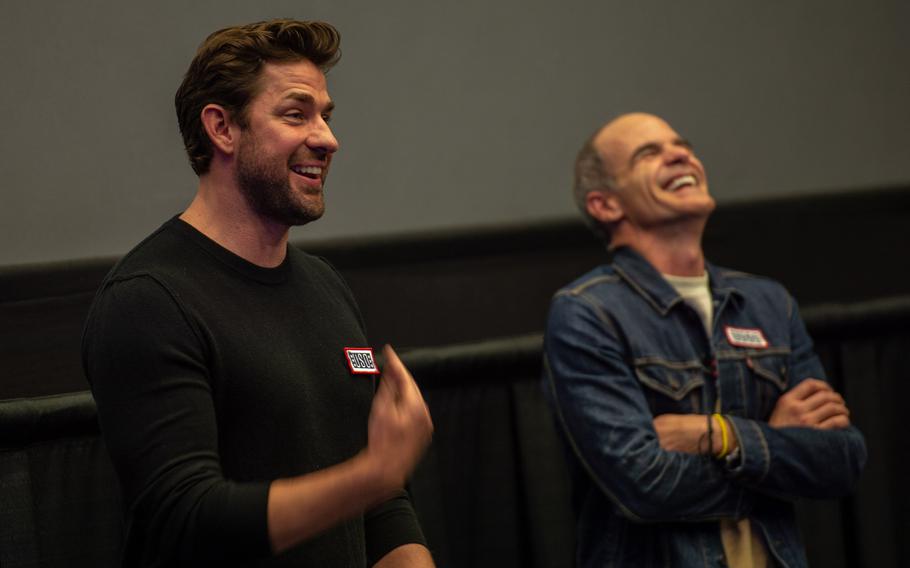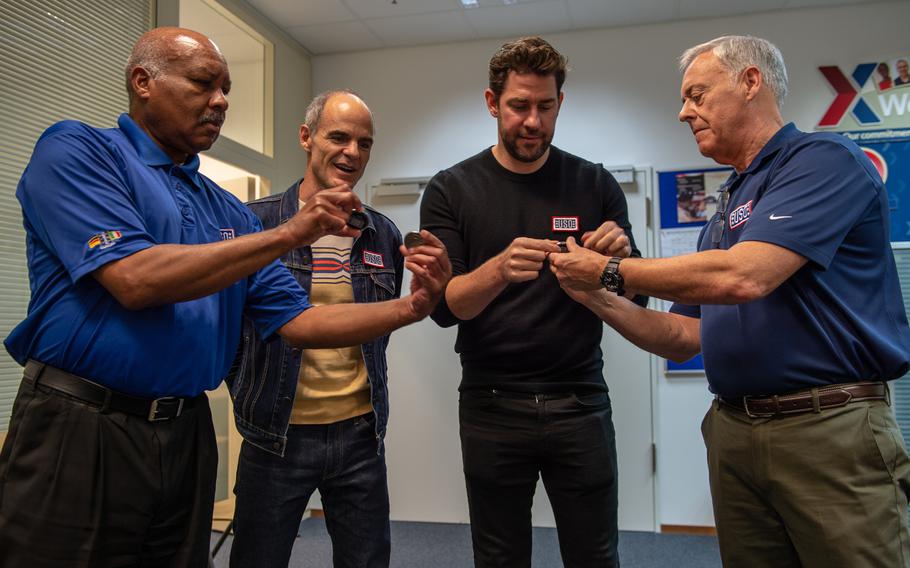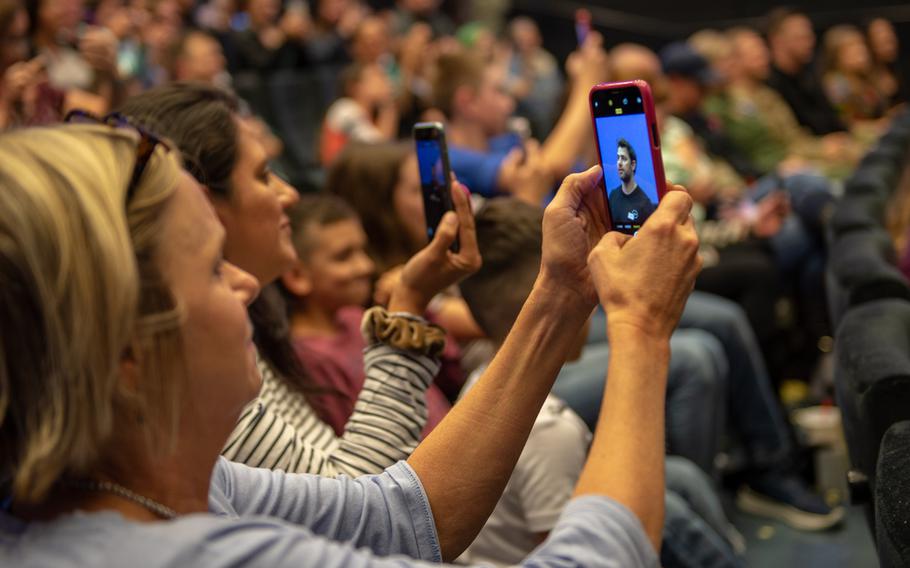 RAMSTEIN AIR BASE, Germany — About 500 people filled the Ramstein base movie theaters Tuesday night to greet two stars of "Tom Clancy's Jack Ryan" and catch an early screening of the drama's season two opener.
The USO-sponsored event allowed servicemembers and their families to watch the episode ahead of its Nov. 1 release on Amazon Prime.
For many, the big draw was an appearance by John Krasinski, who greeted the audience along with actor Michael Kelly.
Krasinski, who plays Clancy's iconic protagonist, Jack Ryan, is also widely known for playing Jim Halpert on the U.S. version of the comedy "The Office."
Senior Airman Jazmin Flores, 21, said she was waiting in line mainly to see Krasinski. Flores knows him mostly from "The Office," she said, and loved his character "for his pranks, definitely his pranks."
Krasinski takes a more serious turn in Jack Ryan as a fledgling CIA analyst who ends up, in season one, chasing down the mastermind of a terrorist cell in Syria.
Ryan, a former U.S. Marine and stockbroker, heads to Venezuela in season two to track a potentially suspicious shipment of illegal arms.
Kelly, previously known for his role as Doug Stamper in the presidential drama "House of Cards," portrays CIA field officer Mike November.
The Ramstein visit was the second of two stops for the actors on a USO tour they fit in while promoting "Jack Ryan" in London. On Saturday, the actors visited RAF Alconbury in England.
They're on break from the show, with shooting for season three expected to begin next year. Krasinski is also editing the sequel to the horror movie he co-wrote and directed, "A Quiet Place," scheduled for release in March.
Their day at Ramstein began with a tour that included sitting in the cockpit of a C-17 cargo plane and participating in a military working dog demonstration.
"Everyone kept trying to say, 'thank you' to us," Krasinski said, while visiting with fans. "That's just ridiculous because we just keep trying to say 'thank you' to them. Thank you for everything you guys do … and for letting us be here. This is just pure fun and we've had a blast."
"It really does mean the world to us to give this to you guys first," Kelly told servicemembers.
Before the screening, Krasinski and Kelly ducked into each of the four theaters playing the show to chat with audience members, who greeted them with screams and cheers.
The actors were generous with their time, answering questions and fronting group selfies.
One kid asked Krasinski if he would adopt him. "Yes, I will, sure," he said.
Baumholder spouses Erica Lozano, Karina Galvan and Jessica Jackson presented Krasinski with a teapot, a gift fans of "The Office" will remember from the "Secret Santa" episode.
"We're starstruck," they gushed.
Someone wanted to know how hard it was to play Jack Ryan.
"Not at all," Krasinski said with a laugh. "I was sort of born for it."
Joking aside, Krasinski said, "it was actually a big change for me. I've loved the character for a really, really long time, but the key for me was to make it realistic."
It's challenging to portray the CIA in a way that sheds "light on the sacrifice that goes on," he said. "That was important to me."
The various stunts, from firefights to prisoner interrogations that go awry, present another challenge. "We didn't do a lot of them on 'The Office,'" he said, "so I wasn't used to that."
But going from office worker to CIA operative wasn't too much of a stretch, he said.
"If you saw the first season (of 'Jack Ryan'), I sit behind a desk. I had some experience with that," he joked. "I think I pushed some paper around."
It was his turn as a bearded former Navy SEAL in the movie "13 Hours," about the 2012 attack on the American diplomatic compound in Benghazi, that landed him the part of Jack Ryan. He put on 25 pounds of muscle for the role.
Paramount, he said, saw an early screening for the movie when they were casting for Jack Ryan.
"They said, 'Would you ever want to do it? I said, 'I'm already in shape, let's go,'" he told the audience.
The show relies on intelligence and military consultants to make sure they portray those communities accurately. In Tuesday's screening, the episode portrayed a character who said he was treated at Landstuhl after being injured in Afghanistan. Krasinski also did some crying in one scene.
It's easier for him to cry when he's laughing, he revealed to fans, after someone asked if he was able to cry intentionally.
"I'm a crier-laugher," he said. He cried the hardest he has in a long time earlier in the day, after Kelly donned protective gear for the canine demonstration and was "attacked by a guard dog."
"If I show you the video you will laugh as hard as you ever laughed," he said. "He is the slowest human being ever in full marshmallow (suit)."
svan.jennifer@stripes.com Twitter: @stripesktown
---
---
---
---