Hohenfels reading specialist is first DODEA teacher to win $10,000 education prize
---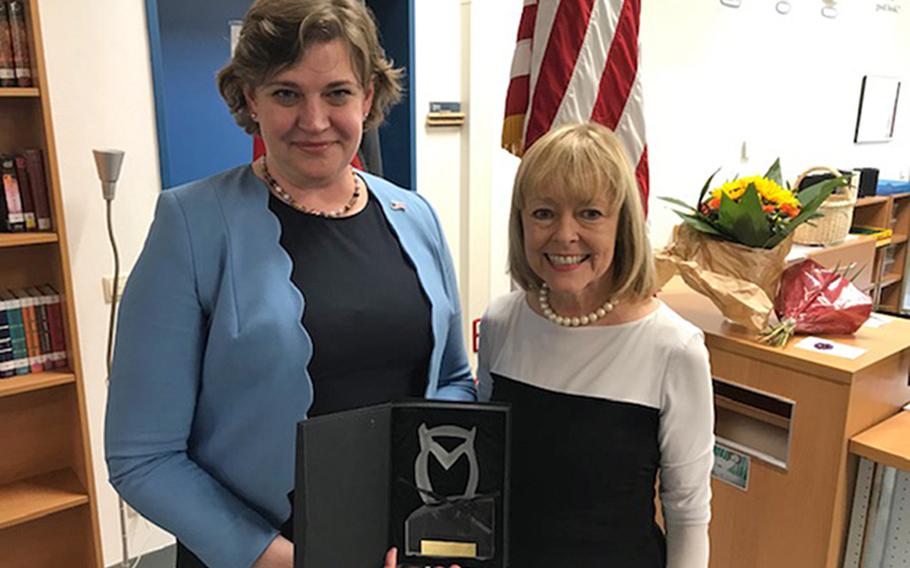 KAISERSLAUTERN, Germany — A teacher who uses music to help struggling young readers at Hohenfels is the first Department of Defense Education Activity educator to receive a prestigious teaching award that comes with a $10,000 prize.
Patricia Hannon, a reading specialist at Hohenfels Elementary School, is one of five recipients of The NEA Foundation's 2020 Horace Mann Award for Teaching Excellence.
She is also in the running for the foundation's top honor, which comes with a $25,000 award. The winner will be an-nounced at a gala in Washington, D.C., in February.
Hannon isn't certain whether she'll get to keep the prize money due to federal ethics rules on receiving gifts. But being named the first Horace Mann finalist from DODEA was an honor, she said.
"It's a wonderful opportunity to shine a spotlight on the military child, as well as the teachers that teach them," she said.
Hannon has harnessed her music background — she plays the cello and taught music at a university in Iowa before coming to DODEA 13 years ago — to help children from kindergarten to third grade overcome reading difficulties.
"I've discovered over the years that teaching little kids to read is almost exactly like teaching music," she said. "When you come into my classroom, you'll see kids chanting and drumming and singing, and we work with a metronome."
Hannon's students sound out new words, using a process that involves lots of repetition.
Because "it can get really boring," Hannon said, she has her kids sing the sounds, and adds a metronome to the exer-cise "to mix it up."
She was also instrumental in getting Hohenfels to roll out teaching practices that have helped to boost reading profi-ciency among kindergarten through third-grade students by 10 percentage points, data provided by DODEA show.
The company that sponsors the award — the Horace Mann financial services and insurance company, which primarily serves educators — is named after the Massachusetts educator who is considered a founding father of U.S. public education.
Hannon was nominated for the award by the union representing DODEA educators, the Federal Education Association.
"With over three million eligible educators nationwide, this recognition speaks volumes of not only Tricia's work and passion for education, but also of Hohenfels Elementary School and the community," Dell McMullen, the director of DODEA schools in Europe, said in a statement.
svan.jennifer@stripes.com Twitter: @stripesktown
---
---
---
---