Historic joint air patrols take to sky over Bulgaria
---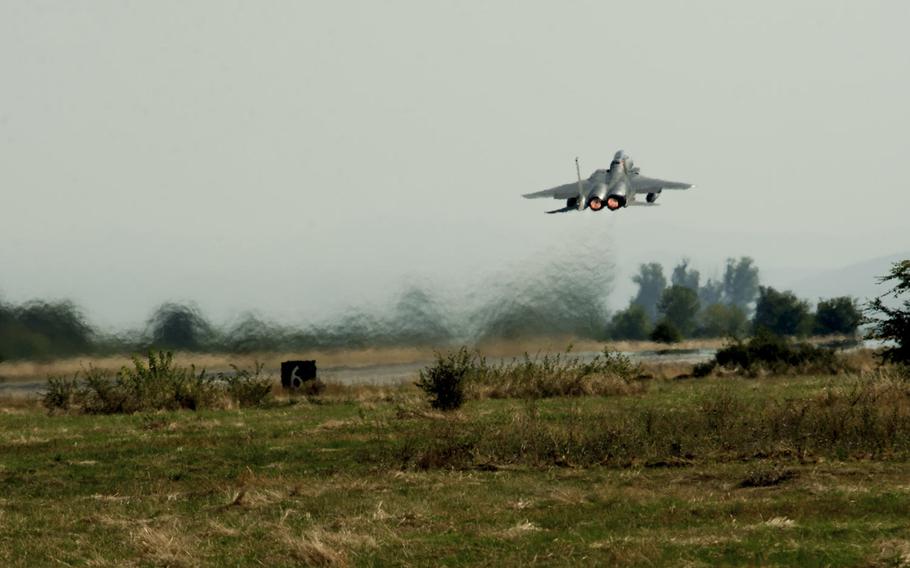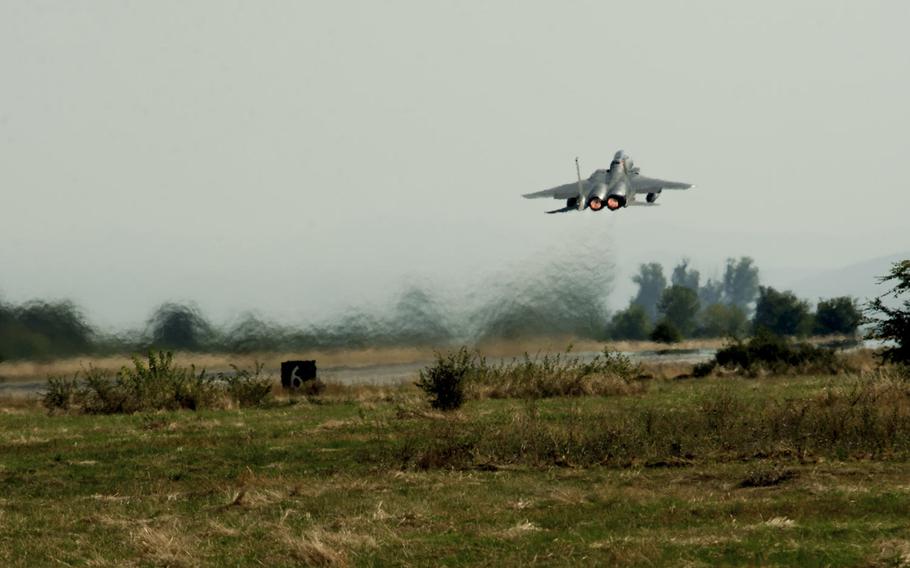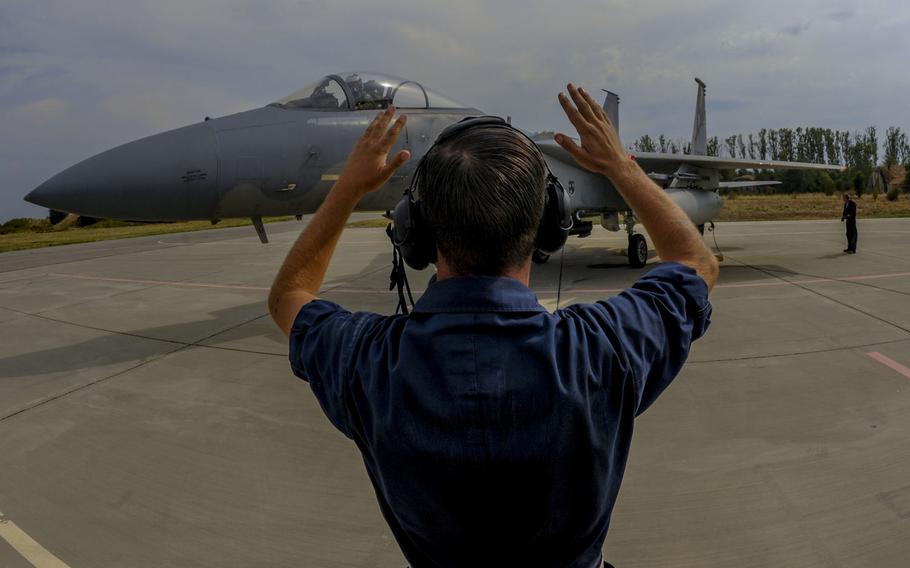 KAISERSLAUTERN, Germany — Soviet-era combat aircraft are sharing the skies this week with U.S. fighter jets over Bulgaria, conducting for the first time a joint NATO air policing mission aimed at boosting NATO's eastern flank along the Black Sea.
Four F-15C Eagles from the California and Massachusetts Air National Guards are patroling Bulgarian airspace with Bulgarian air force MiG-29s, Air Force and NATO officials say. The historic mission is brief: It began Sept. 9 and is scheduled to end Friday.
The Bulgarian Parliament approved the first joint national air patrols in February 2016. NATO officials have said an extension of the mission is up to Bulgarian officials.
The F-15C Eagles, along with about 75 airmen from the 194th Expeditionary Fighter Squadron, were dispatched from Campia Turzii in Romania to Bulgaria's Graf Ignatievo air base for the brief mission. The squadron is serving out a six-month deployment to Romania to support Operation Atlantic Resolve, a demonstration of the U.S. commitment to the collective security of NATO in response to Russia's increased military and political assertiveness in eastern Europe. Active-duty airmen from Spangdahlem Air Base are also assisting the mission in support roles, the Air Force said.
"It's important that we are standing side by side with our NATO allies," Lt. Col. Cesar Gonzalez, a 194th EFS aircraft maintenance commander, was quoted as saying in a statement from U.S. Air Forces in Europe–Air Forces Africa. "We are committed to the security of Europe and helping Bulgaria and countries who ask for our help."
The mission confirms NATO's resolve to "preserve the integrity" of allied airspace, Brig. Gen. Nico Tak, a director at NATO's Allied Command Operations, said in a statement.
In air policing, NATO jets are able to immediately scramble to respond to military and civilian aircraft that do not follow international flight regulations or approach NATO airspace without proper clearance, according to NATO. As part of the mission, they can also respond to civilian aircraft in distress.
NATO has stepped up its air policing in eastern Europe since Russia's incursion into Ukraine in 2014.
Bulgarian Defense Minister Nikolay Nenchev said the joint air patrols would relieve some of the financial burden on the Bulgarian air forces, the Sofia News Agency reported.
Bulgaria, a former communist nation that's been a part of NATO since 2004, borders on its east the Black Sea, a resource-rich area that's of strategic importance to Russia. The Bulgarians have expressed concern about recent Russian incursions into their airspace.
Nenchev told Bulgarian television channel NOVA TV in July that Russian military aircraft had entered "Bulgaria's area of responsibility" four times and that Russian passenger planes had breached the country's airspace six times, Reuters reported.
---
---
---
---