High winds, severe storms moving toward US bases in Kaiserslautern area
by
Jennifer H. Svan
February 9, 2020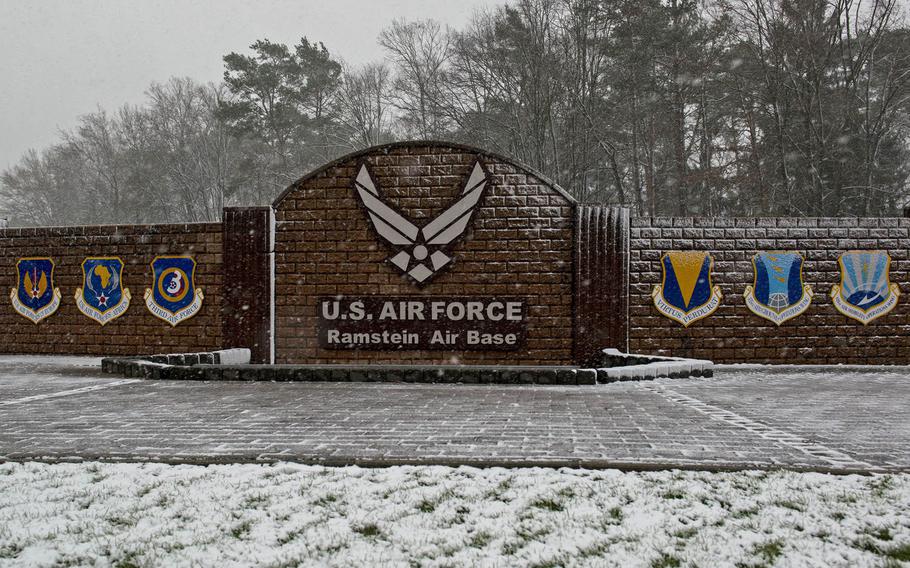 KAISERSLAUTERN, Germany — The U.S. military in the Kaiserslautern and Baumholder areas ordered most base facilities to be closed Monday ahead of dangerous storm winds and severe weather expected to continue into Tuesday for much of Germany.
The storm known as Ciara in the United Kingdom and Sabine in Germany could bring gusts of up to 72 mph through Monday morning, along with hail and local flooding in large parts of the country, the German Meteorological Service said on its website Sunday.
The storm could bring sustained winds of up to 52 mph through 6 p.m. Tuesday, USAG Rheinland-Pfalz said Sunday, citing German forecasts. Garrison officials urged the community to stay inside and to secure outdoor items.
Military officials made the call to close schools and to shutter the bases to everyone but mission-essential personnel Sunday night as winds began battering the region.
The closures affect schools and personnel working at several Air Force and Army installations, including Ramstein Air Base, Sembach, Vogelweh, Kapaun and Rhine Ordnance Barracks, among others. Day care centers also will be closed, officials said.
U.S. Army Garrison Bavaria schools were also closed Monday, including those in Grafenwoehr, Vilseck, Garmisch and Munich. Nonessential personnel reported to work following a short morning delay.
The Army's AtHoc notification system issued an advisory to affected personnel Sunday afternoon, citing the German weather service's warning.
U.S. Army Garrison Rheinland-Pfalz announced the closures on its Facebook page first, followed by Ramstein Air Base.
"Tomorrow has officially been declared a 'Wind Day,' " Ramstein posted on Facebook shortly before 10 p.m., as the winds howled in Kaiserslautern. Some reported trees down in nearby villages and flickering power in homes.
Elsewhere in Germany, U.S. Army Garrison Wiesbaden said on its Facebook page that schools and nonessential activities would open at 10 a.m. Monday.
U.S. Army Garrison Stuttgart did not anticipate delays or closures but continued to monitor the storm, it said on its Facebook page Sunday night.
Germany issued its second-highest storm warning level for parts of the country extending from Hamburg in the north to the Bavarian Alps in the south.
Ramstein and USAG Rheinland-Pfalz hadn't declared any delays by Sunday evening for the Kaiserslautern and Baumholder areas, where tens of thousands of U.S. service members and their families live.
Decisions on delays or cancellations could be made in the early morning, if warranted, officials said Sunday on the USAG Rheinland-Pfalz Facebook page.
Garrison officials urged community members Sunday to stay inside and to secure outdoor items.
Kaiserslautern closed several public areas Sunday, including the city forest and the cemetery, the Wochenblatt newspaper reported. City officials advised against visiting public parks with tall trees during the storm.
Flight and train delays were also expected throughout the country.
Germany's national railway operator, Deutsche Bahn, said it was canceling long-distance trains to destinations most at risk from the storm, including Emden and Norddeich in Germany's northwestern corner, the northern city of Kiel and the North Sea island of Sylt, according to The Associated Press.
The storm was expected to bring winds of up to 80 mph to parts of England, where several flights and trains were canceled, AP reported.
Staff writer Immanuel Johnson in Grafehwöhr, Germany, contributed to this report.
svan.jennifer@stripes.com Twitter: @stripesktown