Hertling takes the helm at U.S. Army Europe
by
Nancy Montgomery
March 25, 2011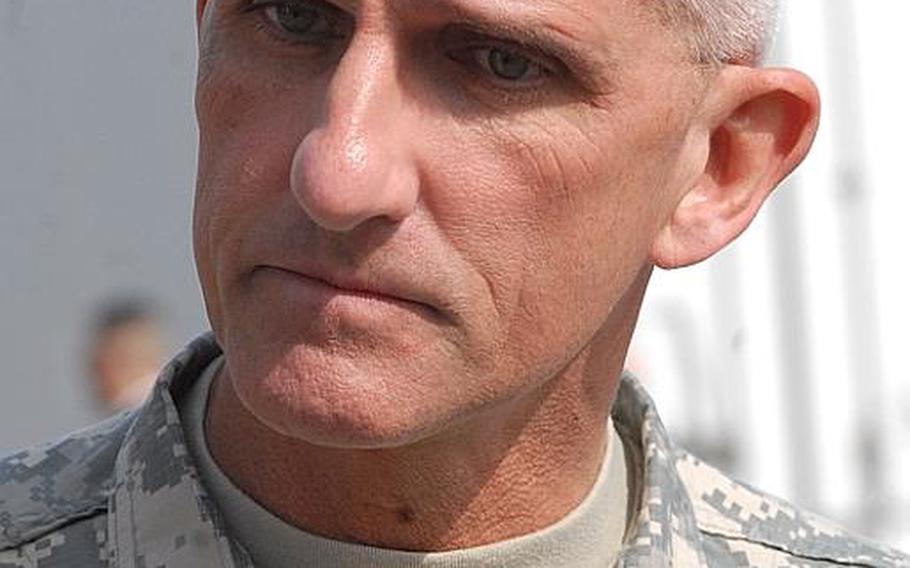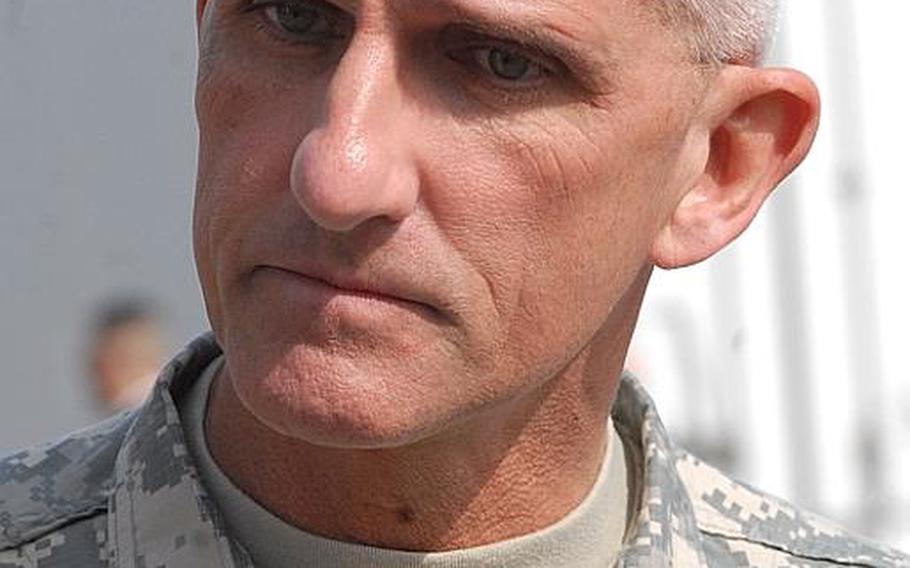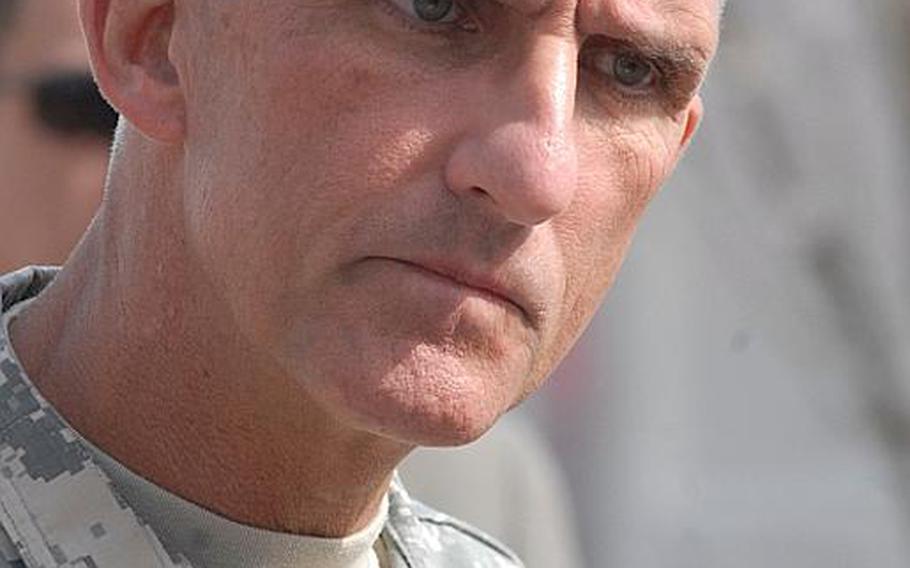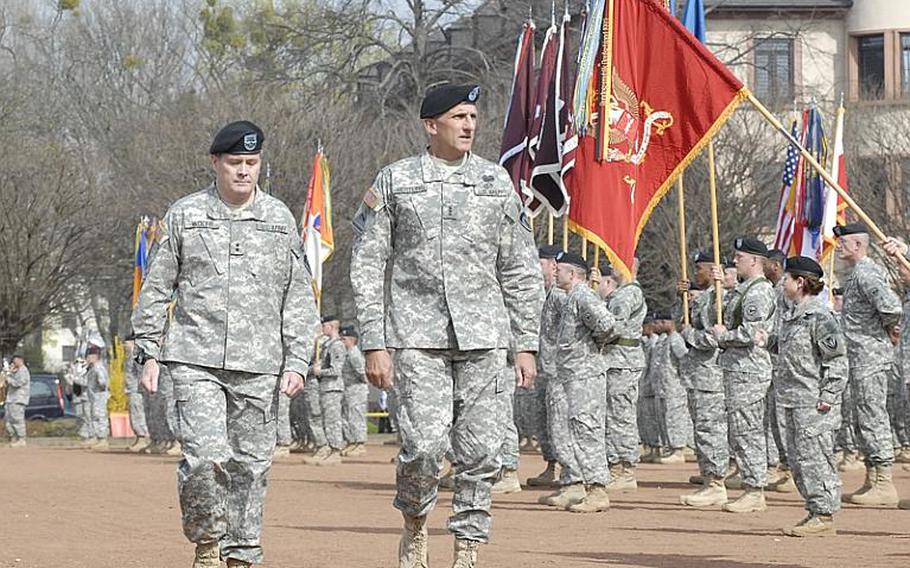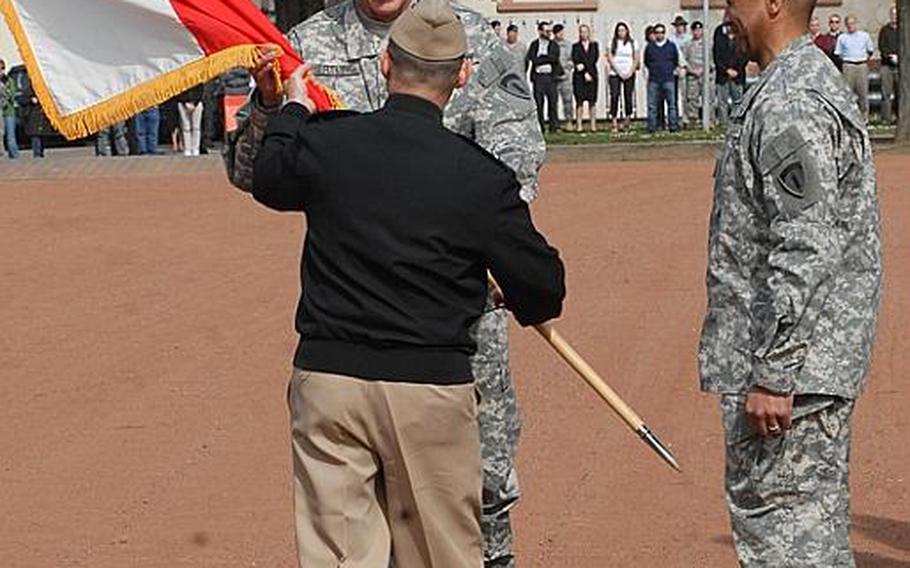 HEIDELBERG, Germany — In a Friday ceremony under sunny skies and with references to Tony La Russa, Goethe and beer-drinking accessories, Lt. Gen. Mark Hertling assumed command of U.S. Army Europe.
Hertling, 57, will be the first three-star general, rather than four-star, to command USAREUR since the 1950s, a change reflecting cost-saving measures by the Pentagon and a reduced presence as units return to the United States.
The number of soldiers in Europe has fallen from 62,000 in 2004 to 42,000 today. Whether 10,000 more soldiers from Schweinfurt and Baumholder will return by 2013 as planned is still unknown, although Pentagon officials have said there will be a decision this year.
Hertling said after the ceremony that there were "some adjustments to make" in troop strength but declined to elaborate.
In his speech, Adm. James Stavridis, commander of the U.S. European Command, told Hertling he wanted him to focus on three things: deepening the U.S. partnership with European allies; innovation over routine practice; and promoting healthy living for a command of people who work out, travel and "squeeze the zest out of life."
Hertling, a college swimmer with a master's degree in exercise physiology, and his wife, Sue, are renowned for their fitness expertise. At his last posting, at the U.S. Army Training and Doctrine Command, Hertling ordered changes in dining hall food and pioneered the first changes in training and testing for recruits in 30 years.
"Whatever you do, or dream you can, begin it," Stavridis continued, quoting the German poet, Johann Wolfgang von Goethe. "Boldness has genius, power and magic in it."
Stavridis, noting that Hertling is a St. Louis Cardinals fan, quoted something the team's manager, Tony La Russa, had said about a player, to describe Hertling. "He's got special talent. He's got a special attitude. Guys who have that play in the big leagues."
The admiral also informed the audience, particularly German officials present, that Hertling's favorite possession is a kegerator — a refrigerator for beer kegs with its own tap — and that he would likely appreciate housewarming kegs.
Hertling in his speech recalled his history as a soldier in Germany — "I was in the 1st AD when the wall came down," he said — and how he experienced and, later, helped implement changes in the command.
"We all know there will be more changes," he said, but that the command would always focus on training for combat deployments and full-spectrum operations, and support soldiers and their families.
Under his command, the headquarters is expected to move from Heidelberg to Wiesbaden after some 50 years in what Stavridis called the "crown jewel of U.S. Army Europe." Hertling will also be overseeing changes such as the Defense Department's new policy on allowing gay men and lesbians to serve openly in the military.
Hertling, who has spent some three years in Iraq, has previously served 12 years in Europe, which, he said, he considers his "professional home."
"There is no place Sue and I would rather be," he said.
Hertling succeeds Gen. Carter Ham, now commander of the U.S. Africa Command.
---
---
---
---