Hagel urges critics of prisoner swap to wait until all facts are known
---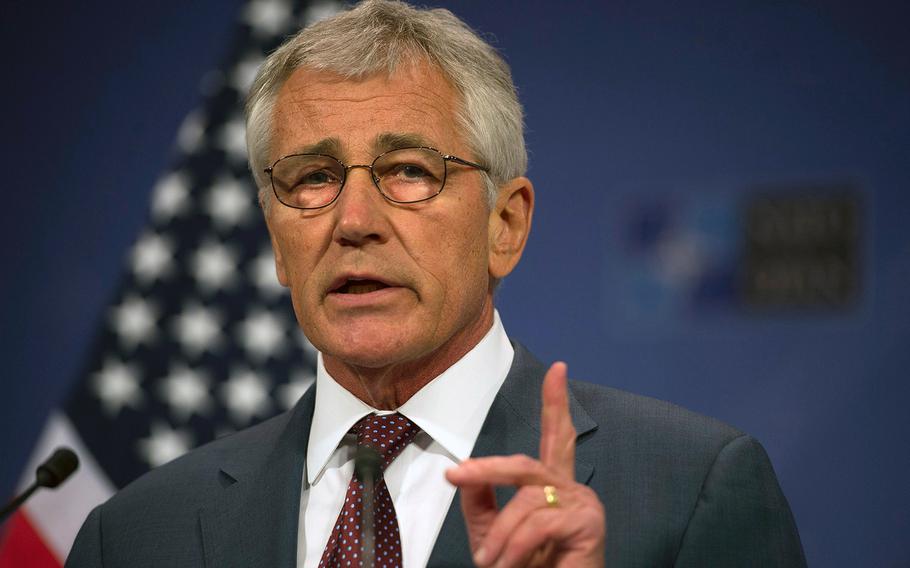 STUTTGART, Germany— Defense Secretary Chuck Hagel on Wednesday cast doubt on the idea that several U.S. soldiers were killed in connection with past attempts to rescue Sgt. Bowe Bergdahl, urging critics of the decision to swap the soldier in exchange for five Taliban to suspend judgment until more details are known.
"I do not know of specific circumstances or details of US soldiers dying as a result of efforts to find and rescue Sgt Bergdahl," Hagel told reporters after meeting with fellow defense ministers at NATO headquarters in Brussels. "I am not aware of those specific details or any facts regarding that issue."
Since the release of Bergdahl, who went missing in 2009 while serving with the 25th Infantry Division in southeastern Afghanistan, there has been a firestorm of criticism directed at the soldier and the Obama administration's efforts to win his release.
Members of the soldier's former unit have come forward with accusations that Bergdahl left his post in Afghanistan and that soldiers were killed and wounded trying to locate a deserter, or as a result of operational changes resulting from the search. The White House also has taken considerable criticism from both sides of the aisle in Congress, where there is concern that the release of senior Taliban figures sets a dangerous precedent. In an essay in the Daily Beast, a former soldier in Bergdahl's battalion, Nathan Bradley Bethea, said two soldiers were killed soon after the disappearance during an attack on an outpost likely spurred by Taliban assumptions that the military would be off guard because of the search. Six others died on reconnaissance missions and patrols connected to the search, he said.
How closely Bergdahl's disappearance can be tied to the deaths in the months after Bergdahl walked off his remote base in Paktika province appears to be an open question that the Pentagon will contend with in coming months.
A former senior military official, quoted anonymously in the New York Times, said deadly confrontations were par for the course in the area regardless of Bergdahl.
"Look, it's not like these soldiers would have been sitting around their base," the retired official told the Times.
Getting needed treatment for Bergdahl is the priority now, Hagel said.
"It is not in the interests of anyone, and it is certainly a bit unfair to Sgt. Bergdahl's family and him, to presume anything," Hagel said. "We do not do that in the United States. We rely on facts."
The facts about Bergdahl's actions will be investigated once he has recovered from captivity, Tuesday statements from Chairman of the Joint Chiefs of Staff Gen. Martin Dempsey and Army Secretary John McHugh indicated.
When asked whether Bergdhal should be permitted to hold the rank of sergeant, Hagel, a former sergeant, said: "It is not my place to decide who is worthy of being a sergeant and who isn't."
Hagel, who was in Brussels to meet with fellow NATO defense ministers, is on his way to Normandy later in the week for the 70th anniversary of the D-Day invasion.
During talks with NATO officials, Hagel said he emphasized the need for fellow alliance members to invest more in collective defense. In the wake of Russian aggression in Ukraine, allies such as Poland, Romania and the Baltic nations have all pledged to dedicate more resources toward defense. Hagel said he hoped other members of the 28-nation alliance follow in that path.
For a decade, U.S. defense secretaries have chastised allies for failing to invest enough in the alliance. Hagel echoed some of those criticisms in calling for allies to match recent U.S. efforts, which include the White House plan to spend an additional $1 billion to beef up the U.S. presence in eastern Europe.
"Over the last few days all of us spoke candidly about the challenges posed by Europe's declining defense budgets, challenges that have forced the United States to carry a more and more disproportionate share of the alliances burden," Hagel said. "Over the long term current spending trends threaten NATO's integrity and capabilities if we don't reverse that trend."
---
---
---
---