Hagel, NATO chief urge all sides to stay cool as Russia drills on Ukrainian border
---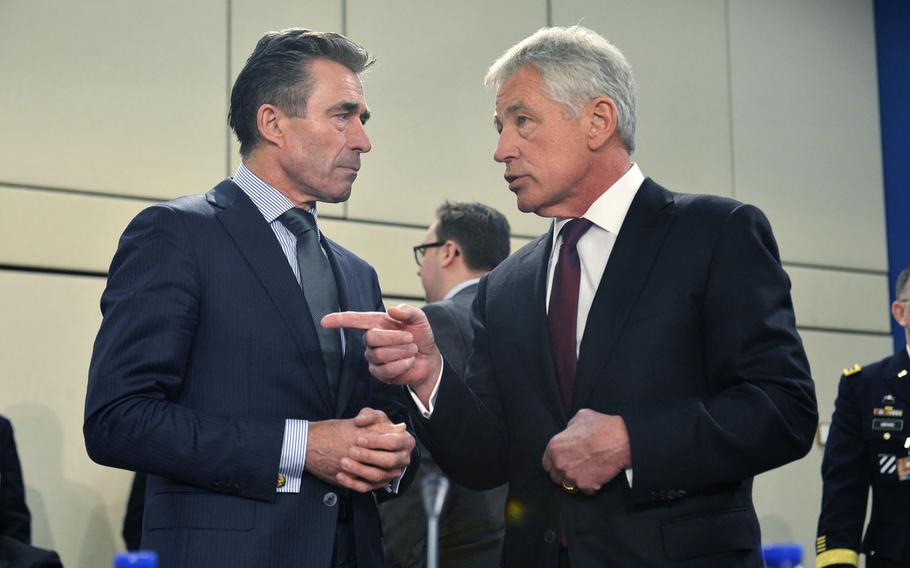 STUTTGART, Germany — Defense Secretary Chuck Hagel and NATO's top official on Thursday called on Russia to avoid an escalation along its border with Ukraine, where a surprise Russian military exercise has stoked concerns about a possible armed conflict.
"I urge Russia not to take any action that could escalate tension or create misunderstanding," NATO Secretary-General Anders Fogh Rasmussen told journalists after a ministerial meeting in Brussels.
Hagel, during a subsequent news conference, echoed those concerns, saying he was keeping a close eye on the Russian war games.
In Ukraine, weeks of anti-government clashes and bloody protests forced Ukrainian President Viktor Yanukovych, who is now on the run, out of office last week. Tensions, however, remain high in the country amid concerns of separatism in Ukraine's Russian-speaking Crimea region. Groups of gunmen seized control of local government buildings in Crimea on Thursday and raised the Russian flag, The Associated Press reported.
Rasmussen called on all sides to "cool down."
"I urge all parties to step back from confrontation, refrain from provocative actions and return to the path of dialogue," Rasmussen said during a news conference in Brussels that was streamed live on the Internet.
Hagel echoed that call.
"This is a time for very cool, wise leadership, on the Russian side, and on everybody's side," Hagel said as quoted by The AP.
There are no indications the Russian military drills are a prelude to any intervention.
"We have no information indicating that Russia has any plans to intervene militarily," Rasmussen said.
Nonetheless, the situation in Ukraine has prompted concerns about a return to old Cold War political battles between Russian and the West, with Ukraine as a key piece on the geopolitical chess board.
In an interview with MSNBC News Thursday, Secretary of State John Kerry said Russia shouldn't view the situation in Ukraine through the prism of the past.
"So we're hoping that Russia will not see this as a sort of a continuation of the Cold War," Kerry said. "We don't see it that way. We do not believe this should be an East-West, Russia-United States. This is not Rocky IV, believe me. We don't see it that way."
NATO defense ministers, who met with Ukrainian officials on Thursday, said the alliance would press ahead with plans for security cooperation with Ukraine.
---
---
---
---