Germany limits public gatherings, Italy bans outdoor exercise in fight against pandemic
By
Marcus Kloeckner Erik Slavin
March 21, 2020
---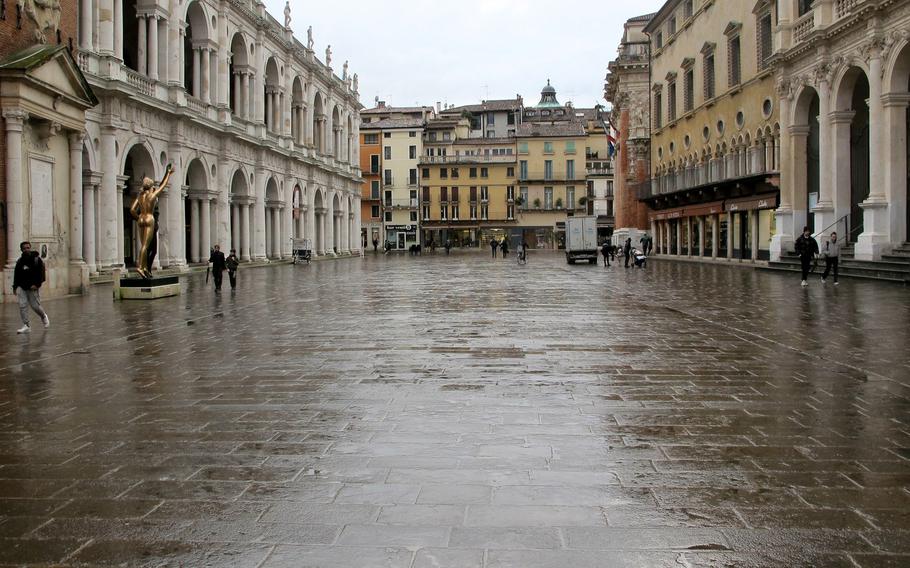 Stars and Stripes is making stories on the coronavirus pandemic available free of charge. See other free reports here. Sign up for our daily coronavirus newsletter here. Please support our journalism with a subscription.
KAISERSLAUTERN, Germany — Tens of thousands of U.S. military personnel and their families are among the millions living under new restrictions on activity in Germany and Italy as the two countries grapple with containing the spread of the coronavirus.
In Germany, Chancellor Angela Merkel in a televised speech Sunday announced a ban on public gatherings of more than two people unless they are part of the same household.
Further restrictions included keeping a social distance in public of 1.5 meters, or about 5 feet; closure of personal care services, such as hairdressers and cosmetics businesses; and closure of restaurants and cafes, although takeout and delivery still are permitted, German news outlet Der Spiegel reported.
An Italian decree Friday barred outdoor exercise and most travel from home, other than for necessities such as work, health care and food. It also closed public parks and gardens.
The decree allows individual activity "in the vicinity of one's home" provided people stay separated by at least 1 meter — a little more than 3 feet. However, there are differences between the national order, regional decrees and public comments that legal officials at U.S. bases are trying to reconcile.
In northern Italy's Veneto and Friuli Venezia Giulia regions, which include Aviano Air Base and U.S. Army Garrison Italy, regional authorities said walking pets was allowed within 200 meters, or about 650 feet, of a residence.
Most stores have been ordered closed while essential businesses such as grocery stores, gas stations, pharmacies, pet supply shops and laundries remain open. On Sundays, grocery stores will close, leaving only pharmacies and newsstands open in Italy that day.
When stores are open, authorities "don't want anyone to go shopping in a group of more than one," said Lt. Col. Matthew Lund, Aviano's staff judge advocate, during a Facebook town hall meeting Friday.
Restrictions are in effect through April 3 and could be extended, Italian and U.S. military officials said.
Also at Aviano, two airmen have tested positive for the coronavirus but are at home and "doing very well," a base health official said Friday. A soldier in Vicenza, who was hospitalized Wednesday, and two U.S. sailors in Naples also have tested positive. They're among about 60 U.S. personnel in Europe with confirmed cases, U.S. European Command said Friday.
Prior to Merkel's announcement, regional decisions in Germany already had limited social activity and business operations.
In Rheinland-Pfalz, home to about 50,000 U.S. personnel and family members in the Kaiserslautern area, nonessential business services also were ordered to close, the German state announced Friday.
Essential services such as banks, grocery stores and pharmacies will stay open, the order said.
The state also said violations of the restrictions on social gatherings might result in fines.
Ramstein Air Base told its personnel in a statement Friday "to conform to these same group limits on and off base when outside of the workplace," and U.S. Army Garrison Rheinland-Pfalz issued a similar message.
The head of Bavaria, home to the U.S. Army's largest training area in Europe, described restrictions that went into effect Saturday as a "shutdown."
"Stay at home, leave home only as an exception, if you have been tested, wait and go into self-quarantine," Bavarian Minister President Markus Soeder said Friday.
Bavarian residents can still go to work, the doctor and grocery stories, he said. They can exercise or walk their pets but without congregating in groups beyond those they live with, Soeder said.
Soldiers who live on the U.S. Army Garrison Bavaria and Ansbach installations have been restricted to base following an order earlier in the week. Off-post residents have been restricted to essential travel within 20 kilometers of their homes, a garrison statement said.
Stars and Stripes reporters Norman Llamas and Nancy Montgomery contributed to this report.slavin.erik@stripes.com Twitter: @eslavin_stripeskloeckner.marcus@stripes.com
---
---
---
---