Germany-based soldiers add yoga to PT program
by
Seth Robson
February 26, 2011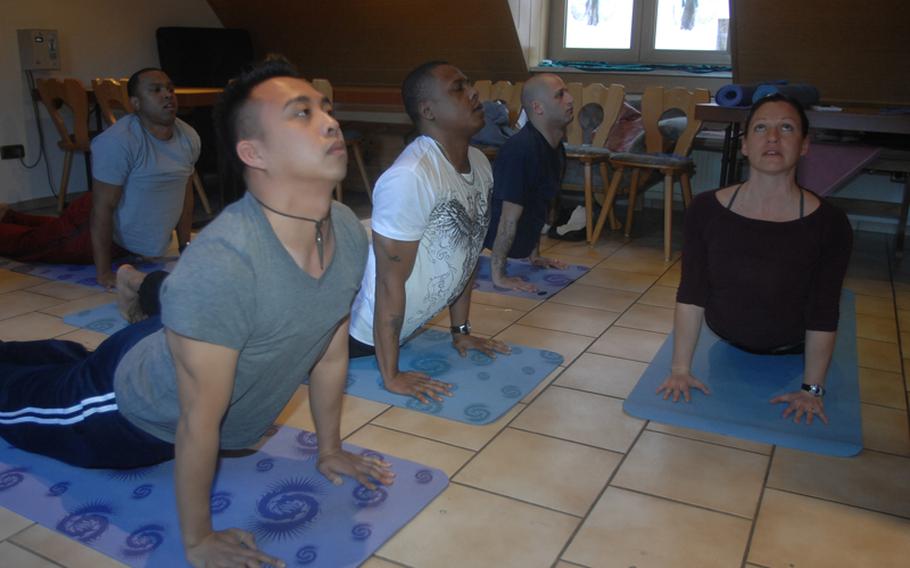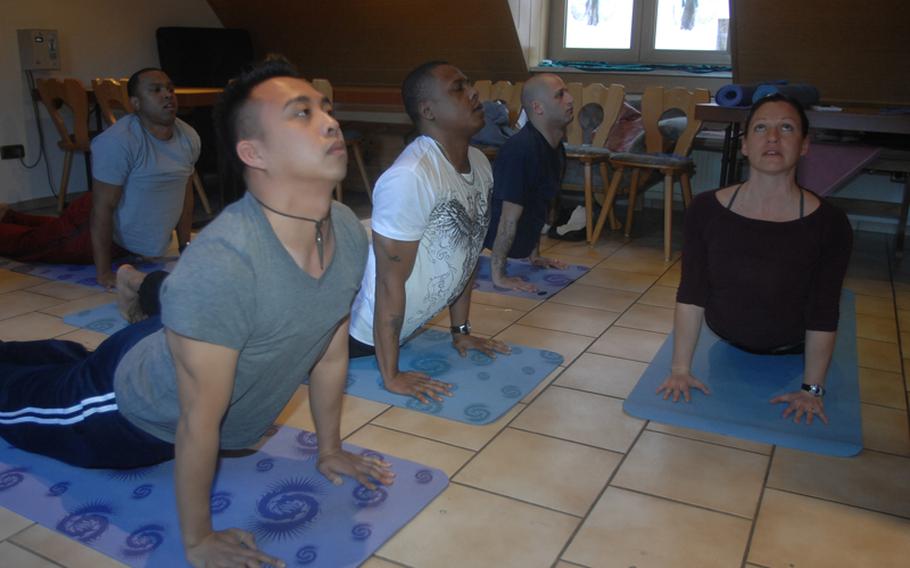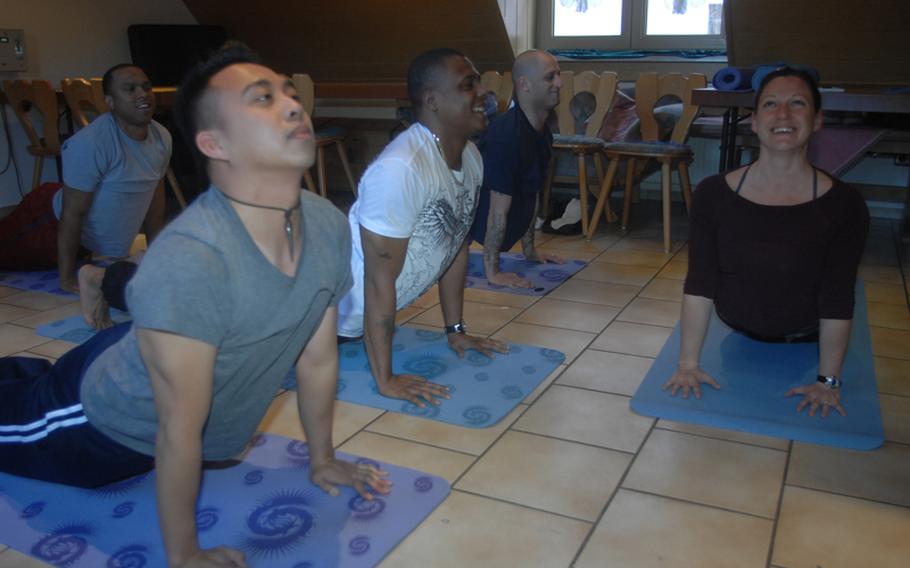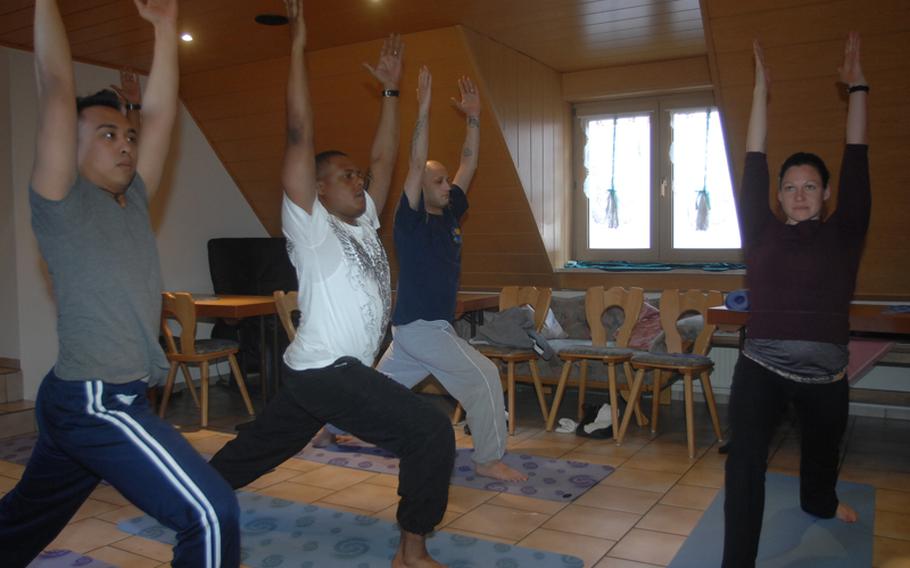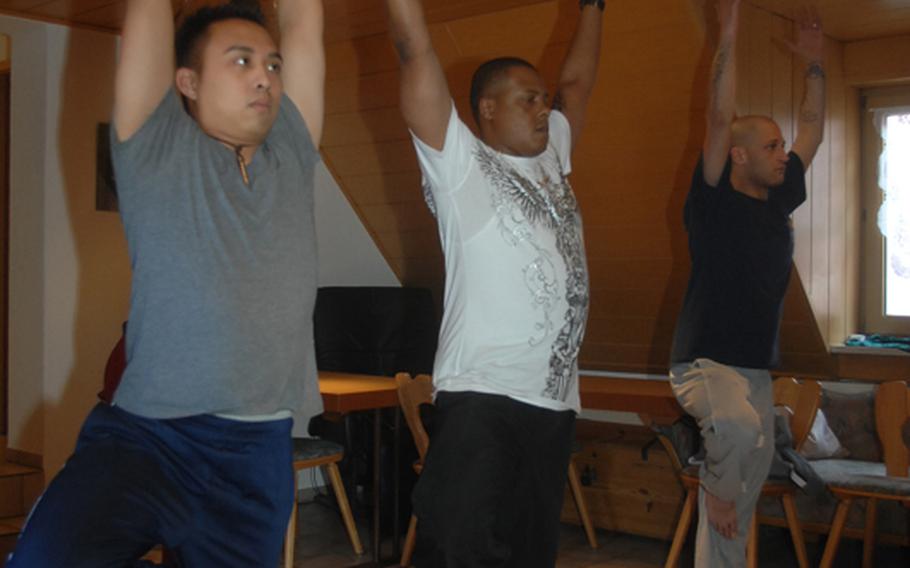 GRAFENWÖHR, Germany — Army noncommissioned officers are twisting themselves in knots to relieve stress and prevent orthopedic injuries downrange and in garrison.
The soldiers, mostly from units stationed in Grafenwöhr and Vilseck, are doing Power Vinyasa yoga as part of Soldier 360, a two-week course that teaches resiliency skills NCOs can use to help troops overcome the challenges of repeat deployments and stressful events such as witnessing the combat death of a comrade.
During a yoga class on Wednesday, Staff Sgt. Robert Butler, 40, of Boston, eagerly sprawled on the floor to demonstrate his favorite routine, which involves moving from Crocodile to Upward-Facing Dog.
"Stretching, to me, is boring," he said. "At least this is a little more interesting."
His Yoga 360 instructor, Sarah Brown, has taught yoga to more than 200 NCOs since November.
"When you think of yoga and the military you don't think they go together, but yoga is so much more than flexibility — it is strength, endurance, power," she said.
For troops dealing with stressful situations, yoga teaches its adherents to be calm and collected in the middle of a storm. It's very different from the tough physical workouts soldiers endure as part of their daily training.
"They are used to running and putting on a rucksack and they never open and develop the spine and spend time stretching," Brown said.
"In the military it is constantly 'Go, go, go. Train, train, train,'" she said. "I want to give them a quiet place that they can come back to."
During Yoga 360, NCOs learn the Warrior series — a standing sequence in which the soldiers lunge forward with their legs and swing their arms in wide circles as they move across the mats.
"This is a flow yoga, where you integrate breath with movements," Brown said. "We want the yoga to become a moving meditation so they can become lost in themselves and the outside world can shut down."
Most of the troops haven't done yoga, but some become adept quickly and are able to perform difficult aspects, such as Crow — a pose that involves balancing on their arms — or full backbends, she said.
The goal of Yoga 360 is not to make Army people fall in love with the yoga lifestyle, Brown said, but rather, to fit yoga into the Army lifestyle.
Because yoga requires only a mat and a small area to execute the movements means it could easily be performed downrange, she said. She has been asked by one Army colonel to make a yoga DVD that soldiers can take with them when they deploy.
Yoga is an ideal form of exercise for preventing the sort of orthopedic injuries that are a leading cause of troops being medically evacuated from Iraq and Afghanistan, she said.
"When you have increased range of motion you can prevent injuries in your joints," Brown said. "A lot of back injuries come from a weak core and, in yoga, every movement comes from the core, involves the core and emphasizes the core."
During the Wednesday session, a half-dozen NCOs rolled out their mats in a hotel loft near the post, before Brown led them through a series of positions.
A first-time yoga participant, Butler will deploy to Afghanistan this summer with the 172nd Infantry Brigade and plans to incorporate it into the physical training he will oversee there each morning.
He expects some resistance from his soldiers.
"They might say: 'This is stupid. I want to play football. What does this have to do with our health?' But I was actually sweating" during the training. "There was a lot of energy being put into it."
Sgt. Robert Cowans of the 18th Combat Sustainment Support Battalion said yoga will be mandatory at his PT sessions from now on.
"I'm a strong believer in stretching," he said. "You are more susceptible to injuries if you don't stretch properly. We will alternate yoga with running and ruck marching."
Cowans, 38, of New York, said he expects yoga to relax his soldiers.
"It will take away some of the hostilities within units," he said. "Everyone will be calmer and more focused."