German official thanks US, Pompeo for role in defending freedom during Cold War
by
Karin Zeitvogel Martin Egnash
November 7, 2019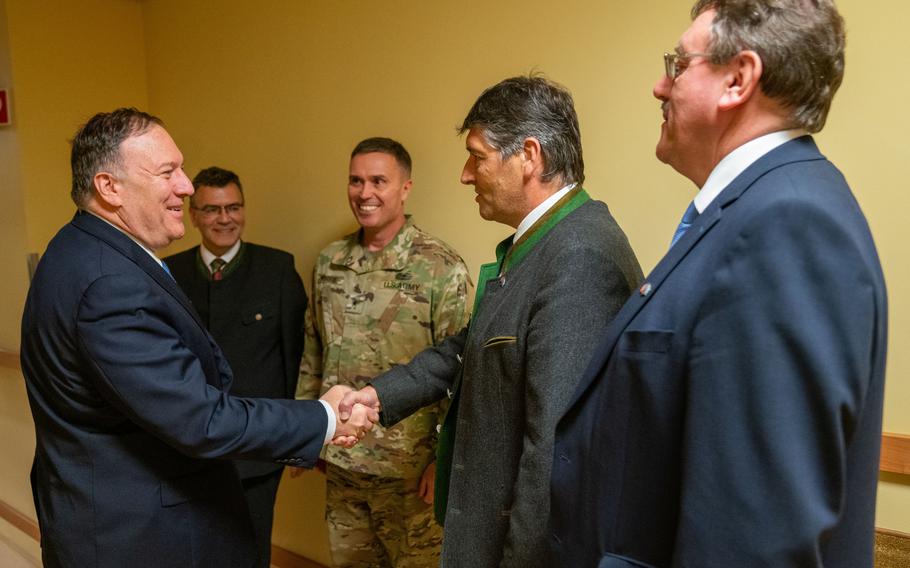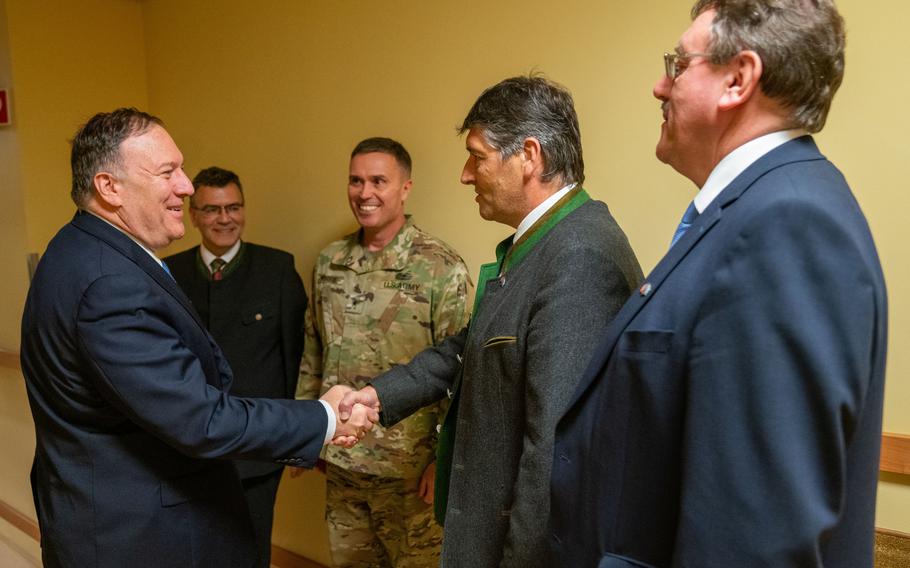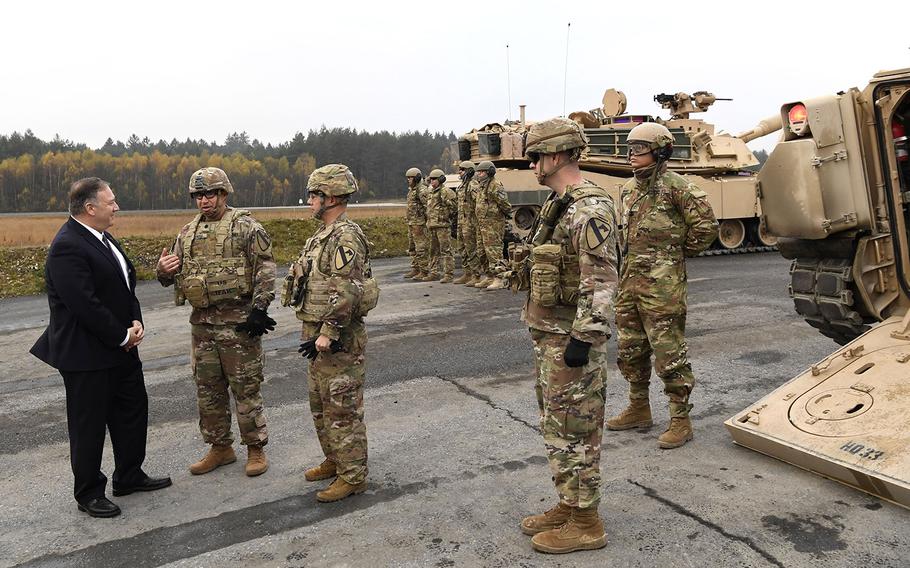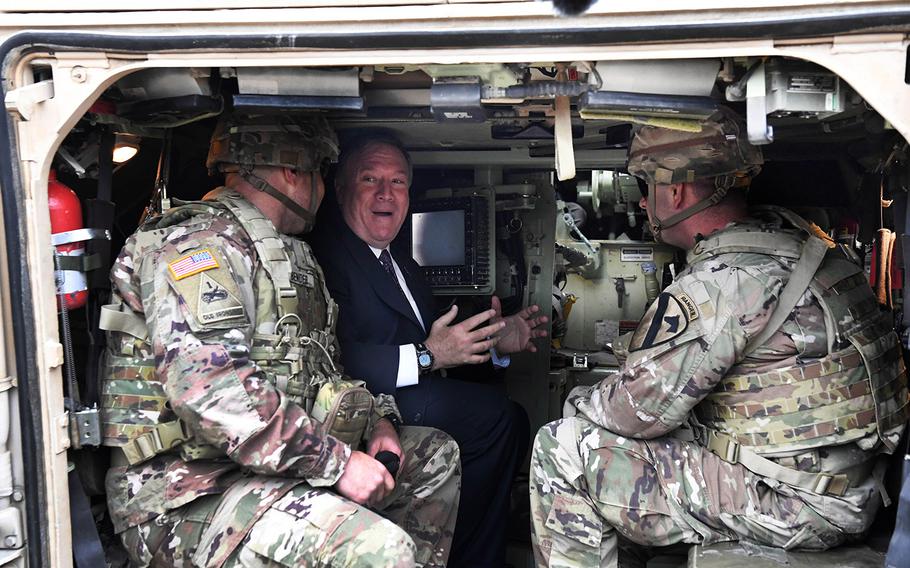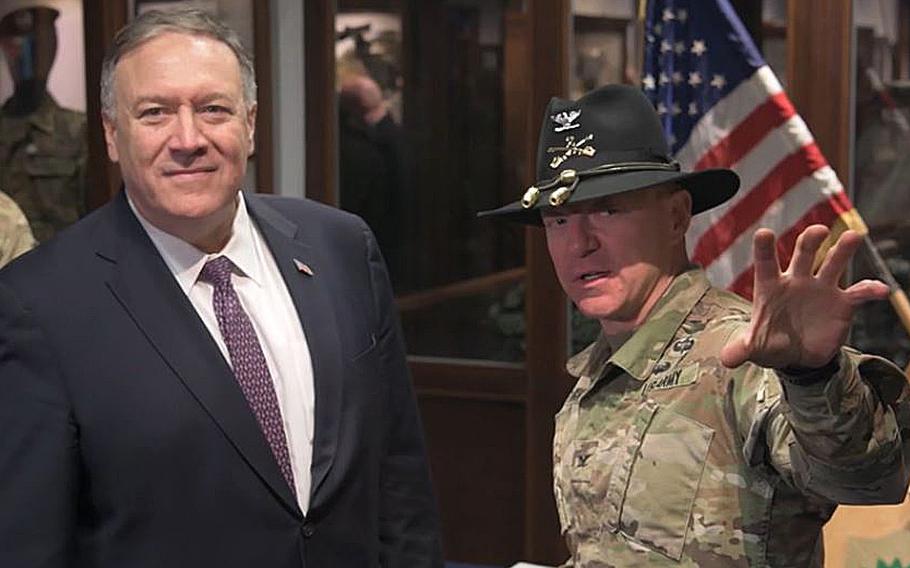 German Foreign Minister Heiko Maas on Thursday thanked the United States and a former U.S. tank commander for their commitment to Germany during the Cold War.
The former armor officer is now U.S. Secretary of State Mike Pompeo, who is on a two-day trip to Germany to mark 30 years since the fall of the Berlin Wall.
Maas said the United States played a critical role in lifting the Iron Curtain that divided Europe for decades after World War II, and American soldiers helped Germany to become one nation again.
"At a time when shots were still being fired at the border, American soldiers, like you, stood on the western side and defended freedom," Maas told Pompeo.
"Without America's leadership, there would not have been German reunification," he said.
"That's still valid today … and we thank you for our freedom and reunification."
Pompeo and Maas discussed during a meeting in Leipzig's historic town hall security issues in Europe and further east in Ukraine, and the alliance's "differences" with Turkey over its recent invasion of northern Syria, they told reporters.
"Ankara continues to be a central partner in NATO, and the dialogue with Ankara ought to be pursued," Maas said.
Pompeo hailed NATO as a "critical strategic partnership" after holding talks with Maas.
"NATO remains an important, critical — perhaps historically one of the most critical strategic partnerships in all of recorded history," Pompeo said during a joint news conference with Maas.
"It's that NATO alliance that is so central, so important, and it's why it's an absolute imperative that every country participate and join in and contribute appropriately to achieving that shared security mission," he said, praising a pledge made by Defense Minister Annegret Kramp-Karrenbauer that Germany will by 2031 meet NATO's target for member states to spend 2% of economic output on defense.
Pompeo's visit to Germany comes as the country celebrates the 30th anniversary of the fall of the Berlin Wall. He kicked off the trip with a visit to the U.S. Army Garrison Bavaria, where he served as a tank commander shortly after graduating from the U.S. Military Academy in 1986.
When he was a soldier in Germany, Pompeo served with the Army's 2nd Cavalry Regiment, which is still based in the Bavaria garrison.
On Thursday, before meeting with Maas, Pompeo visited the border area between what used to be East and West Germany, where he patrolled as a young soldier.
"It was a bit of a walk down memory lane, memory 'Strasse,' for me," Pompeo said. "I saw a piece of history that I was a tiny part of in the 1980s."
Leipzig has been called the birthplace of protests in East Germany that led to the fall of the Berlin Wall in 1989.
One of the demonstrators from 30 years ago, civil rights activist Uwe Schwabe, was supposed to meet with Pompeo during the few hours he spent in the city but pulled out.
"Current U.S. foreign policy runs contrary to the goals for which the demonstrators took to the streets in 1989," Schwabe was quoted as saying by local media.
The secretary of state was due to travel Thursday from Leipzig to Halle, where two people were killed in what he called a "vicious anti-Semitic attack" on a synagogue last month.
"It's a reminder of how much work needs to be done, and the vigils and fight for religious freedom remain an imperative for our two countries," Pompeo said.
On Friday, Pompeo is expected to meet in Berlin with Chancellor Angela Merkel, Kramp-Karrenbauer and other officials, and will deliver a speech highlighting the U.S. role in helping eastern and central Europe "throw off the yoke of communism," the State Department said.
Marcus Kloeckner contributed to this report.
egnash.martin@stripes.com Twitter: @Marty_Stripes
zeitvogel.karin@stripes.com Twitter: @StripesZeit