General: Army manning in Europe insufficient for needs
---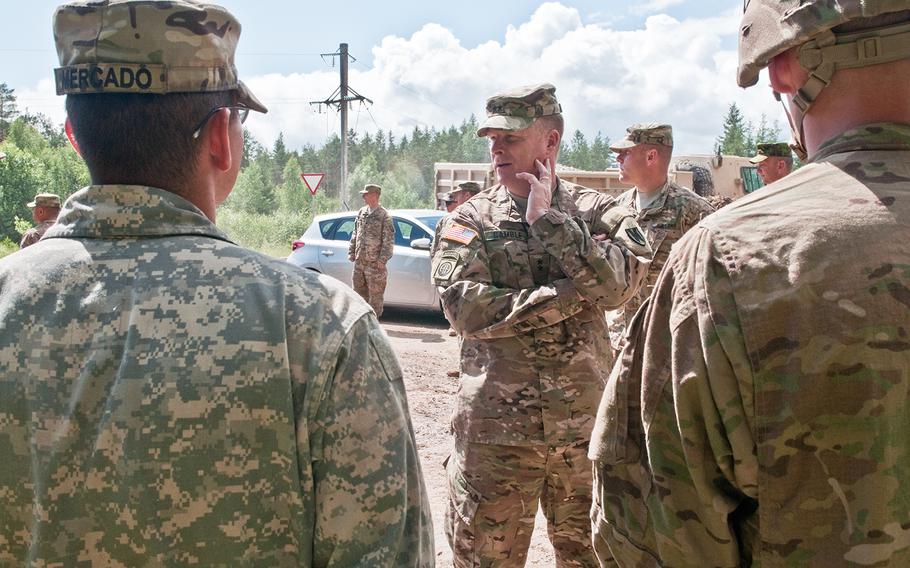 More soldiers are needed to help the Army in Europe, where a new security environment is testing a force spread increasingly thin after years of cutbacks, a top Army officer said on Tuesday.
"We have a force that is shaped for a different reality than we have today," said Maj. Gen. Duane Gamble, commander of the 21st Theater Sustainment Command, during a reporter roundtable in Washington, D.C. "We are stretched thin and we do face some significant challenges."
As top commanders gather in Washington this week for the Association of the U.S. Army's largest conference of the year, a key focus has been the effect of the budget crunch on the Army's current state of readiness. On Monday, outgoing Army Secretary John McHugh cautioned that a thinly stretched Army is operating on a "ragged edge" of readiness.
Now, without any plan to return more troops to Europe on a permanent basis, the Army will need to tap more and more into rotational forces, as well as Army Reserve and National Guard assets, if it is going to sustain its current operational tempo, Gamble said.
In the year ahead, Gamble said, his Kaiserslautern, Germany-based command will be looking for more engineers and troop movement specialists, who are experts in facilitating the flow of forces through Europe. "Those are the absolute must-haves," Gamble said.
In Europe, with about 28,000 soldiers, the Army has never been smaller. Drawdown plans in Europe were crafted several years ago, before Russia's intervention in Ukraine and the ripple effect on military operations in Europe.
U.S. Army Europe has intensified its operations, particularly in eastern Europe, to reassure allies on Russia's periphery and to send a deterrent signal to Moscow. For the 21st TSC, that has created new logistical problems, ranging from getting spare parts to troops in far flung outposts to slow diplomatic clearances to facilitate troop movements across eastern Europe, Gamble said.
If the security environment shift from "permissive or semi-permissive" to one where threat looms, "the list (of needs) grows exponentially," he said.
During the past several months, USAREUR has conducted scores of missions to shore up allies' capabilities. While much of the focus has been on traditional infantry style tactics, another dimension has been the logistics of moving forces across great distances.
For Gamble, a series of high-profile troop convoys, such as Dragoon Ride earlier this year, have served as a testing ground for how to move soldiers quickly from the Baltics to home bases in Germany.
"We're operating in a peace time environment and we're trying to operate at the speed of war," Gamble said.
---
---
---
---