Frankfurt auto show offers visual feast for visitors
by
Mark Patton
September 14, 2011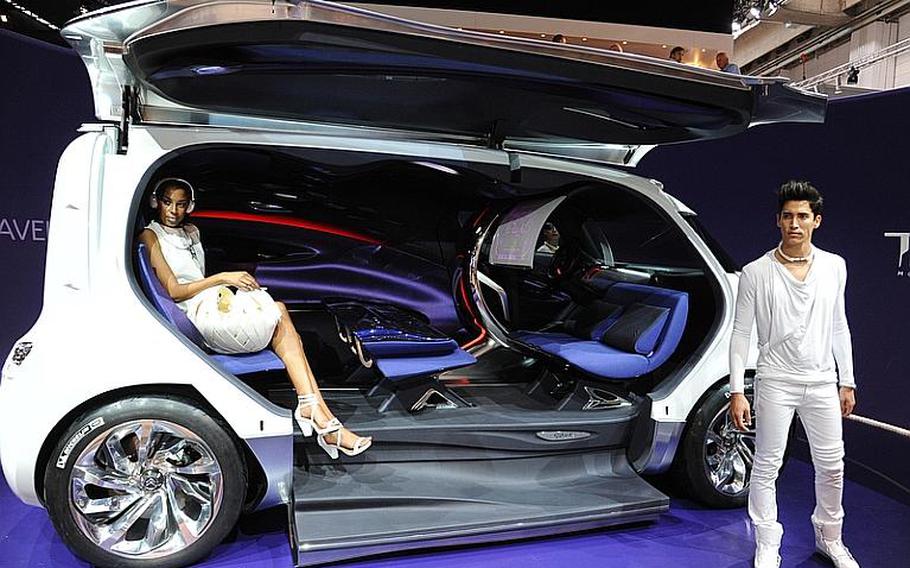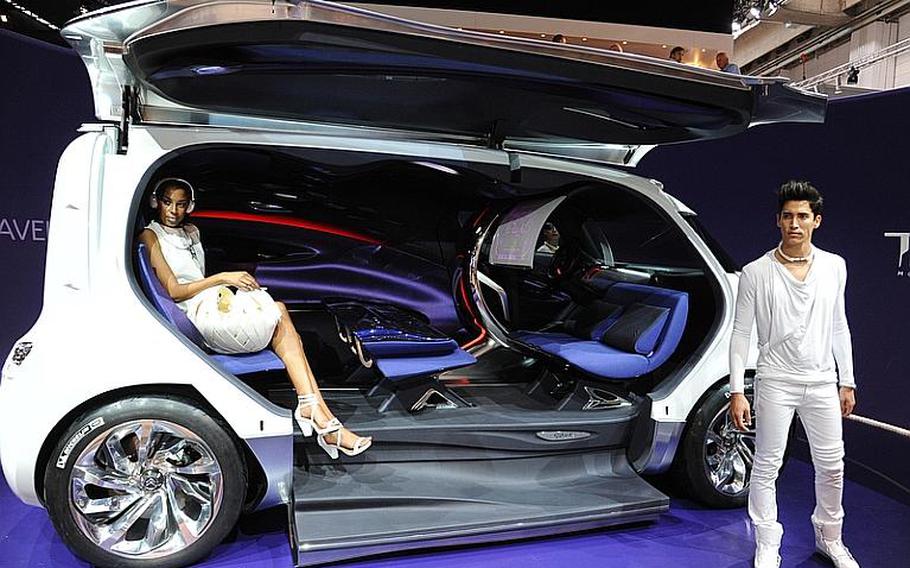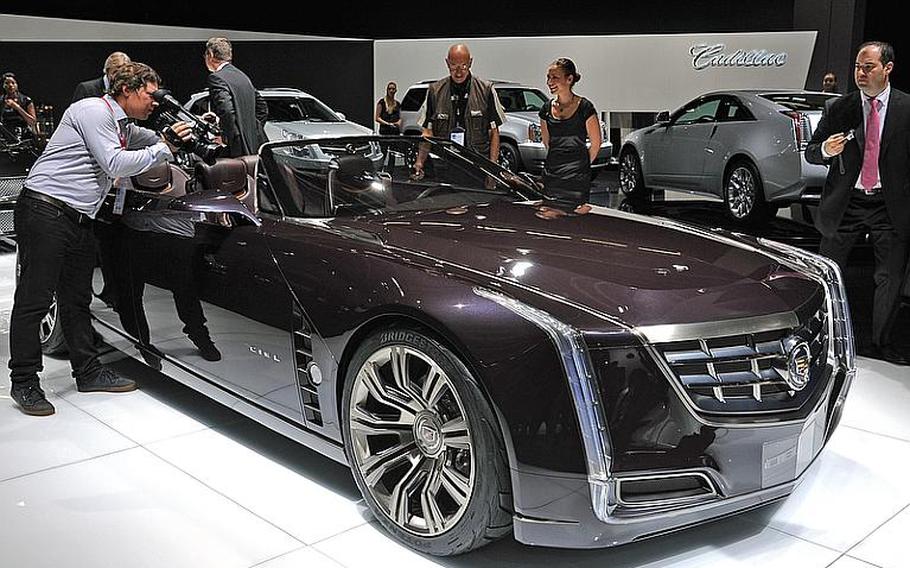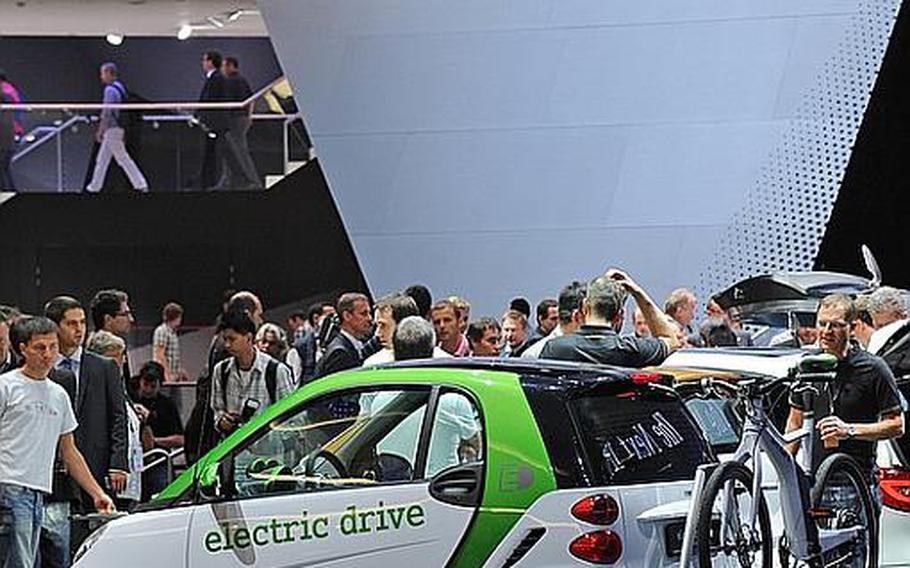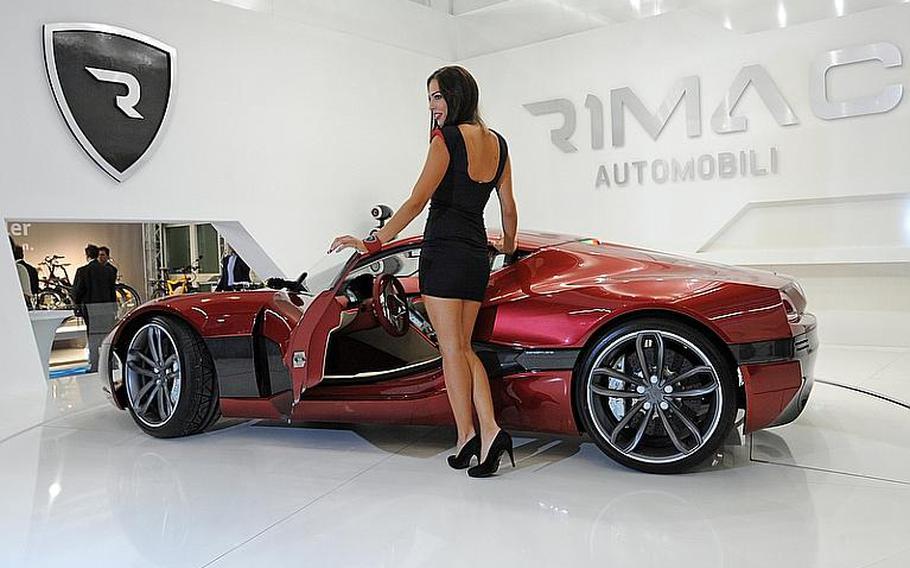 FRANKFURT, Germany — Anxiety about Europe's financial crisis is taking a backseat in Frankfurt, as the 64th International Motor Show gets ready to open its doors to the public with futuristic models, some of which carry a hefty pricetag.
The latest high-performance cars from Audi drive around a track as music thumps in the background. Models in tight outfits draw attention to the debut of the Ferrari 458 Spyder, featuring a retractable hard top. Chevrolet celebrates its 100th anniversary by showing off its dream cars of yesteryear, including a 1957 Bel Air convertible.
In an atmosphere worthy of a Hollywood summer blockbuster, the biennial auto show, one of the world's largest, begins Saturday at the Frankfurt fairgrounds.
More than 1,000 exhibitors will be showing off the latest in automotive design, technology, upgrades and after-market accessories and offering scores of world premieres.
The theme of this year's show, open daily through Sept. 25, is "Future comes as standard."
Judging by the latest concept cars and production vehicles on display, that future will involve some interesting commutes and road trips.
For example, French automobile manufacturer Citroën is showing off its Tubik, a hybrid concept van that can best be described as the Scooby-Doo Mystery Machine on steroids.
The Tubik, which seats nine, features a loungelike interior, an egg-shaped driver's area, fold-down seats made of felt and silk and a leather floor.
Cadillac lovers can gawk at the stately Ciel, the company's latest concept convertible. The Ciel marks a return somewhat for a company known for its old-school grandeur.
"The Ciel points to the direction where Cadillac will be going in the future, back to our identity," said Hanspeter Ryser, Cadillac's director of communications for Europe.
The show features cars and accessories for every taste and budget spread out over 11 display halls.
If you believe faster is better, check out Lamborghini's Gallardo LP 570-4 Super Trofeo Stradale, making its debut at the Frankfurt show. Weighing 2,954 pounds, Lamborghini's latest offering sports a 570-horsepower engine that achieves zero to 62 miles per hour in 3.4 seconds.
Even the electric cars are getting in on the speed game, with little-known Croatian manufacturer Rimac Automobili showing off its Concept One. The 1,088-horsepower electric super car has four motors — one sitting on each of its wheels.
There are plenty of cars on display that are more realistic and affordable.
For example, Volkswagen is touting its new line of pint-size up! cars. In addition to the models slated for sale beginning next year, up! concepts are being introduced at the Frankfurt show.
These include two up! models — the Buggy up! and the up! Azzurra sailing team — designed for the world's beaches. Think back to the buggies seen on California beaches during the 1960s and you have the Buggy up!. The up! Azzurra model features an open-cabin concept, wood trim, chrome components and white-blue leather.
The show also offers test tracks and plenty of hands-on driving simulators for the kids. Be sure to wear comfortable shoes and plan for a full day, as there is plenty to see and do.
====
What: 64th International Motor Show
Location: Frankfurt fairgrounds, Frankfurt, Germany.
When: 9 a.m. to 7 p.m., Saturday through Sept. 25.
Costs: Saturday-Sunday: 15 euros; Monday through Friday, 13 euros. Children up to the age of 5 are free. Visitors in wheelchairs, and one person to assist them, also receive free admission. Some reduced admission prices are available after 3 p.m. on weekdays and for students.
Food and drink: There are plenty of food and drink stands scattered throughout the show.
Website: www.iaa.de, with an English option.
Directions: Autobahn exit Frankfurt West/Messe or other exits following IAA signs. Roads to the allocated car parks are also signposted. To get directly to the visitors parking lots at the Rebstock grounds, enter one of the following addresses in your navigation system:
Old navigation systems: "Ursinusstrasse"
New navigation systems: "Zum Messeparkhaus Rebstock"