Fort Hood cavalry unit deploying to Europe for Defender drills
---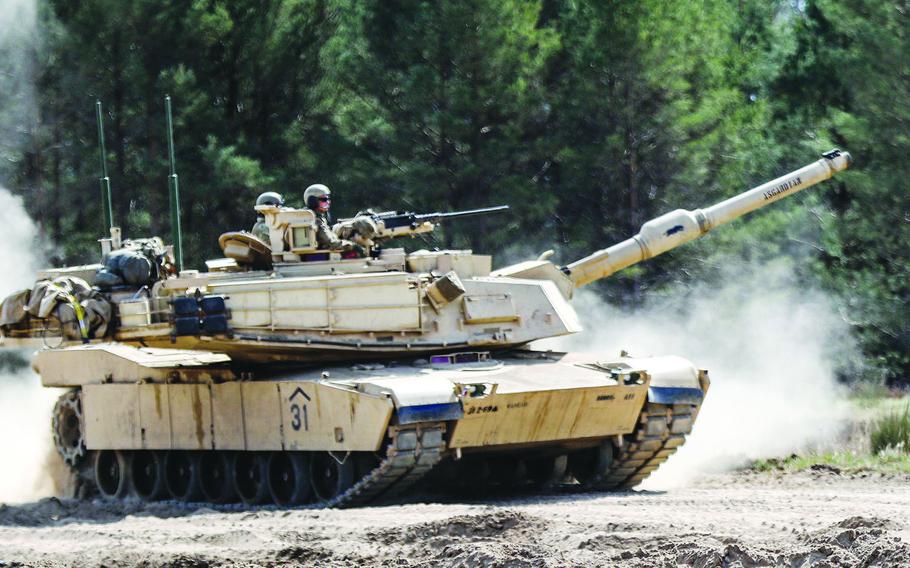 STUTTGART, Germany — A Texas-based unit will deploy on short notice for drills in Germany and Poland, marking the final phase of the Army's Defender-Europe 20 exercises, the service said Friday.
About 550 soldiers from the 1st Cavalry Division's 1st Armored Brigade, 2nd Battalion, 12th Cavalry Regiment at Fort Hood will mobilize in an emergency deployment readiness exercise, U.S. Army Europe said in a statement.
The monthlong effort begins Tuesday and involves troops drawing 55 Abrams tanks and Bradley fighting vehicles from a storage site in Germany. The vehicles and gear will be moved to Drawsko Pomorskie Training Area, Poland, where soldiers will test a system designed to protect against anti-tank guided missiles and rocket-propelled grenades.
The Trophy Active Protection System, developed by Israel, protects armored vehicles using "soft kill" measures, such as electronic jamming or smoke grenades to confuse an incoming missile, and pairs it with "hard kill" counterfire options to destroy threats.
"The fielding of Trophy systems provides the U.S. Army's logistics teams with the opportunity to assess and experience the dynamics of moving and installing the system in a field environment," USAREUR said.
The 1st Cavalry Division Headquarters (Forward) out of Poznan, Poland, will serve as mission command for the exercise while the 7th Army Training Command out of Grafenwoehr, Germany, will provide exercise control.
The exercise is part of the scaled-down version of Defender-Europe 20, a series of events that was intended to be among the largest Army training efforts on the Continent since the Cold War. However, as the coronavirus took hold in Europe in the spring, many of the activities connected to Defender were canceled because of health concerns.
In June, USAREUR was able to resume some large-scale Defender exercises, including one in Poland that involved 6,000 troops. The point of the Defender series was to demonstrate the military's ability to move large numbers of forces and gear from the U.S to Europe.
Such capabilities have become a priority for the military since reinforcements from the U.S. would be needed in the event of a conflict with Russia.
USAREUR said coronavirus prevention and mitigation measures will be taken during the upcoming drills, which are slated to last until Aug. 22.
vandiver.john@stripes.com Twitter: @john_vandiver
---
---
---
---