For next EUCOM chief, old threats made new poses challenge
---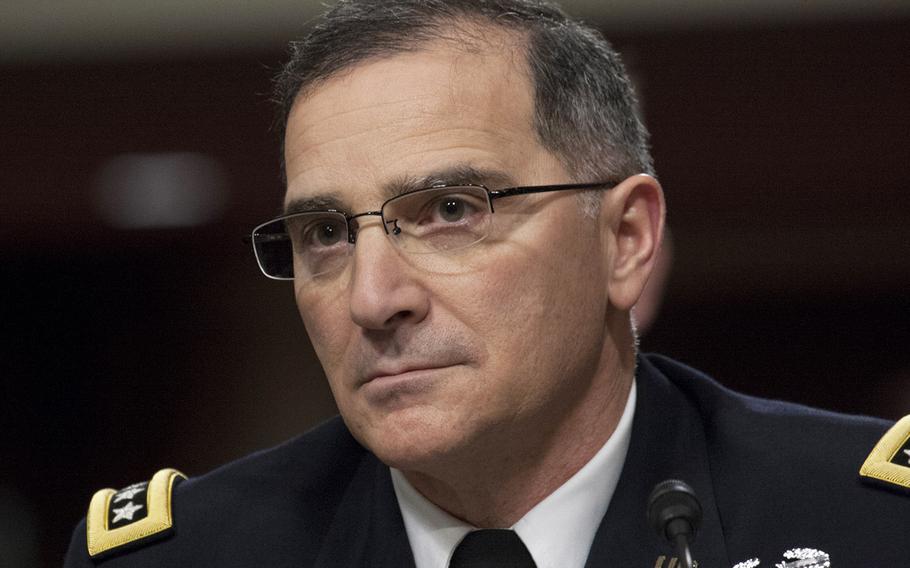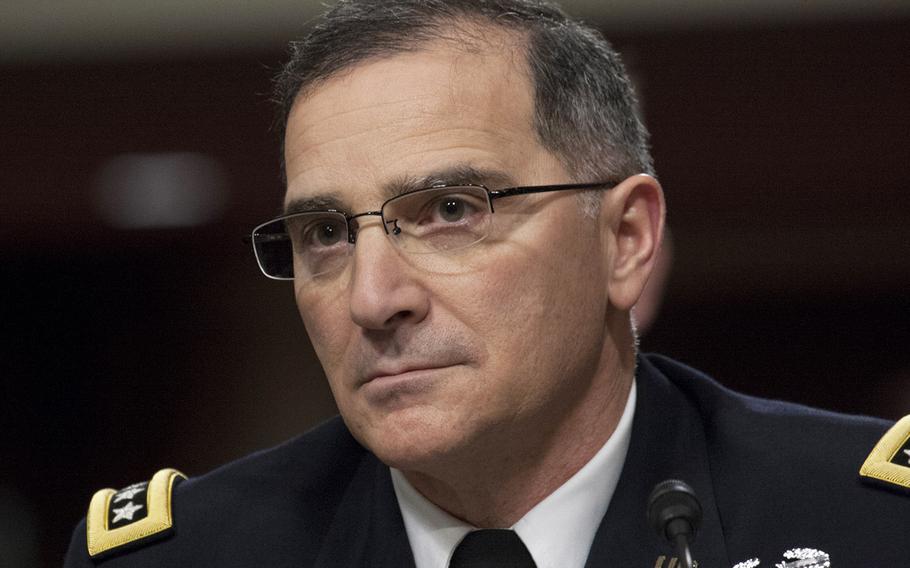 STUTTGART, Germany — When U.S. Army Gen. Curtis Scaparrotti takes up the job of NATO Supreme Allied Commander in the months ahead, he won't be facing the tranquil European security scene that greeted his most recent predecessors, who walked into the job trying to make a friend of Russia.
If confirmed, Scaparrotti will take his seat at the old desk of Dwight D. Eisenhower with a European mission transformed: Cold War-style tensions with Russia, a refugee crisis threatening Europe's political order and a NATO alliance still trying to adapt.
On Friday, the White House nominated Scaparrotti as the next chief of European Command and SACEUR.
"His experience as a commander at every echelon while facing incredibly demanding security challenges in our country's hottest spots give him the experience and skills needed for Europe and our nation at this time," current EUCOM chief Gen. Philip Breedlove said in a statement. "'Scap' is a superb match for the security situation in Europe as it is rapidly evolving and becoming more complex."
In Europe, NATO has spent the past two years adjusting to what it sees as a more aggressive and unpredictable Russia, a view formed in the wake of Moscow's 2014 intervention in Ukraine. In response, the U.S.-led alliance has worked to enhance its presence along its eastern border with Russia, adding rotational forces and doubling the size of its quick reaction force to 40,000.
Scaparrotti, whose nomination as SACEUR was approved Friday by allies in Brussels, is currently commander of United Nations Command/Combined Forces Command and U.S. Forces Korea. If his nomination is confirmed by the Senate, he will have the task of picking up where Breedlove leaves off: continuing a pivot away from counterinsurgency with a more intensive focus on conducting high-end military operations.
The U.S. military presence has grown in Europe, with pre-positioned tanks, more rotational troops and forces maneuvering in larger numbers on NATO's eastern edge. The challenge ahead will be to improve allies' overall state of readiness.
Though NATO has taken steps to streamline the political process for speedier deployments, concerns persist about whether NATO could mobilize fast enough in a crisis with Russia. That will likely be a key focus of Scaparrotti's tenure as EUCOM boss and NATO military chief.
In that regard, Scaparotti can draw heavily from his experiences during his nearly three-year stint in Korea, a job that in many ways matches the one he will soon be stepping into. During a 2014 press briefing, Scaparrotti described a mission focus in Korea that captures what NATO is working toward.
"The mission of the United States and Republic of Korea alliance is to deter aggression, and if deterrence fails, defend South Korea," Scaparrotti. "We deter North Korean aggression by ensuring our forces are ready to fight tonight. Therefore, our focus is on readiness and sustaining and strengthening the alliance."
Before leading in Korea, Scaparrotti, a 1978 graduate of West Point, served in several combat command posts. He was assistant division commander of the 1st Armored Division in Baghdad in 2004.
From 2011 to 2012, Scaparotti commanded the ISAF Joint Command during the surge in Afghanistan, when NATO's numerical strength peaked at 140,000 troops — including 100,000 Americans, The operation inflicted heavy losses on the Taliban insurgents but did not have a lasting effect on the guerrillas, whose attacks intensified following the withdrawal of most NATO combat troops in 2014.
At NATO, he will need to keep one eye on the alliance's on-going mission in Afghanistan while grappling with challenges in the alliance's own backyard. He also served as commandant of cadets at the United States Military Academy at West Point.
"He's got so much experience already in a multinational environment, both in Korea and Afghanistan. So he is well accustomed to very difficult situations, huge challenges," said Lt. Gen. Ben Hodges, commander of U.S. Army Europe. "He understands how this all works."
As SACEUR, Scaparrotti will need to navigate a complicated political environment, where the views of 28 allies, and their threat perceptions, can sometimes be at odds. In the Baltics and eastern Europe, anxiety remains high over a possible threat from Russia, whose actions in Ukraine have rattled countries once dominated by the old Soviet Union. Poland and the Baltic states have been particularly vocal about the need for a more robust NATO presence in the region, with frequent public demands for a permanent basing and force presence.
NATO is now examining what kind of troop mix should be deployed east, though that presence is likely to be more rotational than permanent given disagreements about whether such a move is warranted.
Amid such debates, Breedlove has taken on a more prominent role than previous EUCOM/NATO commanders, speaking bluntly about a "revanchist Russia" and the need for a more robust U.S. military presence in Europe. Along NATO's eastern flank, those pronouncements have been taken as a signal of solidarity and reassurance. Critics, however, say Breedlove's hard line on Russia has sometimes been too bellicose.
In Korea, Scaparrotti has kept a somewhat lower profile, but he has been outspoken about U.S. adversary North Korea, a style that could carry over into the new job in Europe.
Hodges, who leads 30,000 soldiers on the Continent, said Scaparrotti's past experience should carry over well to an intensified military mission in Europe.
"He's the prefect follow up to what Gen. Breedlove has started in order to reestablish necessary military capability in Europe," Hodges said.
Besides Russia's new assertiveness, the civil war in Syria and the refugee crisis it fuels in Europe have also put allies on edge. NATO recently deployed warships to help monitor the flow of migrants crossing the Aegean Sea, bound for Greece, in an effort to crack down on human trafficking.
If the crisis persist, pressure is likely to mount on allies to do more in a region where Russia also has established a presence — in Syria and in the eastern Mediterranean.
Defense Secretary Ash Carter, in a statement Friday announcing Scaparrotti's selection, praised the general's "excellence as a soldier-statesman, skills he will need as he works closely with our most trusted allies and partners in Europe."
"Gen. Scaparrotti is one of the U.S. military's most accomplished officers and combat leaders, and it is my hope that the Senate will act quickly on his nomination," Carter said.
---
---
---
---