First US military unit to be continuously stationed in Poland activated
by
Jennifer H. Svan
November 9, 2012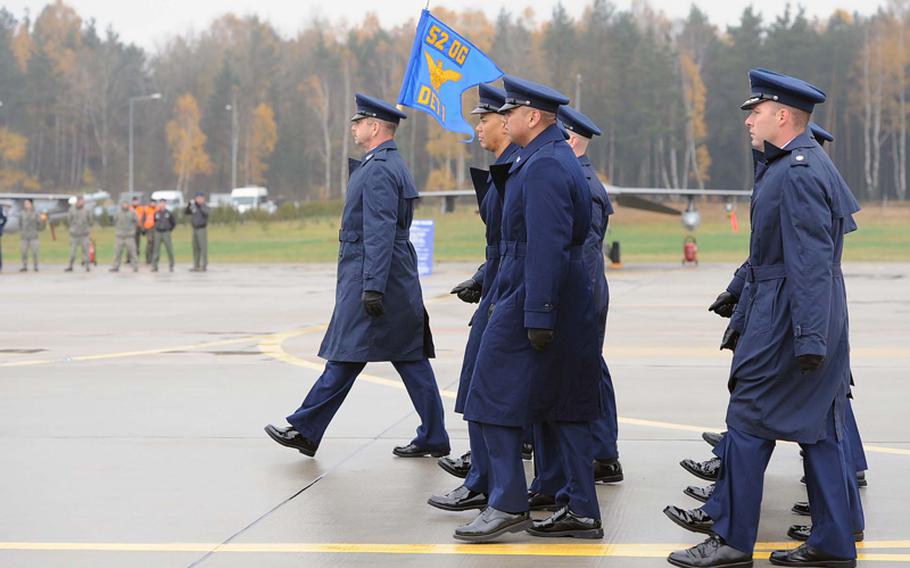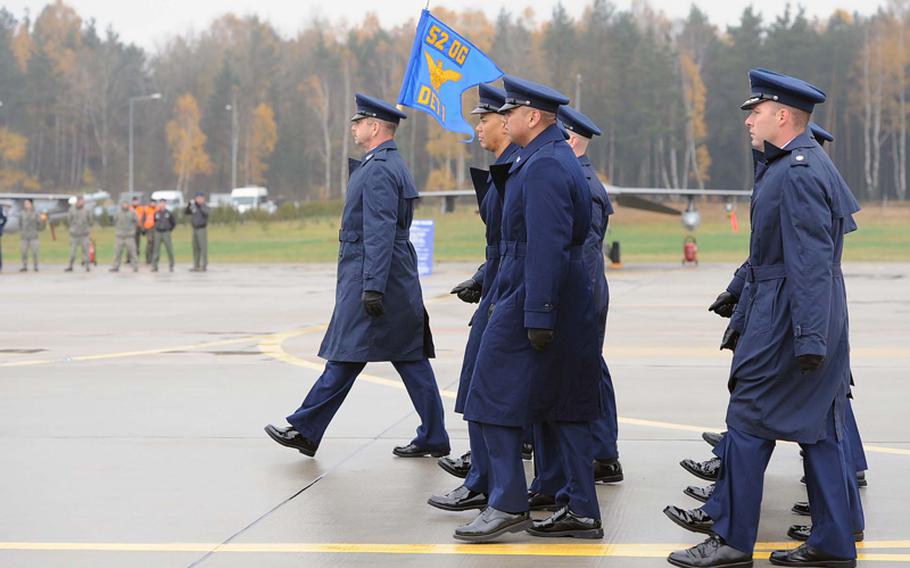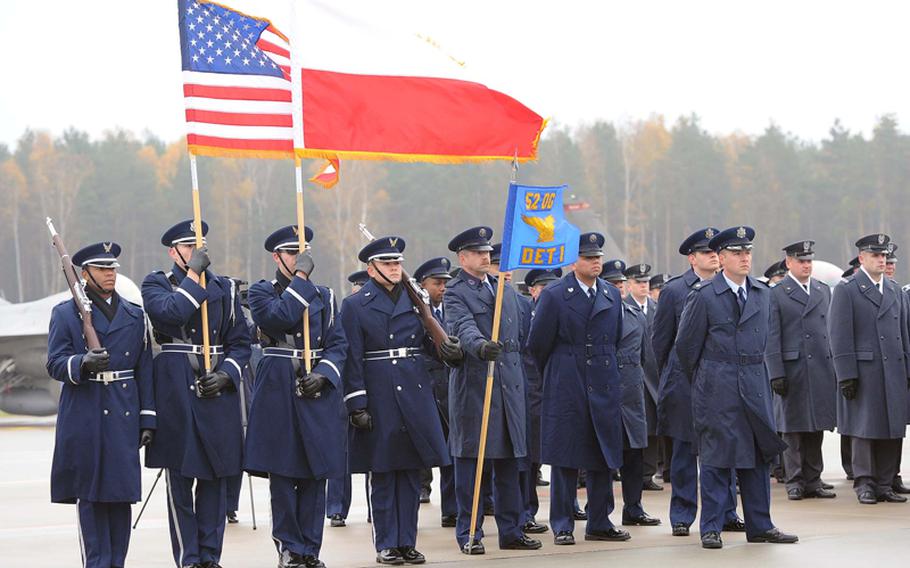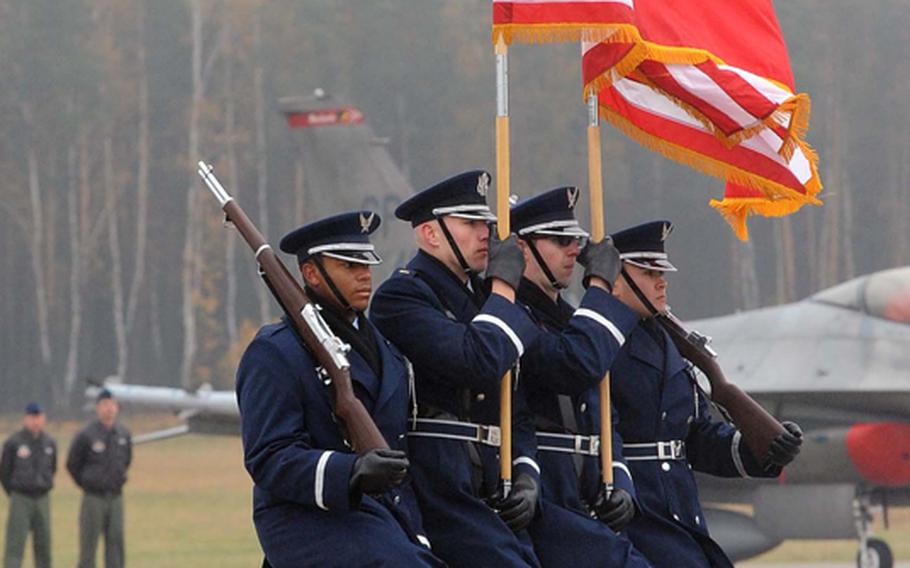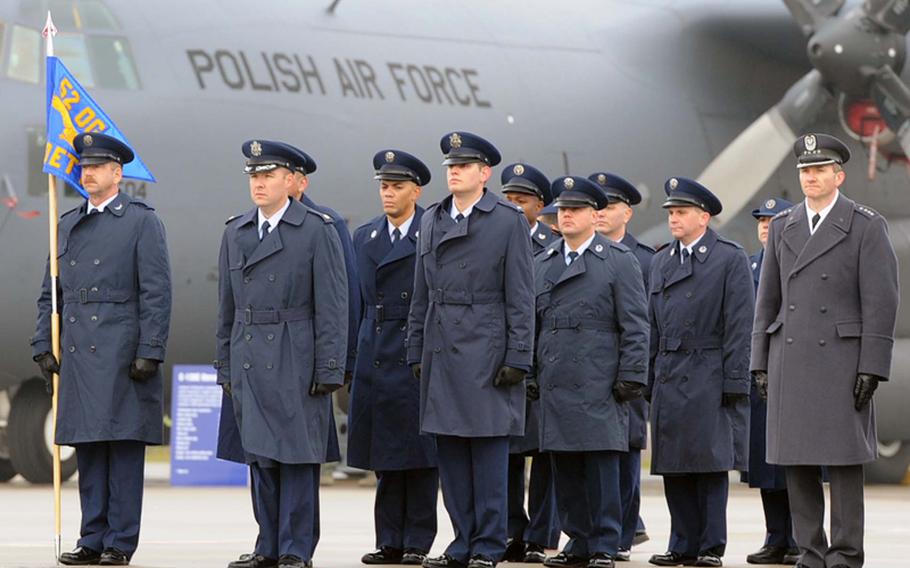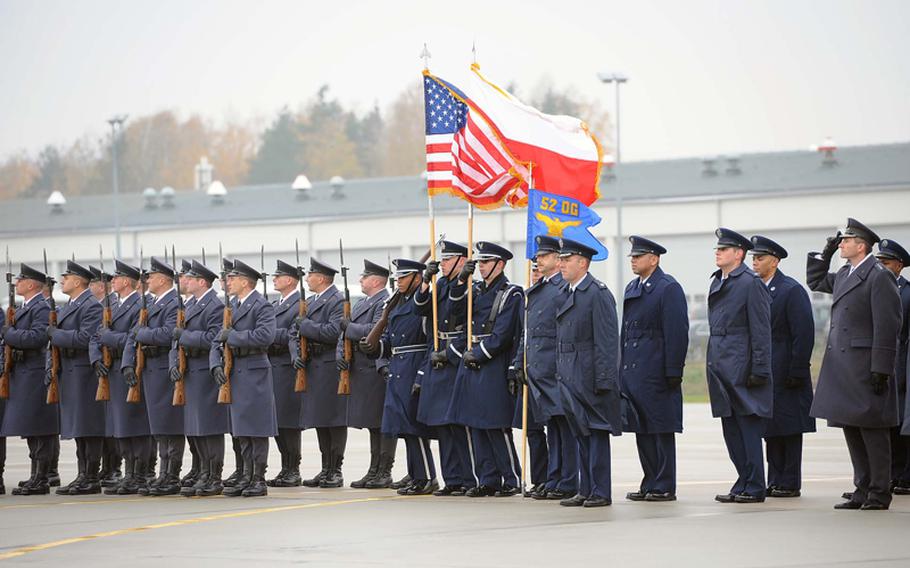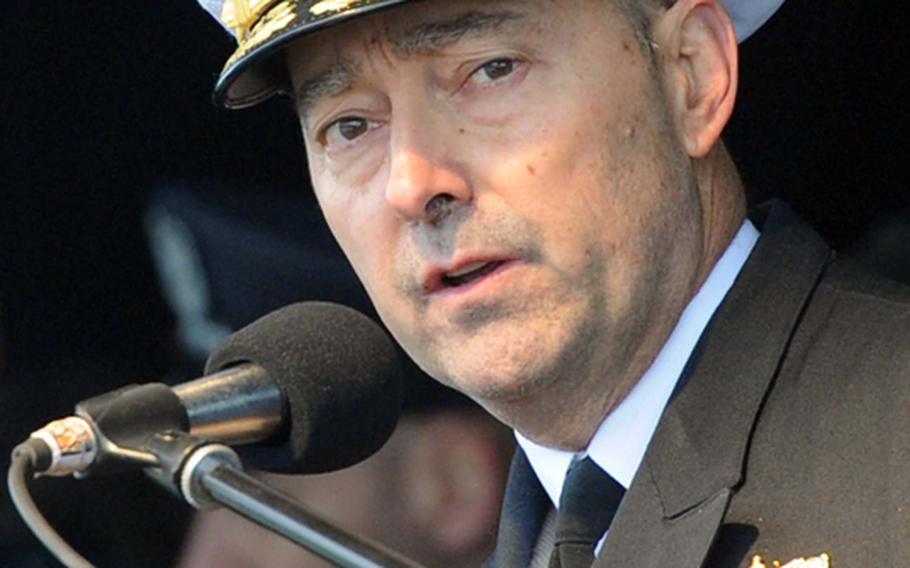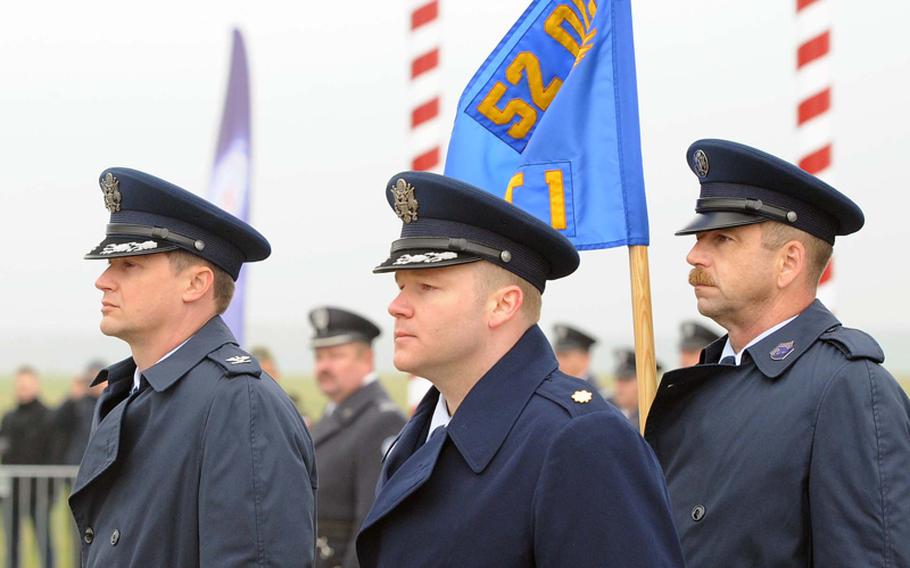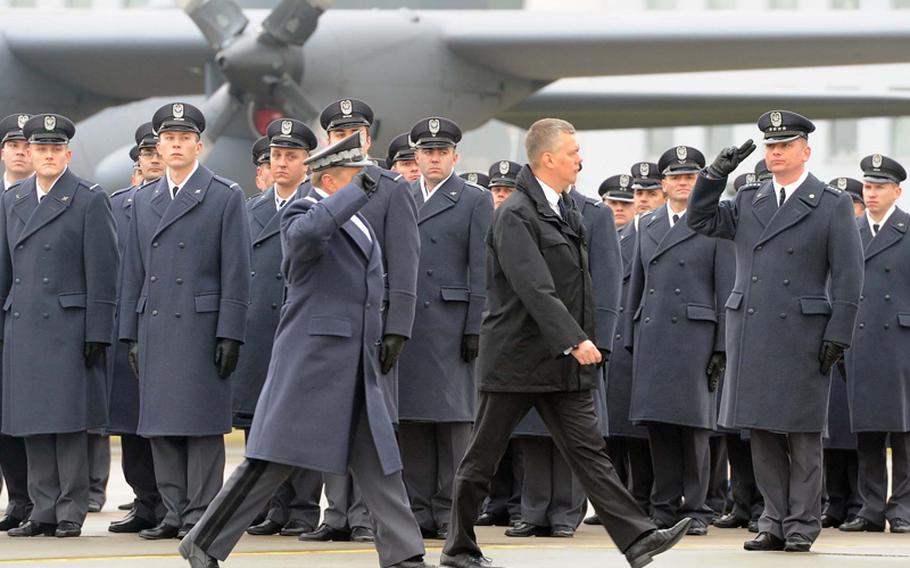 LASK AIR BASE, Poland — As a frigid wind whipped the U.S. and Polish flags above the flight line at this sprawling base, two allies marked the activation Friday of the first U.S. military unit to be continuously stationed on Polish soil.
Though numbering only 10 airmen, Detachment 1, 52nd Operations Group has a historic role to fill.
It signifies the United States' commitment to furthering its partnership with Poland, a former Warsaw Pact member, and promoting regional security in Europe, said senior military and government leaders from both countries who spoke at a ceremony to stand up the detachment.
"It marks the arrival of a new kind of U.S. 'boots on the ground,' " said Derek Chollet, the U.S. assistant secretary of defense for international security affairs.
Calling the U.S. airmen "very welcome guests in Poland and in Lask," Poland's Defense Minister Tomasz Siemoniak said the unit's creation represents "a very important and symbolic moment" between the two countries, a "cooperation that is not just about rhetoric, but about very specific, concrete steps."
Setting up the detachment, an idea agreed to in principle nearly two years ago by President Barack Obama and Polish President Bronislaw Komorowski, is only the first step.
Plans are for the unit, beginning early next year, to support four annual U.S. aircraft rotations into Poland, two each of F-16 fighter jets and C-130 Hercules planes. About 250 U.S. military personnel will participate in the training exercises, which are expected to last about two weeks, military officials said.
The U.S. Air Force has exercised with Poland's air force before, both in Poland and elsewhere, but not to the extent that's planned for the combined training exercises soon to get under way, said Maj. Matthew Spears, an F-16 fighter pilot who's served as an adviser to the Polish air force for the last three years and the aviation detachment's first commander.
"What's unique about this mission is, now we've made a commitment that we will be here, that we will train here, that we will integrate," he said. "This shows our commitment to Poland and our commitment to making them a fully capable NATO partner."
It's "a significant commitment of aircraft, time and personnel to the bilateral relationship," one that serves several important purposes, said Ian Brzezinski, a senior fellow at the Atlantic Council in Washington, D.C.
It not only strengthens the U.S.-Poland relationship, which has been "somewhat strained over the last four years," he said, but it also serves to reassure other European allies that the region is still strategically important at a time when the United States is reducing its presence in Europe.
A member of NATO since 1999, Poland has flown F-16s for six years now, Siemoniak said. "We want to learn from the best, we want to cooperate with the best," he said in an interview after the ceremony. "This cooperation, this is what it is all about."
Spears said the periodic rotations are currently focused on "bilateral training opportunities," with the training objectives still being worked out.
Some details are known. Air Force officials said Friday that aircraft and personnel from Europe will participate in some of the first exercises next year, including C-130 Hercules from the 37th Airlift Squadron at Ramstein Air Base, and F-16s from the 510th Fighter Squadron at Aviano Air Base, Italy.
The rotations in the future could include active-duty units stateside, as well as Air Force Reserve and Air National Guard units, Spears said.
Most of the inaugural members of the aviation detachment, which falls under the command of the 52nd Operations Group at Spangdahlem Air Base, Germany, come from outside Europe. They volunteered for the one-year assignment.
"I like the history over here, the history and the culture," said Master Sgt. Chris Hall, 40, a maintenance section chief from Bolivar, Pa.
The airmen will be responsible for supporting the units that rotate into Poland, including providing personnel with phones and Internet; arranging lodging and transportation; and serving as liaisons between U.S. and Polish aircraft maintainers.
Most of the airmen have been in Poland for about three weeks, settling in off base in the city of Lodz, about 25 miles north of Lask Air Base. Most challenging so far has been the language barrier — finding themselves unable to communicate with a clerk at a local grocery store or, more disconcertingly, with a taxi driver. They all wear their addresses on their keychain, just in case.
"There aren't any American facilities here," said Tech. Sgt. Kenyatta Wilson, 33, a client systems support specialist from North Carolina.
"It's a unique experience," he said of the chance to live in Poland. "This is the first time I've been part of standing up a new unit."