First all-women team enters Aviano bomb-building competition — and wins
by
Norman Llamas
January 11, 2020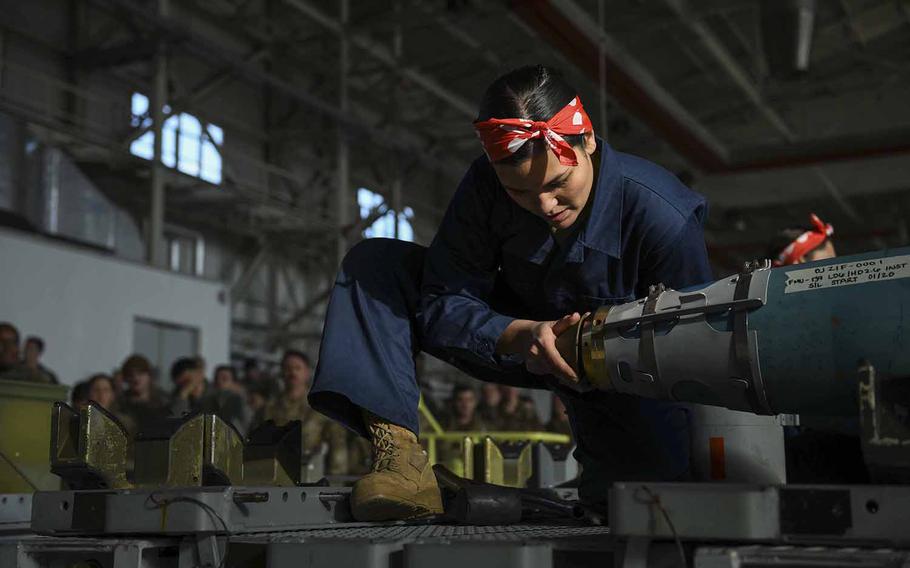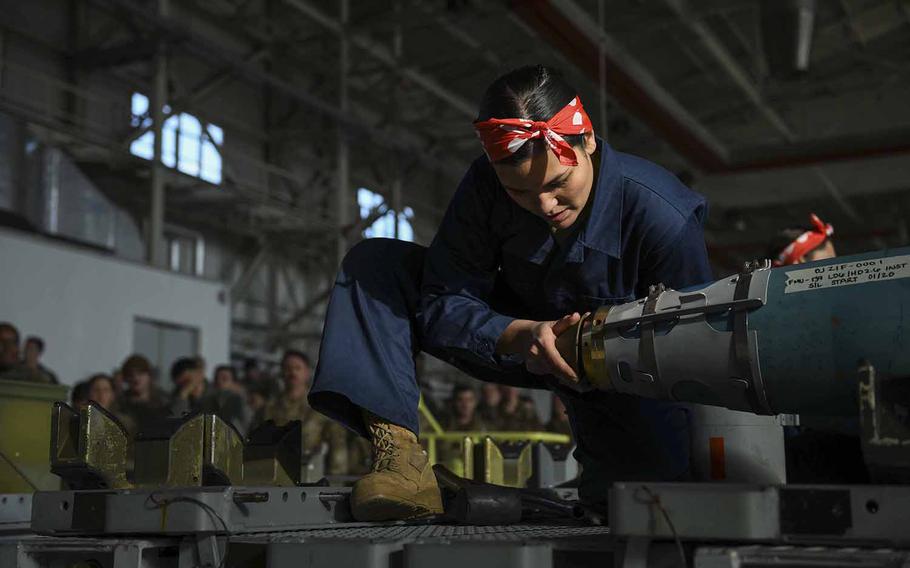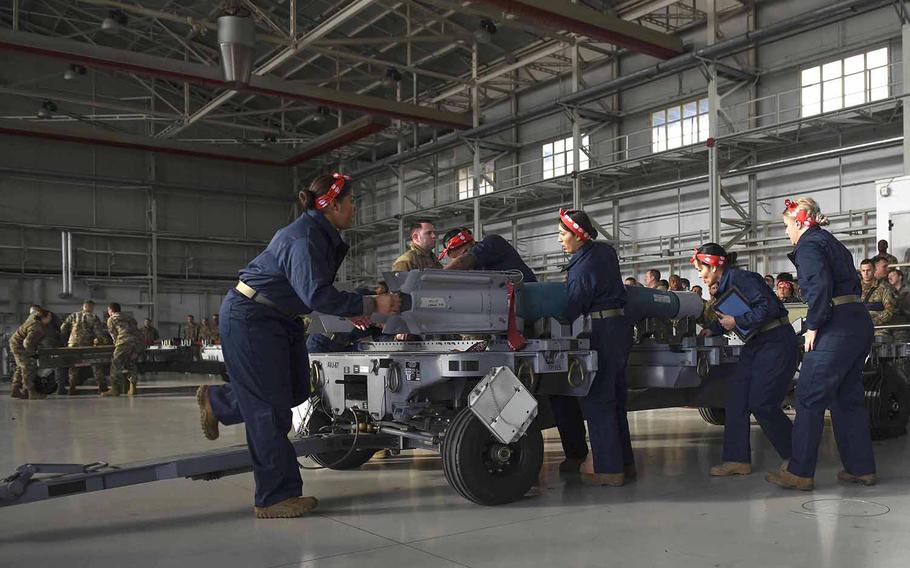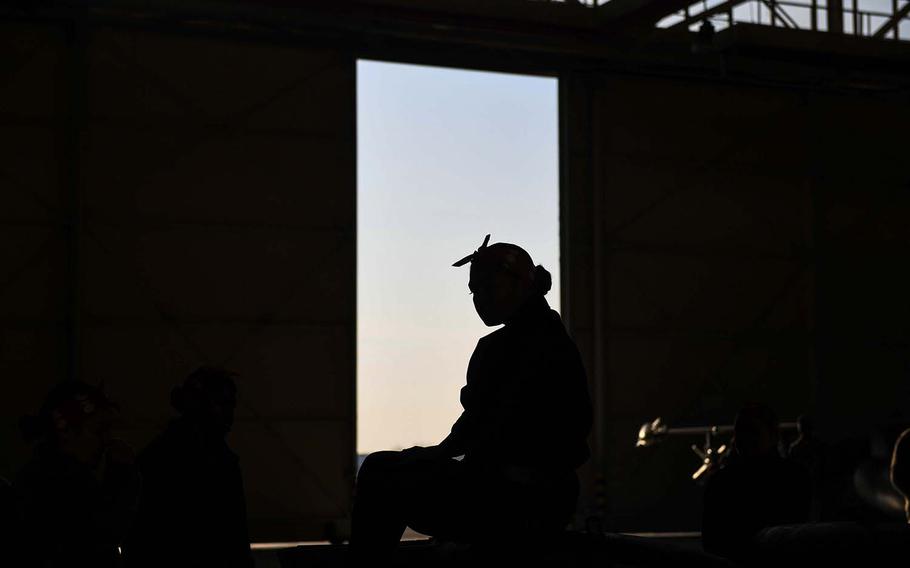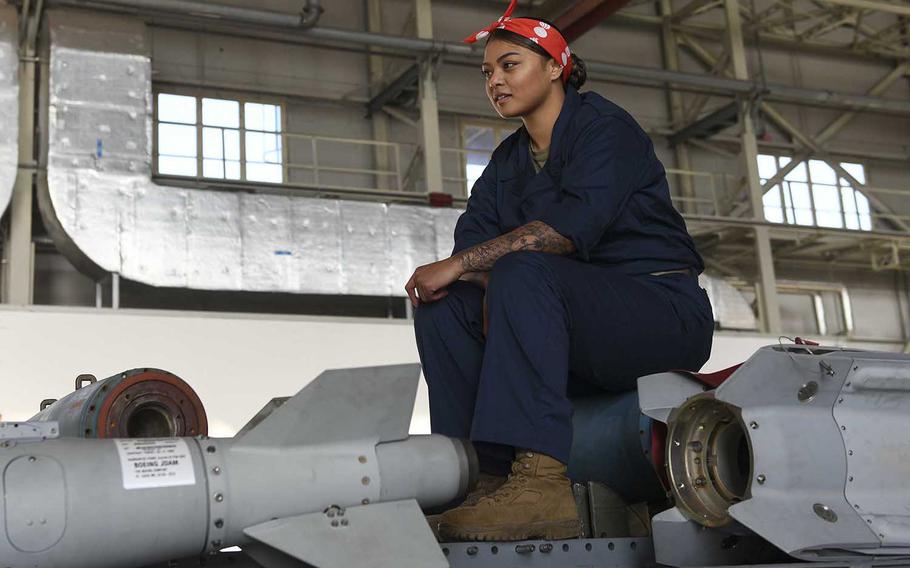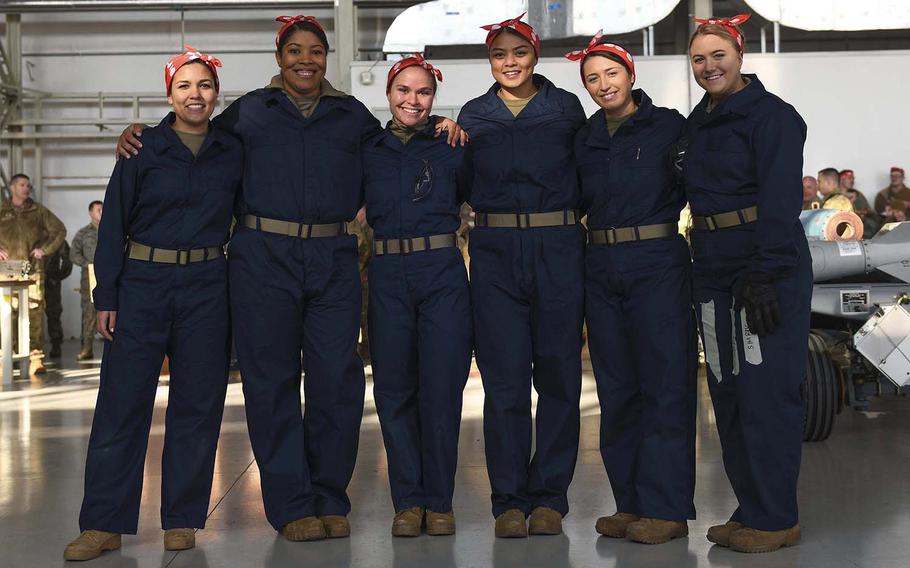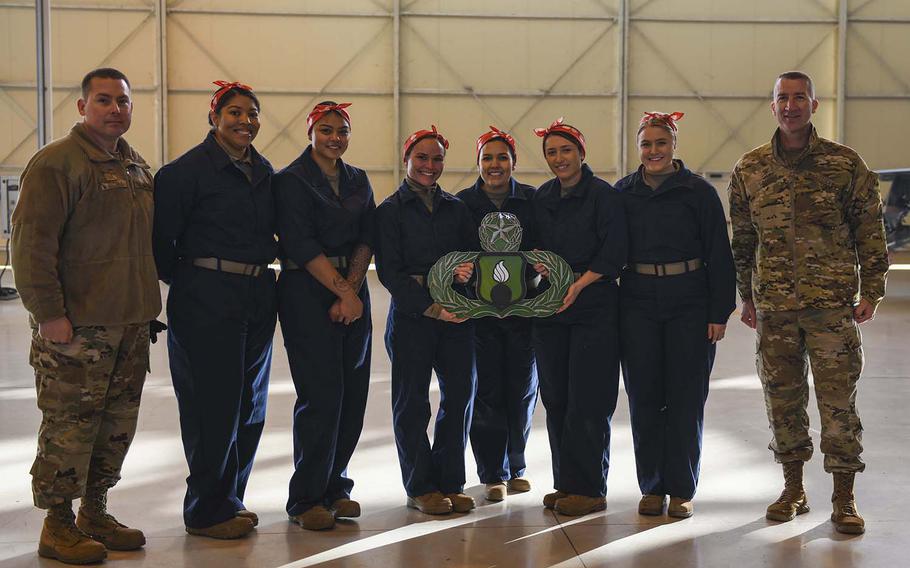 AVIANO AIR BASE, Italy — They Could Do It!
For the first time since Aviano began hosting its quarterly bomb-building competition, an all-female team entered — and won. The team, called the Bouncing Bettys, completed the Rapid Aircraft Generation and Employment competition last week.
All of the Bouncing Bettys dressed as Rosie the Riveter, the World War II icon whose image appeared on posters proclaiming, "We Can Do It!" The posters were used to recruit women to work in factories and shipyards to produce munitions and war supplies.
The RAGE competition included six evaluated events: a written test, stockpile practices, trailer configuration and re-configuration, air cargo palletization and a weapons-build, said U.S. Air Forces in Europe and Air Forces Africa in a Facebook post congratulating the team on their win.
The competition is a relatively new event, first held in October.
Officials at Aviano could not immediately answer Stars and Stripes inquiries about the competition, but details of the team and the event were included in captions on pictures taken by Airman 1st Class Ericka Woolever, a public affairs airman at the base's 31st Fighter Wing.
The Bouncing Bettys were Staff Sgt. Ana L. Merkel, a munitions inspector; Staff Sgt. Catharyn M. Clyde, a munitions control supervisor; Staff Sgt. Nicole D. Jarvis, an NCOIC of conventional munitions support; Airman 1st Class Ashlyn B. Martin, a stockpile management technician; Airman Erin N. Brumm, a stockpile management technician, all from the 31st Munitions Squadron; and Senior Airman Audrey M. Naputi, a munitions inspector from the 731st Munitions Squadron. All are based at Aviano.
"I introduce to you… the first ever all female #WYVERN RAGE team," Merkel said on Facebook in late December with a photo of the full team. "We can do it!"
It was Merkel's idea to put together a team of women to highlight the impact women have on sortie generation, the preparations that are performed for an aircraft's combat flight.
They honored Woman Ordnance Workers through their uniforms and team concept, but also through "outstanding communication and technical performance," USAFE's Facebook post said.
Following their win, the Bouncing Bettys' names will be etched on plaques, which will be added to the 31st Munitions Squadron's heritage.
"No better way to kick off 2020," said Bouncing Bettys member Jarvis in a Facebook post sharing photos of the event.
llamas.norman@stripes.com Twitter: @normanllamas