Families leaving Turkey get supportive welcome at Ramstein
---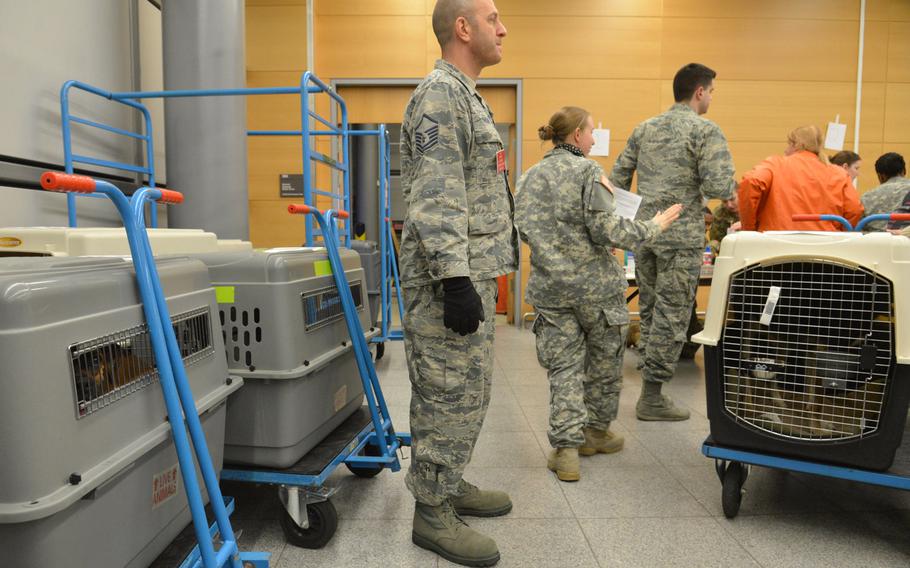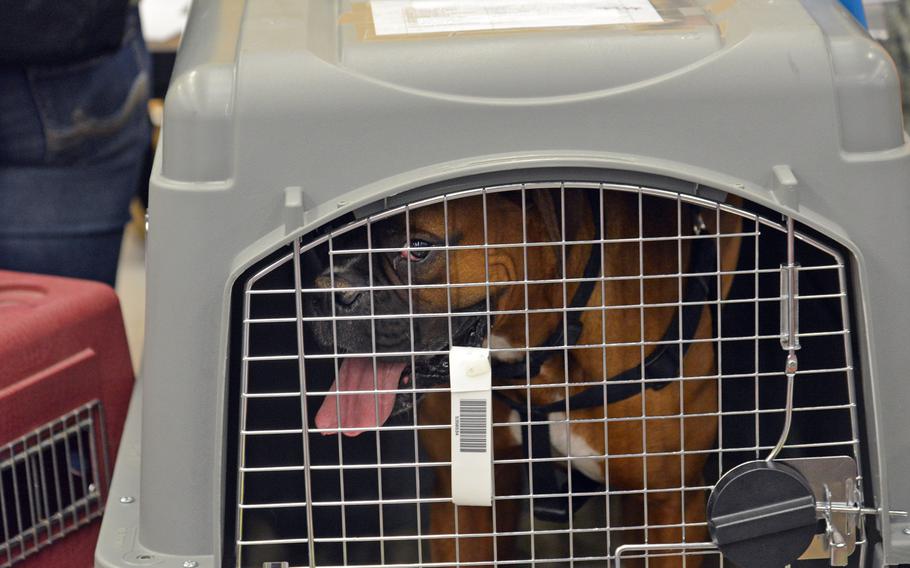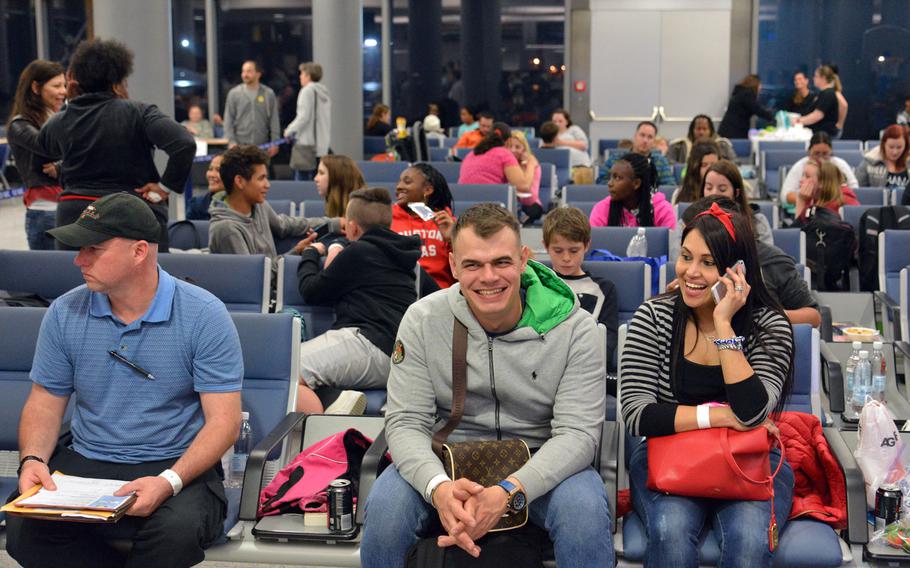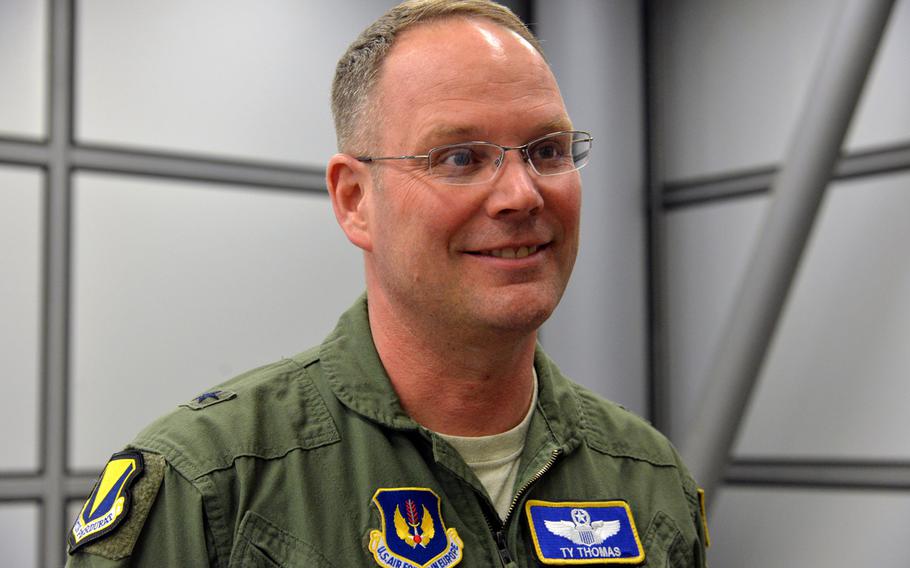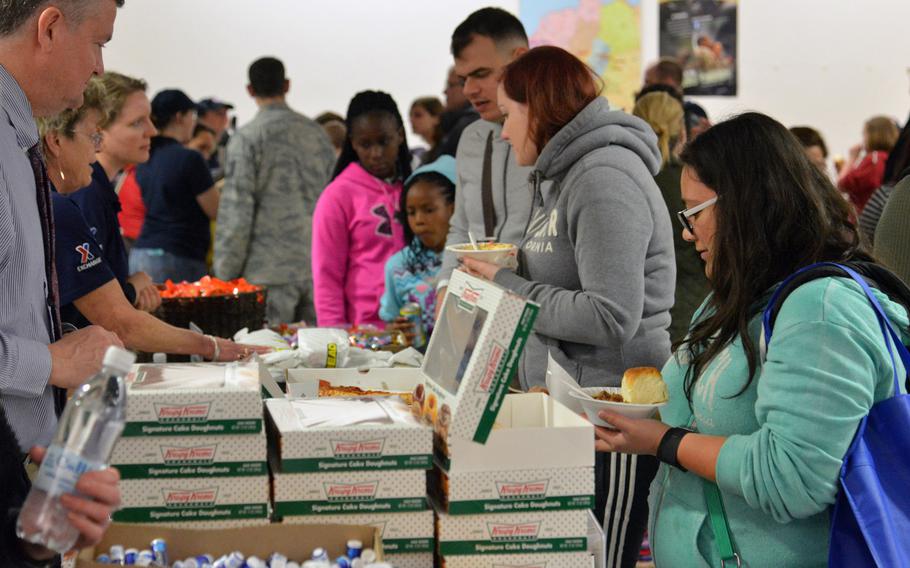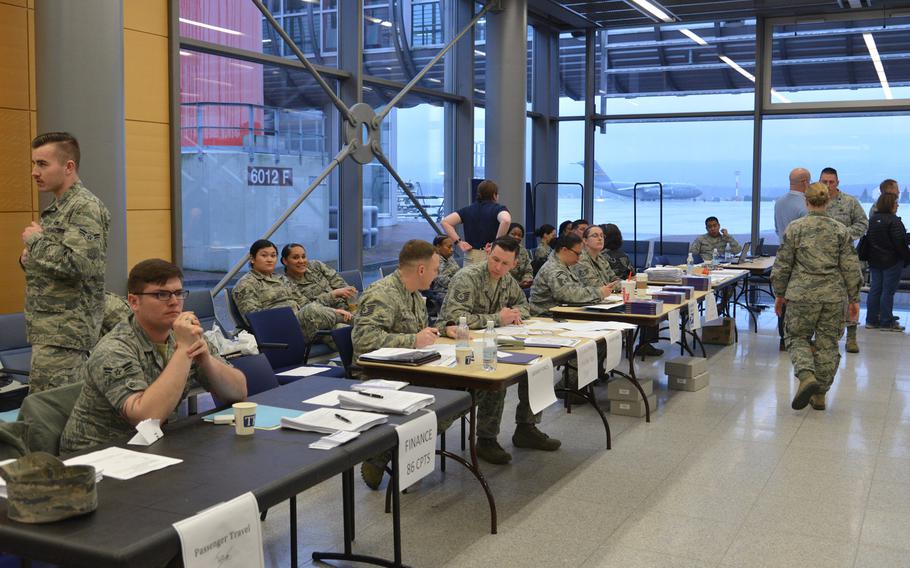 RAMSTEIN AIR BASE, Germany — Moments after their Air Force C-17 touched down, military family members arrived inside the terminal here to the sound of barking dogs and a smiling commander, who offered encouragement after a turbulent couple of months at bases in Turkey.
"There's a lot of people who can't wait to see you," Brig. Gen. Ty Thomas, commander of the 86th Airlift Wing, told passengers as they passed through passport control at Ramstein Air Base.
Military family members have been arriving at Ramstein since Tuesday's decision to order the departure of nearly 700 dependents and their pets from Incirlik and two other, smaller bases. For the Air Force, that has prompted a rapid mobilization of support services to help families with everything from hotel reservations and school registration to arrangement for onward travel.
On Thursday night, an Army veterinarian and his team were on hand to help get cats and dogs through customs, reviewing health records in an effort to reconnect people with their pets as soon as possible. In all, 287 pets were to be evacuated from Turkey.
School officials were also ready to collect academic records for those enrolling at area schools, where about 70 new students are expected to be attending classes.
Some families have opted to return to the States. For those students, schooling options depend in part on their location, said Will Griffin, spokesman for the Department of Defense Education Activity-Europe. Options include enrolling in another DODEA school or a public school; distance learning with DODEA's virtual school for secondary students and home-schooling with an accredited program.
DODEA is working to reassign teachers who taught at Incirlik to other DODEA schools, Griffin said. School operations will remain suspended at Incirlik until normal dependent assignments resume.
U.S. European Command officials said a decision on the future status of Incirlik as an accompanied assignment for airmen and their families is under review. They said it's unlikely that the families ordered to leave will return to Turkey.
The ordered departure is approved initially for 30 days but will remain in effect until terminated by the State and Defense departments, officials said.
Security concerns in Turkey, which has been hit by a wave of terrorist attacks in recent months, have disrupted the school year for about 250 students at Incirlik Elementary/High School, which shut down in early March for a three-week stretch. Classes resumed Monday at different buildings on base, but were cut short when families were abruptly ordered to leave because of concerns about a deteriorating security environment in Turkey.
"They've been very unsettled for a long time," said Lt. Col. Nathan Tarkowski, deputy commander for the 86th's mission support group, who helped coordinate the response at Ramstein.
As the families learned about their options at a briefing at the base's passenger terminal, they ate from a bounty of food provided by community members. Child care providers were on hand to help watch youngsters as parents did paper work.
"The general reaction from the community is, 'what can I do?' " Tarkowski said. "If everyone chips in it is easy."
A representative from Kaiserslautern USO said people donated baked goods, fresh fruit, blankets, pillows and toiletries, given to families as they arrived at the terminal.
Air Force officials were still working to determine how many of the arriving families would be staying in the area or moving on to other destinations. Officials said it appeared that most families were electing to return to the States.
The Air Force declined to make family members available for interviews, citing privacy concerns. Families have been given the option of having their household goods shipped from Turkey since it's unlikely they'll be returning to the country in the immediate future.
They were allowed to take two pieces of luggage and a carry on.
A fifth and final flight from Incirlik was slated for Friday, which was expected to end the three-day ordered departure.
"The reaction I've seen from the people has been relieved and safe," said Tech. Sgt. Teve Molioo, a passenger services supervisor at Ramstein.
Stars and Stripes reporter Jennifer Svan contributed to this report.
---
---
---
---