Fake US soldiers 'verboten' at Berlin's Checkpoint Charlie amid reports they harassed tourists
By
Marcus Kloeckner John Vandiver
November 5, 2019
---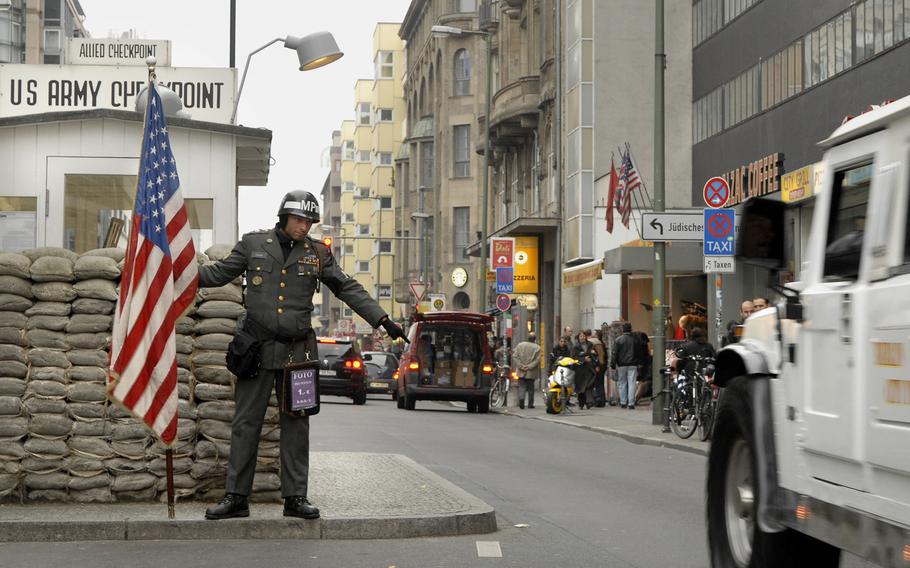 Actors dressed as U.S. soldiers at Checkpoint Charlie in Berlin have been banned from the iconic Cold War location because of their aggressive and abusive way with tourists, city officials said.
Passersby were "literally forced to pay for a picture with the actors," Stefanie Kunze, a spokeswoman for the district in Berlin that houses the former border crossing, said in an email.
Following several complaints from citizens and tourists, local authorities decided to take action and bar the soldier-impersonators from the popular tourist site, she said.
The ban comes as Germany celebrates 30 years since the fall of the Berlin Wall.
The impersonators, who were from the casting agency "Dance Factory," were verbally abusing and even following tourists who refused to offer donations after having their pictures taken with them, the German newspaper Bild reported Monday. Around 10 actors from the agency posed for pictures and stamped tourist documents, the tabloid said.
But claims reported by Bild that the soldier-impersonators mistreated tourists and that they made up to $6,000 daily were roundly dismissed by Dance Factory head Tom Luszeit. The fake soldiers might have had a word with tourists who didn't pay them 3 euros after having a picture taken, but never did they harass visitors to the popular site, Luszeit said.
As for their earnings, "We made at most 700 euros a day. And we paid tax on that," he told German newspaper Der Tagesspiegel.
Checkpoint Charlie was the best known of three American-controlled border crossings in divided post-war Berlin. The U.S. and Soviet Union nearly went to war when the border crossing opened in 1961, as tanks from both sides came within inches of each other on opposite sides of the checkpoint during a high-stakes standoff.
In the years after the Berlin Wall was built, the checkpoint saw many attempts by East Germans to flee to the West. Today, little remains of Checkpoint Charlie, and some locals regard the impersonators at the checkpoint and the nearby tourist traps as tacky eyesores.
The actors did not have a permit to masquerade as U.S. soldiers at the site, said Kunze, and were only "tolerated" by authorities up to now. Police will intervene if any of the soldier-impersonators continue working at the former border crossing, she said.
vandiver.john@stripes.com Twitter: @john_vandiver
---
---
---
---