Facing cancer fight, German woman appeals to military community for help in finding a genetic match
by
Jennifer H. Svan
March 18, 2019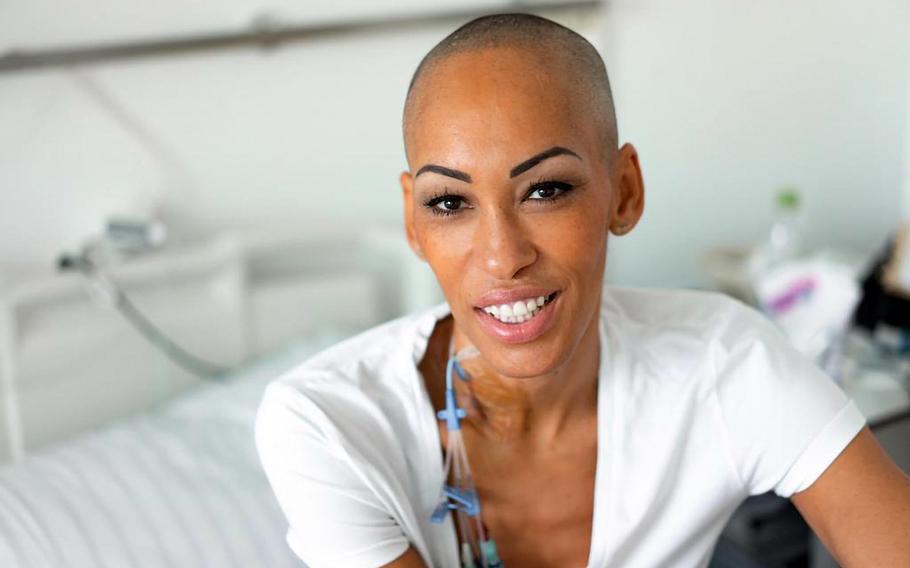 KAISERSLAUTERN, Germany — A German woman in need of a stem cell transplant to save her life is appealing to the international community, including Americans living in the Kaiserslautern area, for help in finding a donor.
Astrid, a mother of two young boys from Frankfurt, was diagnosed with acute myeloid leukemia last fall after going to the doctor for a sore throat. Doctors have said her best chance of beating the less than 50-percent odds of surviving the aggressive blood cancer is a stem cell transplant, said her family friend, Sara.
Astrid, 41, is facing an uphill battle in finding a genetic match, given her mixed African and Caucasian ethnicity, Sara said, speaking on Astrid's behalf. Both women requested only their first names be used to protect their families' privacy.
Their plea comes in an area where Defense Department personnel can easily register on base to become bone marrow donors; however, officials say minorities are underrepresented in the department's globally accessible registry.
Less than three percent of all registered donors worldwide are of an ethnic mix, Sara said. Even fewer have African and Caucasian genes, she said. Astrid needs to find a "genetic twin," someone who has the same genetic makeup, Sara said. "That hasn't been found yet," she said.
Astrid's father was from Nigeria — belonging to the Igbo, one of the largest of all African ethnic groups.
"What we didn't know before this happened to Astrid is that ... 70 percent," of registered stem cell donors are Caucasian, Sara said.
"We just need to reach way, way, way more people, not just for Astrid but for everybody with similar backgrounds," she said, "because it can become a problem for everybody."
Astrid has appealed directly to residents of London, which has one of the biggest Nigerian communities outside of West Africa. Her supporters are also reaching out to the U.S. and broader public, Sara said, including to U.S. military personnel stationed in Germany.
The U.S. military cannot advise or endorse participation in the campaign to help Astrid, officials at Ramstein said. But DOD personnel, Coast Guardsmen and immediate family members in the Kaiserslautern area can easily register to become a stem cell or bone marrow donor — for anyone in need, since Ramstein Air Base is one of about 65 walk-in registration sites for the C.W. Bill Young Department of Defense Marrow Donor Program, also called Salute to Life.
Individuals between the ages of 18 and 60 in general good health may register through the program. On Ramstein, the 86th Medical Group oversees registration at the base medical clinic and has about 50 collection kits on hand, officials there said.
Registration can be completed in about seven minutes and doesn't cost anything, said Eddy Medina, the senior recruiter for the DOD marrow donor program. It involves filling out a form and having each cheek swabbed twice.
Once a kit arrives at the program's lab in Maryland, DNA is extracted from the swabs and analyzed for six different genes to determine the human leukocyte antigen typing — the markers found on most cells in the body. That information will be added to the registry, Medina said.
The DOD program partners with the National Marrow Donor Program, which is open to both civilian and military patients in need of a transplant. The national registry works with more than 50 other nations, increasing the pool of potential donors to more than 33 million.
"If you become a match, they'll ask you if you want to go through the process of donating," Medina said. "They'll tell you the age of the person, the gender and the disease."
If a person agrees to donate and passes a blood test and physical, he or she would be flown to the greater D.C. area for the procedure, which usually takes less than a week. Military personnel would work through their commander to get permissive leave, while the DOD donor program — which receives funds from Congress — would cover the travel costs, Medina said.
More than 1 million DOD personnel are registered in the program's database, Medina said. Minorities, however, are not represented "as well as they should be," in the registry, he added.
Individuals may also request a testing kit by mail (www.salutetolife.org) or attend a registration drive. The next one overseas is at Camp Zama, Japan, from March 25 to 29. Those not affiliated with DOD may register at: www.bethematch.org.
In Germany, people may register through DKMS, a charity that works with national stem cell registries to defeat blood cancer.
The best way to help Astrid, Sara said, is to get registered as a donor.
For Astrid, finding a match is a life or death prospect, Sara said.
She's undergone chemotherapy but "getting a stem cell donation is her only chance of surviving this," Sara said. "They can try to buy her some time with the medicine, but ultimately she will need a match or she will most likely die.
"She's also hoping that her case really raises awareness for this global problem," Sara said.
svan.jennifer@stripes.com Twitter: @stripesktown