F-22 Raptors make deterrence, support visits to Lithuania, Romania
---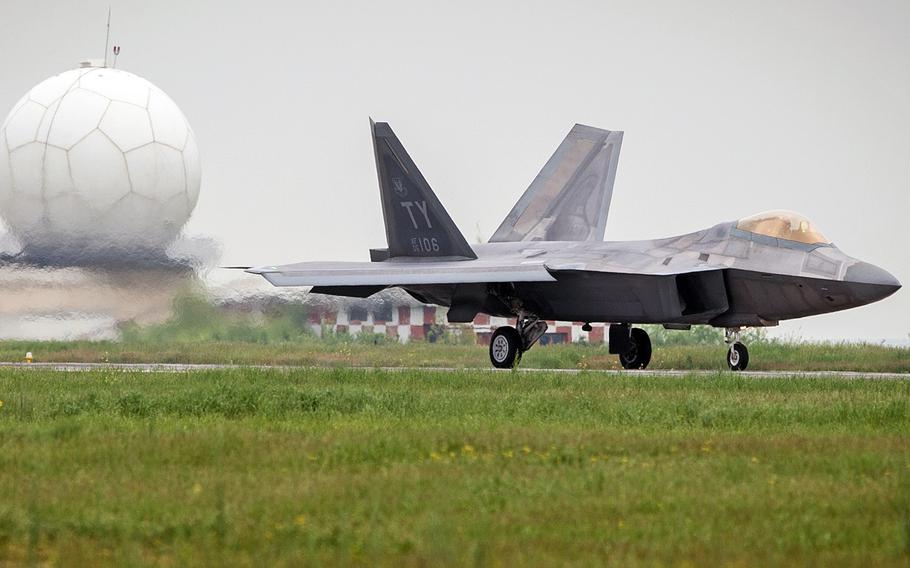 KAISERSLAUTERN, Germany — F-22 Raptors are making the rounds in eastern Europe this week in a subtle show of strength and support to allies concerned about Russian aggression in the region.
A pair of F-22 Raptors and a KC-135 Stratotanker made a stop Wednesday at Siauliai Air Base Air Base in Lithuania, the first time one of the Air Force's most advanced warplanes visited the southernmost Baltic State. On Monday, two F-22s, support airmen and aircraft landed in Romania for a brief visit, according to Air Force officials.
It was the second time in eight months that the Raptors have deployed from the States to Europe.
This week's F-22 deployments to Lithuania and Romania follow recent acts of Russian aggression in the region. Earlier this month, two Russian warplanes buzzed the USS Donald Cook in the Baltic Sea; two days later, a Russian jet passed dangerously close to a U.S. reconnaissance plane flying in the Baltic Sea area.
"Without singling out any neighbor, I would like to say that no one has any right to poke their noses into here," Lithuania President Dalia Grybauskaite told reporters during the Raptors' visit Wednesday, according to Reuters.
"This is a demonstration that the United States is honoring its commitments and is ready to protect our region with all the most modern measures," she was quoted as saying.
The Raptor is a fifth-generation fighter known for its stealth capabilities. Last August, the planes deployed to Europe for the first time, making stops in Estonia and Poland.
Twelve F-22s from the 95th Fighter Squadron at Tyndall Air Force Base, Fla., deployed to RAF Lakenheath in the United Kingdom — a few days before the Russian military antics over the Baltic Sea. Air Force officials have said it is the largest deployment of Raptors to the Continent.
While here, the planes are expected to visit NATO bases and train with other Europe-based aircraft. They'll be here until early to mid-May, the Air Force has said. Partial funding for the deployment comes from the European Reassurance Initiative, a mechanism to bolster the security of NATO allies and partners in Europe while demonstrating U.S. commitment to the region.
The White House wants to quadruple spending for the program, requesting $3.4 billion in ERI funds for fiscal 2017.
---
---
---
---