EUCOM takes 'another look' at planned base closures
by
John Vandiver
April 17, 2017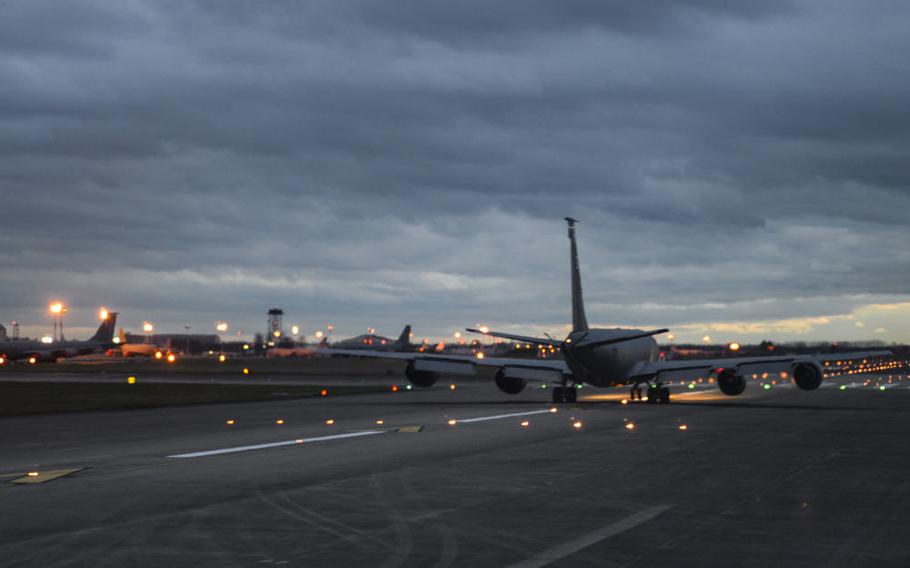 STUTTGART, Germany — A plan to shut down 15 military sites is under review by U.S. European Command, which is taking a second look at a Pentagon cost-saving initiative to consolidate installations in Britain and Germany.
EUCOM officials say that though they support the Defense Department's 2015 consolidation and closure decisions, a more volatile security environment in Europe means some of those plans require "another look."
"Considering the current European security environment, it is a prudent measure to review some of the decisions under the January 2015 European Infrastructure Consolidation effort," EUCOM said in a statement.
To retain any of these facilities, the command would need Pentagon backing and possibly require fresh negotiations with host nations where redevelopment planning has been initiated.
Since the end of the Cold War, the military has cut its force numbers in Europe from a high of about 300,000 to 62,000 today. Hundreds of installations large and small have been shuttered over the years. Since 2013, consolidations have resulted in the elimination of 57 sites with a replacement value of almost $8 billion, EUCOM said.
In 2015, the Pentagon added 15 facilities to the closure list, including RAF Mildenhall in the United Kingdom, where the U.S. Air Force operates a major air-to-air refueling mission and surveillance aircraft. The various closures are slated to happen over the next couple of years; operations at Mildenhall are not likely to end until 2023.
"These closures were programmed over a number of fiscal years and to date, none of these sites have been returned to the host nation, as we are putting the necessary infrastructure in place to facilitate mission and personnel moves necessary," EUCOM said.
Besides Mildenhall, RAF Alconbury and RAF Molesworth — home to Air Force communication and intelligence operations — are the most prominent facilities on the list. Those operations are expected to move to a separate facility — RAF Croughton.
On the Army side, the largest installations on the chopping block are the Ansbach garrison's Barton Barracks and Wiesbaden garrison's Mainz-Kastel Station, where support missions are carried out.
As the Army's mission in Europe has intensified during the past three years, the service had been pinched for space after decades of drawdown. U.S. Army Europe recently began looking for potential new basing options, visiting sites in northern Germany in case the Pentagon elects to expand the mission.
EUCOM's Gen. Curtis M. Scaparrotti wants to add more ground forces to Europe. He has advocated for a full Army division, including a fire brigade, an engineer brigade and air defense units.
The 2015 European Infrastructure Consolidation initiative that marked the 15 sites for closure was under review for more than two years, predating Russia's 2014 intervention in Ukraine. The effort grew out of the Pentagon's push to overcome congressional resistance to additional base closures in the U.S. through the Base Closure and Realignment Commission, or BRAC.
At the time, lawmakers frequently highlighted the military mission in Europe as unnecessary and suggested that overseas bases should close before domestic ones were targeted. But concerns about a more aggressive Russia eventually muted calls for a major downsizing of EUCOM's mission, and calls for closing European bases virtually disappeared.
Of the 15 remaining facilities still on the chopping block, some are worth "another look, given the dynamics of the day, because we've got to get our posture right," Scaparrotti told Congress last month.
If executed, those cuts would save about $500 million annually from the planned consolidations, the Pentagon estimates. The cost of implementing the closures and consolidations was estimated in 2015 at $1.4 billion.
vandiver.john@stripes.com Twitter: @john_vandiver
---
---
---