EUCOM sees larger role for US diplomats in military exercises
by
John Vandiver
May 30, 2019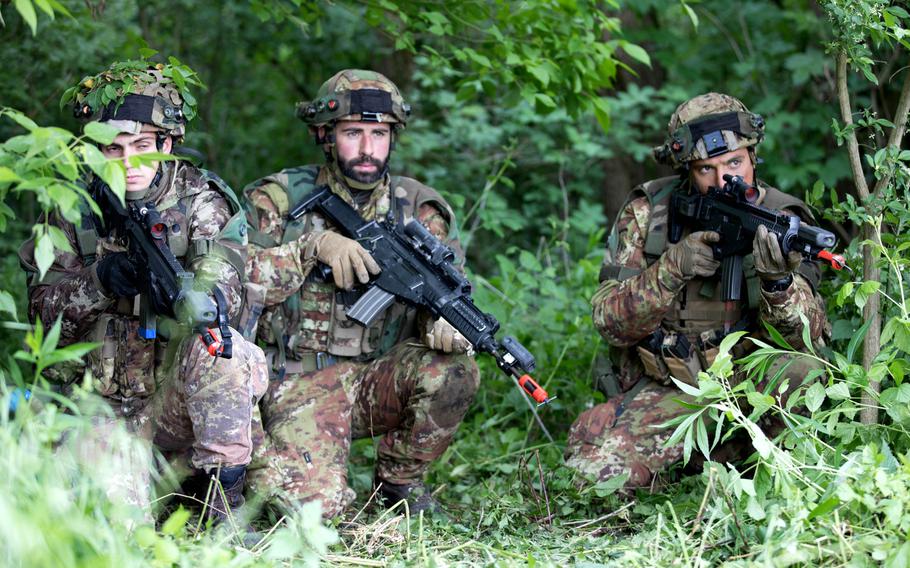 STUTTGART, Germany — U.S. European Command leaders are developing new military war games in coordination with some unconventional partners: American diplomats in Europe.
"It provides the reality, "said Air Force Maj. Gen. John P. Healy, who leads EUCOM's exercises and assessments division. "Before you get to any kinetic operations, there is going to be a whole-of-government approach that precedes everything."
During the past several years, EUCOM's war games have grown in size and complexity, with thousands of troops taking part in exercises along NATO's eastern flank in connection with concerns about a more aggressive Russia. But what's gotten less attention is how commanders would coordinate with their civilian counterparts in an unfolding crisis.
Now, there is a push to bring U.S. embassy teams in Europe into the training fold, with military and civilian officials coordinating their actions in mock crisis management scenarios, Healy said. That means bringing in ambassadors and embassy teams into exercise scenarios, where decisions must be made in real time.
"We need to be faster off the mark if something ever occurs and we need to carry that speed forward," Healy said. "So that speed of communication, that speed of understanding, that speed of decision making, that speed of execution, is what it all gets down to."
Coordinating with embassies "is a fact of life, from the Baltics to Israel," Healy said. "We absolutely have to incorporate that into the exercises."
So far, embassies in Bulgaria, Greece and Italy have taken part in the exercises, but the effort is expected to expand to other diplomatic missions in the future.
The behind-the-scenes coordination with diplomats is the latest tweak in what has been a five-year push at EUCOM headquarters to upgrade its ability to lead in a crisis. EUCOM's transformation began soon after Russia's 2014 intervention in Ukraine, a move that prompted U.S. military commanders to focus training on combat, along with command and control skills. These were second nature during the Cold War but had atrophied in the years since, officials had said.
A high-profile aspect of that effort is EUCOM's summer series of military exercises, now underway, that brings together air, sea and ground troops and numerous allied contingents that conduct flashy live-fire exercises and large-scale troop movements.
This summer, U.S. and allied forces will be in Bulgaria, Croatia, Germany, Hungary, Italy, Romania, Slovenia and Ukraine for drills like Saber Guardian, which brings together 8,000 troops next week.
For EUCOM, a key aspect of the drills is ensuring the military can communicate up and down the chain of command when faced with high-end combat. Built into the exercises are cyberattacks and the need to operate in a degraded communication environment, which has become an area of focus as the Pentagon shifts its attention to countering technologically sophisticated adversaries like Russia and China that have the ability to disrupt allied communication.
"For us, it's imperative we work on and continually improve our ability to effectively communicate in C2, command and control," Healy said.
vandiver.john@stripes.com Twitter: @john_vandiver