EUCOM boss urges frank dialogue about racism, but reminds troops protests are off-limits
by
John Vandiver
June 5, 2020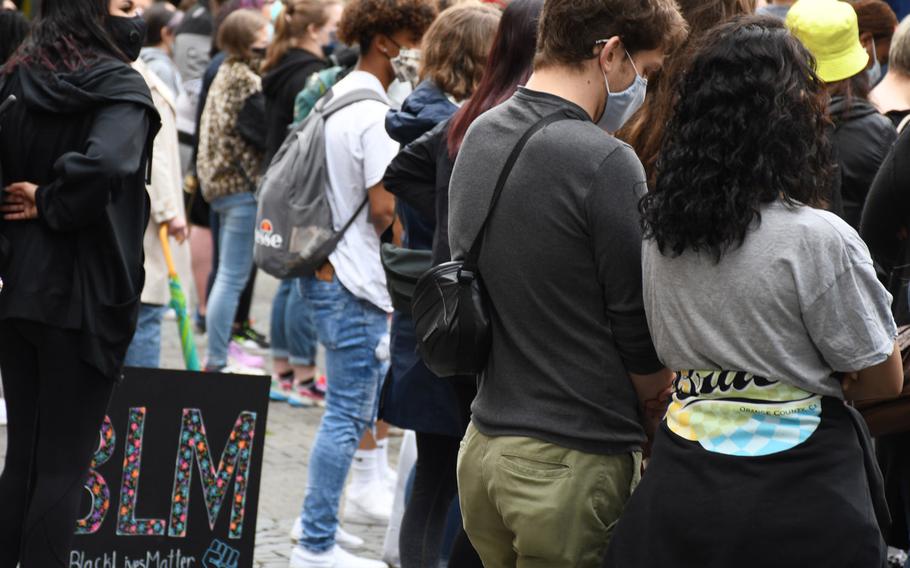 STUTTGART, Germany — U.S. troops in Europe are prohibited from joining anti-racism protests taking place around the Continent, but military officials are looking for ways to allow on-base gatherings that enable members to "come together and heal," the top commander in Europe said.
"For off-installation activities, leaders must ensure service members know that they are prohibited from participating in peaceful protests/demonstrations in foreign countries," U.S. European Command's Gen. Tod Wolters said in a memo to the force Thursday.
Wolters' directive is in line with long-standing military policy and comes as protests spread across Europe in response to the death last month of George Floyd, who died after a Minneapolis police officer kneeled on his neck for more than eight minutes.
In addition to the Pentagon policy barring troops from taking part in protests outside the U.S., social distancing rules to fight the coronavirus also mean they can't join the gatherings, military officials have said. But Wolters said his command is looking for ways to allow service members to discuss and deal with the issue of racism.
"To provide opportunities for on-installation gatherings to allow our community members to come together to heal and learn, we are currently working through options, cognizant of limits imposed by COVID-19 restrictions," he said, saying there is a need for "frank, open dialogue and discussions … to strengthen our organizations."
Defense Department civilians and family members are allowed to attend demonstrations, but they must follow all local laws and the directions of law enforcement, Wolters said.
The military community must learn from the events unfolding in the U.S., he said, where huge demonstrations against police brutality and racism have been taking place, sometimes turning violent.
In recent days, scores of military leaders have spoken about the need to address racism, and some former commanders, including former Defense Secretary Jim Mattis, have condemned President Donald Trump's call to deploy the military to quell protests and riots that have convulsed the U.S. since Floyd's death.
Defense Secretary Mark Esper has also said he opposes invoking the Insurrection Act to use active duty troops in a law enforcement role. Trump has spoken in favor of a larger military role and has hinted at invoking the rarely used act, which was passed in 1807.
In a memorandum sent to DOD personnel this week, Esper said the military remains committed to protecting the American people's "right to freedom of speech and to peaceful assembly" and to uphold the rule of law "so that the violent actions of a few do not undermine the rights and freedoms of law-abiding citizens."
In Europe, some of the anti-racism rallies spurred by Floyd's death have been held in cities that host U.S. forces. A rally is being held Saturday in Vicenza, where U.S. Army Garrison Italy is based, and another is scheduled in Stuttgart, which hosts the U.S. European and Africa commands.
Around 300 people took part in a protest Thursday in Kaiserslautern, home to the largest overseas U.S. military community.
vandiver.john@stripes.com Twitter: @john_vandiver