EUCOM: Armor brigade rotations to begin in 2017
---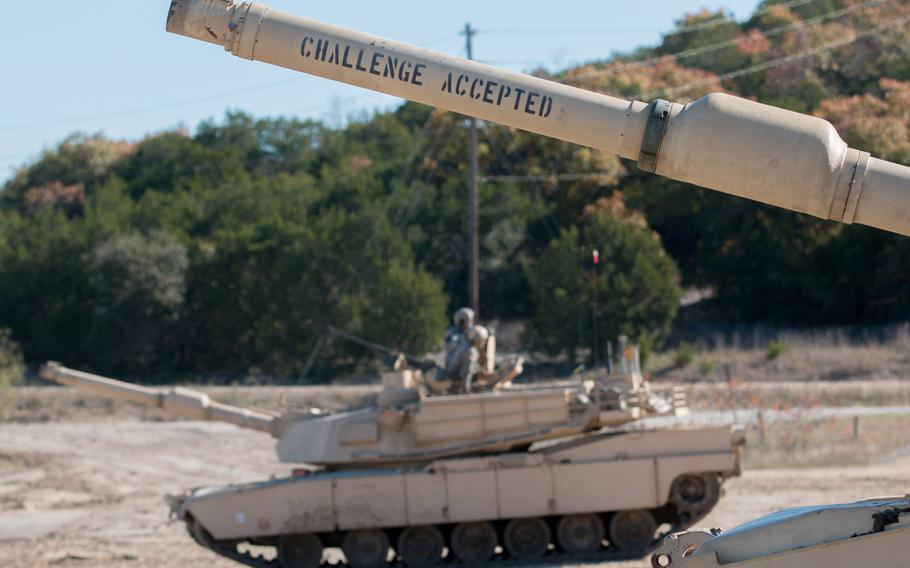 NAPLES, Italy — The U.S. Army will begin rotational deployments of an armored brigade combat team in Europe starting next February, the military announced Wednesday, in a move that will raise the number of American troops on the Continent in response to a more assertive Russia.
Each rotating brigade will bring its own equipment, including scores of tanks and Bradley fighting vehicles, U.S. European Command said in a statement.
Meanwhile, the Army will repair and upgrade its already pre-positioned weapons and equipment and place them at sites in Belgium, the Netherlandsand Germany.
Both decisions — part of the military's $3.4 billion request to fund European operations in the coming fiscal year — are designed to win approval from both west and east European nations at odds over how best to respond to the threat from Russia. Congress has yet to approve the funding request.
While the Baltic nations, Poland, Romania and Bulgaria have asked for a more permanent stationing of American or NATO troops in their region, western European countries — Germany in particular — have opposed it. The continuous presence of an armored brigade, to be rotated every nine months, skirts the issue of permanence.
"This is a big step in enhancing the Army's rotational presence and increasing their combat equipment in Europe," EUCOM commander Gen. Philip Breedlove said in a statement. "This army implementation plan continues to demonstrate our strong and balanced approach to reassuring our NATO allies and partners in the wake of an aggressive Russia in eastern Europe and elsewhere."
The military has not said where the rotational brigade will be stationed, a question on the agenda of this summer's NATO summit in Warsaw.
The rotational brigade will bring Army manpower and equipment levels in Europe to three full brigades by the end of 2017. Two brigade combat teams are permanently stationed in Europe — the 173rd Airborne Brigade Combat Team and the 2nd Cavalry Regiment.
The previously pre-positioned equipment, set aside for rotating troops to use during exercises, will form the core of the new pre-positioned stocks in western Europe, EUCOM said. Those stocks will be sufficient for another armored brigade to fall in on if needed.
Twitter: @sjbeardsley
---
---
---
---