EU eyes a different military role for migrant issue
by
Steven Beardsley
April 24, 2015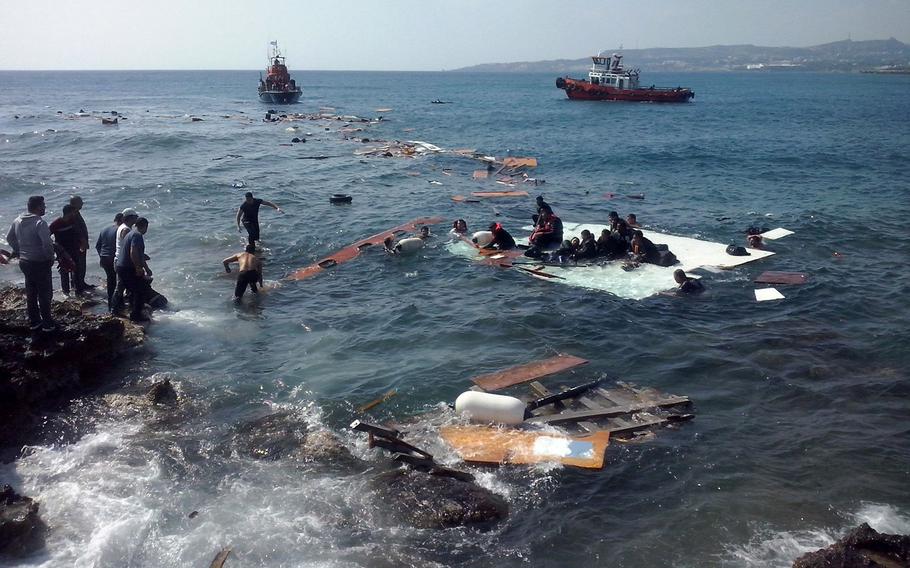 NAPLES, Italy — European leaders on Thursday pledged a military response to the migration crisis on their southern flank, but human rights watchers have expressed disappointment with the plan.
The pledge, which came out of an emergency summit, calls for the military targeting of smuggling operations along the Libyan coast, a shadowy industry that has prospered in the country's power vacuum of recent years. However, it appears to stop short of creating a formal search-and-rescue mission in the Mediterranean Sea, despite wide calls for one following the drowning deaths of nearly 900 people near the Libyan coast last week.
The agreement instead will raise funding and the number of ships available to an EU maritime border mission whose operations often fail to patrol areas where many boats capsize.
Migration advocates say a humanitarian mission with wider boundaries and more naval resources — such as the warships, helicopters and planes used by the Italian navy in a much-lauded operation between 2013 and 2014 — would save more lives.
"We're still trying to understand some of the details," Federico Soda, Italy chief of mission for the International Organization for Migration, said of the agreement. "We continue to welcome the efforts that are being put toward this issue, but the measures still fall short of anything that's comprehensive or actually look at the issue in a holistic way."
More than 1,700 people have died attempting to cross the Mediterranean Sea as migrants so far this year, compared with about 3,200 in all of 2014, according to estimates from the IOM.
After the capsizing of a boat off the Libyan coast last week, migration and human rights observers called for the EU maritime border patrol mission, Operation Triton, to be recast toward search and rescue. EU leaders on Thursday responded by tripling the mission's funding to about $10 million monthly and by increasing the number of ships. Several countries, including the United Kingdom, Germany and Latvia, have already volunteered vessels for the mission.
Yet EU leaders did not address Triton's mandate for border patrol and its operational boundaries, which extend only 30 miles from the Continent. Smugglers' boats, including the one that capsized last week, often falter much closer to the Libyan coast, about 140 miles from where Triton ships are deployed, according to a report released this week by Amnesty International.
"The 30-mile (limit) is just not far enough to effectively save people," Soda said.
Migration advocates like Soda have pushed for something resembling Mare Nostrum, the Italian navy-led humanitarian operation credited with rescuing tens of thousands of migrants between 2013-2014. Mare Nostrum employed an amphibious ship, two frigates and their embarked helicopters to rove well south of European waters for the purpose of search and rescue.
Mare Nostrum was expensive and politically divisive, however, leading to its end in 2014. Similar reservations about immigration likely shaped the Thursday statement, said Judith Sunderland of Human Rights Watch in Milan.
"The most detail is provided on provisions regarding preventing departure — forbidding people from getting on the boats," she said.
Part of that effort includes targeting the smuggling operations that have flourished along coastal Libya since the death of dictator Moammar Gadhafi during a NATO bombing campaign in 2011.
Thursday's agreement pledged to "identify, capture and destroy" smuggling vessels before they could be used and instructed the EU's foreign minister to begin military planning. European diplomats have likened military action against smugglers to the EU operation against piracy in East Africa, under which a 2009 helicopter raid destroyed camps along the coast of Somalia. That operation falls under a United Nations mandate and has the blessing of Somalia's government. Similar raids into Libya raise questions over mandate and sovereignty.
Others fear an attack would only add to the volatile situation in Libya, where rival militias are in conflict and the radical Islamic State group has gained a foothold.
Military operations also wouldn't address the plight of migrants themselves, most of whom are desperate to escape the turmoil and poverty in their home countries. Many would look for other crossing points, Soda said.
"In this area there's a high likelihood that you close down one route and another one opens," he said. We see it all the time."
Both NATO and the U.S. have been silent on the issue. NATO operates three standing naval groups, while the U.S. military has bases in Naples, Italy, and Sicily. A spokesman for the Department of Defense said earlier this week that it had received no requests for assistance related to the Mediterranean crossings.
A NATO official, speaking on condition of anonymity because she wasn't authorized to comment, said Monday that the alliance has nothing to add to search-and-rescue efforts.
"There is no military solution to problems posed by illegal migration," the official said.
Retired Navy Adm. James Stavridis, former supreme allied commander Europe, said the threat of Islamic State militants entering Italy from the sea makes the situation in the Mediterranean a NATO concern under Article IV, which allows allies to seek support on burgeoning security issues.
"Keeping EU/NATO warships on patrol … would make sense," he told Stars and Stripes.
Stars and Stripes' Slobodan Lekic contributed to this report.
beardsley.steven@stripes.com Twitter: @sjbeardsley
---
---
---