ESPN SportsCenter to go live from Grafenwöhr on Veterans Day
by
Seth Robson
November 8, 2010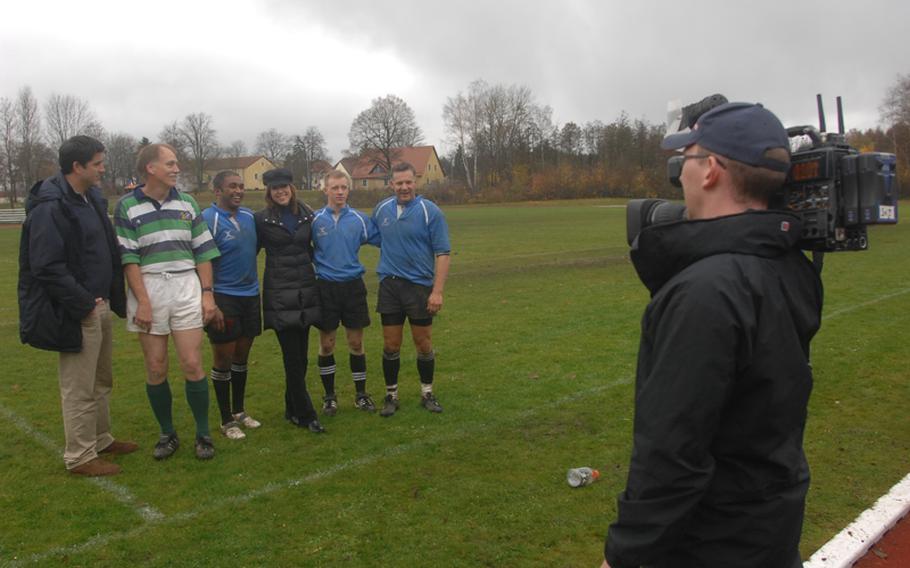 GRAFENWÖHR, Germany — Millions of Americans are expected to tune in Thursday to a live Veterans Day broadcast of ESPN's SportsCenter from Grafenwöhr Training Center in Germany.
SportsCenter presenter Josh Elliot, already at Grafenwöhr along with co-anchor Hannah Storm, said Sunday that the network decided to do a Veterans Day broadcast after the success of the 2009 Veterans Day SportsCenter from the U.S. military academy at West Point, N.Y. That show, Elliot said, was one of the show's top-rated broadcasts.
SportsCenter attracts 100 million viewers a month, according to the ESPN corporate website.
"We did six live hours from West Point on that day and gave the American viewing public a taste of Army life," he said. "It was really well received and it was a moving day for all of us at ESPN. The folks in the Army enjoyed it as well and had been talking about doing something bigger in scale."
Joint Multinational Training Command spokeswoman Maj. Jennifer Johnson said Grafenwöhr was chosen for the SportsCenter broadcast because it has the largest concentration of U.S. soldiers in Europe. The Grafenwöhr military community, which includes Vilseck, Hohenfels and Garmisch, is home to some 40,000 U.S. personnel, she said.
"Our intent is to show Americans what their soldiers are doing here in U.S. Army Europe," she said. "A lot of times people don't know what we do here. It is an opportunity to show them and honor veterans at the same time."
The SportsCenter broadcast, from the Grafenwöhr parade field, will air from 3 p.m. to 9 p.m. Central Europe Time on Thursday. U.S. ID card holders from around Europe may attend, she said.
Soldiers from the Vicenza, Italy-based 173rd Airborne Brigade, the Kaiserslautern-based 21st Theater Sustainment Command and the Ansbach-based 12th Combat Aviation Brigade will participate in the show along with Grafenwöhr-based units such as the 172nd Infantry Brigade, Johnson said.
There will also be live feeds to troops deployed to Afghanistan with the 2nd Stryker Cavalry Regiment and 1st Battalion, 4th Infantry Regiment and to soldiers serving in Iraq with the 1st Armored Division, she said.
As part of the broadcast people are encouraged to bring their barbecue grills to a tailgate party in the Grafenwöhr Commissary parking lot. There will be military equipment displays and a Warrior Challenge competition, pitting teams of soldiers against each other in events such as tug-of-war, weapons assembly, tire pushing and ammo can carrying, Johnson said.
"The fastest team will get an ESPN trophy awarded to them on air," she said.
Staff Sgt. Eric Johnson, 38, of Charles City, Iowa, who is representing the 18th Combat Sustainment Support Battalion in the Warrior Challenge, said his five-man team has been training hard for the contest and that they are excited about appearing on SportsCenter.
"I watch ESPN whenever I have the opportunity," he said, adding that he's a big football fan, particularly of Minnesota Vikings running back Adrian Peterson.
First Lt. Aaron Silver, 25, of Vineland, N.J., said his Warrior Challenge team, from the 172nd, has been training for two hours starting at 5:30 a.m. every day, pushing tires, assembling weapons, throwing mock grenades, doing pull-ups and challenging other soldiers to tugs-of-war.
"It (the SportsCenter broadcast) is not the kind of visibility we are used to getting," he said. "To compete in a sporting event and have a chance to appear on ESPN is pretty exciting."
---
---
---
---