Educator urges servicemembers to work toward college degree
by
Mark Patton
April 1, 2011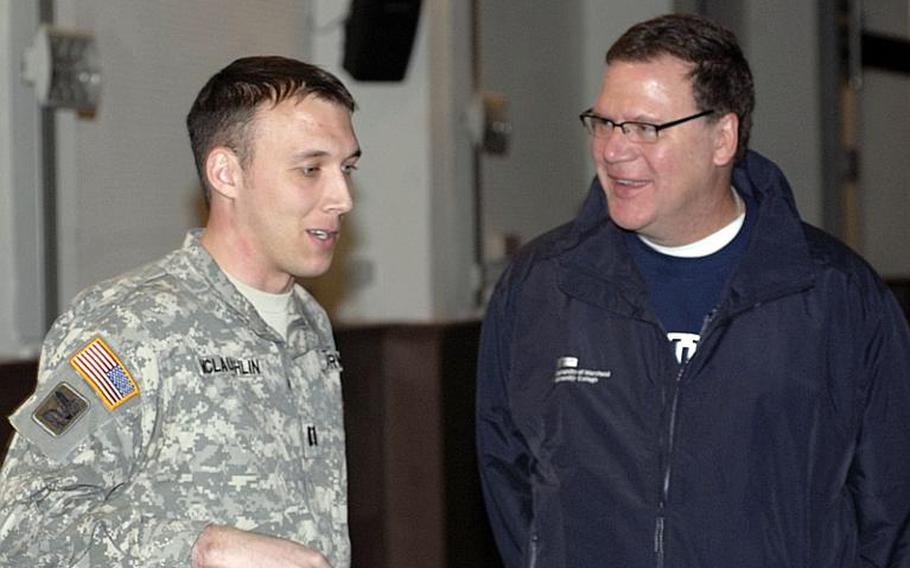 WIESBADEN, Germany — It is never too late to earn a college degree, and while you're serving in the military is a good time to get started.
That was the message delivered to soldiers, family members and civilians attending a Salute to Education event at Wiesbaden Army Airfield by Paul Harris, Ph.D.
It was a fitting venue for Harris, currently the associate director of the Auburn University Honors College in Alabama, to share his story. Long before he had those three letters after his name, he had his own educational epiphany as a civilian driver for a colonel in Wiesbaden.
One afternoon, the colonel handed him a University of Maryland booklet and told Harris to enroll in a class before the next morning. The rest was, as they say, history.
Harris used his own story to emphasize to last month's gathering that it doesn't matter how long it takes to earn a degree, as long as you've started working toward it. He pointed to current Sgt. Maj. of the Army Raymond F. Chandler III as a prime example.
Chandler, although rising to the top enlisted position in the Army, just recently finished his bachelor's degree, Harris said.
Harris also emphasized the opportunities available to attend classes while serving on active duty, and the importance of maintaining an educational base to keep current on latest trends and technologies.
"When our veterans are getting out and starting to take classes, getting those skills up to date is becoming a challenge. ... VA benefits don't do any good if you're gonna fail out of school," he said.
Spc. Alphonso Brown with the 1st Armored Division's Special Troops Battalion said Harris' message hit home, because he has friends who left the military and struggled to find work. "I've seen some get out and get jobs, and some not because of that cut-off," Brown said.
When asked about today's tough economy and that a degree is no longer a guarantee of a job, Harris said that shouldn't discourage folks from pursuing an education.
"One guarantee is this, if you don't have a degree you won't qualify for a job that has a degree (as a requirement)," said Harris. "Plus, there's something to be said for taking college classes just for the sake of learning."