DOD wants plasma from recovered coronavirus patients to help develop treatment
by
John Vandiver
June 2, 2020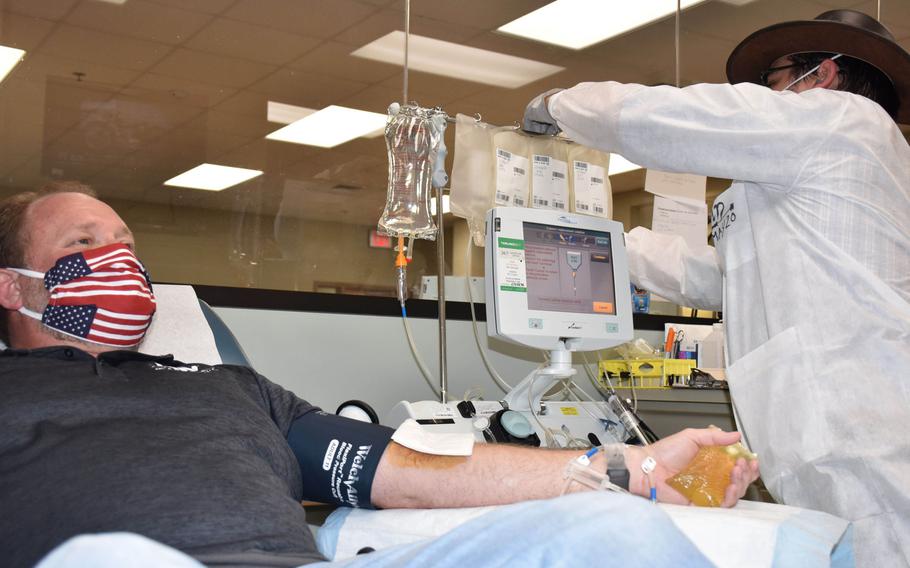 Stars and Stripes is making stories on the coronavirus pandemic available free of charge. See other free reports here. Sign up for our daily coronavirus newsletter here. Please support our journalism with a subscription.
The Pentagon has launched a drive to collect plasma from military members and others who have recovered from COVID-19 as part of the global effort to develop an effective treatment for the disease caused by the coronavirus.
"We may want to ask you to stick your arm out and donate blood," Army Gen. Mark Milley, chairman of the Joint Chiefs of Staff, said in a virtual town hall meeting last week. "What that can then do is help others who are severely ill, and if we can do that, then we'll be on a good path toward getting some really powerful therapeutics."
The Armed Services Blood Bank Center at Landstuhl Regional Medical Center in Germany is one of 15 facilities — and the only one outside of the U.S. — that will be collecting plasma from eligible military personnel, their families and civilians with access to the facility, the Army said in a statement.
Landstuhl accepted its first plasma donor last week and health officials are looking for more possible donors in the greater Kaiserslautern area, said Stacy Sanning, a spokeswoman for the blood program.
"We are also reaching out to other military medical facilities in areas within driving distance to contact their recovered COVID-19 patients and invite them to consider donating plasma," Sanning said.
Plasma from recovered patients contains infection-fighting antibodies, which can then be transfused into a patient fighting the virus to try to boost their immune system and help with the recovery process, said Army Col. Audra Taylor, chief of the Armed Services Blood Program.
There is currently no approved treatment for COVID-19, the statement said. Using the plasma of recovered patients is being investigated as a treatment for the illness because it has helped some patients recover, it said.
Several patients in the military health system have already undergone the treatment, which is used for those hospitalized with severe cases of COVID-19, Taylor said, without specifying what the outcomes were in those patients.
"We are calling for all who are healthy, able and eligible to donate today to help us all stand mission-ready and save lives," she said. "Our goal as a lifesaving program is to always provide a safe and ample supply of blood products. The need is now."
In addition to the other requirements, donors must be at least 17 years old, weigh at least 110 pounds and be in good overall health. Candidates also must be able to provide a record of a positive coronavirus test result. Appointments are required for a screening meeting with medical personnel prior to donating.
For more information, call the Armed Services Blood Bank Center - Europe at 06371-9464-5885.
vandiver.john@stripes.com Twitter: @john_vandiver