Defense Department schools to drop D.A.R.E. program
---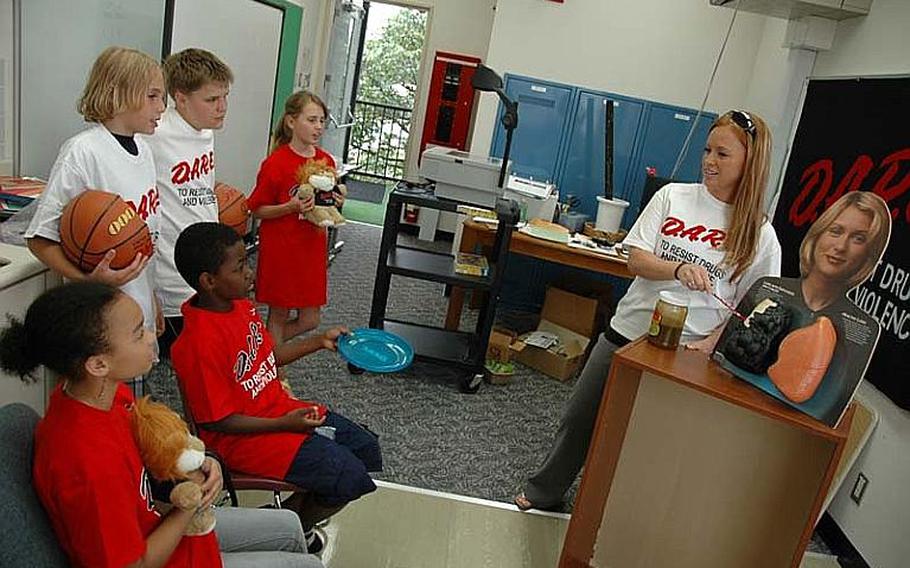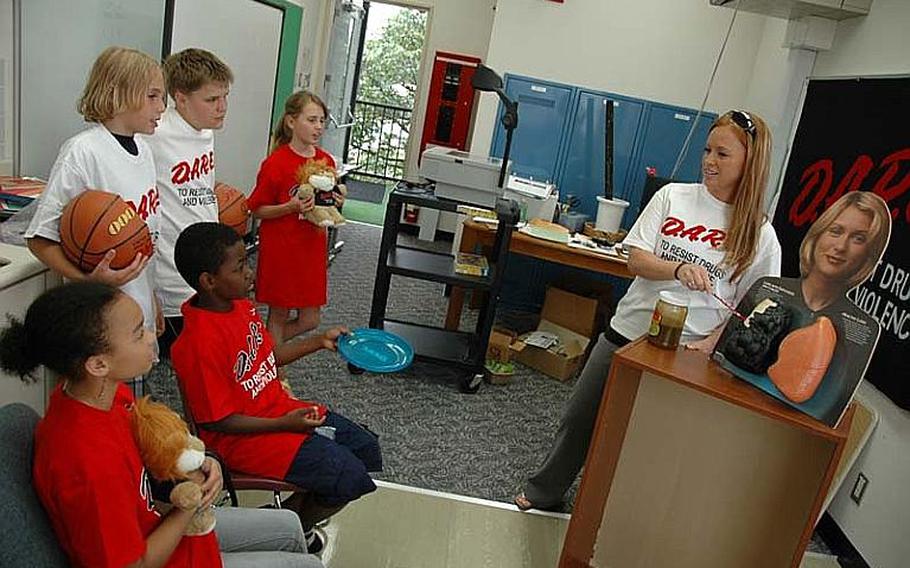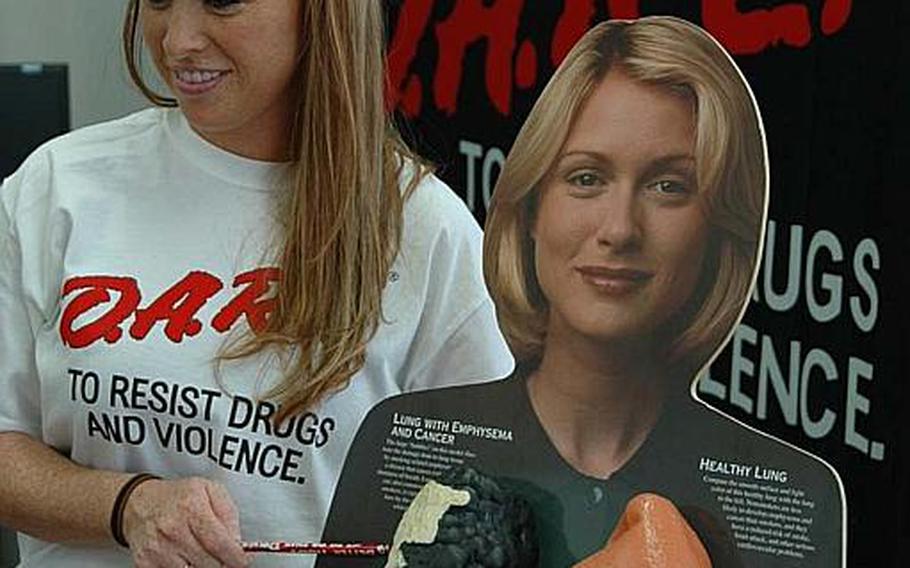 YOKOTA AIR BASE, Japan — In the coming years, the Department of Defense Dependents Schools system plans to end its two-decade-long affiliation with the Drug Abuse Resistance Education program.
The D.A.R.E. program — which involves lectures by security forces personnel, role-playing and games that warn children about the dangers of drugs, cigarettes and alcohol — will be phased out in the 2013-14 school year because of "increasing security demands on military police personnel," according to Connie Gillette, a Department of Defense Education Activity spokeswoman.
Instead, "DODEA is developing an integrated, research-based substance abuse and violence prevention instructional program for elementary and secondary students," Gillette said, and the DODDS health curriculum already addresses substance abuse.
There are significant costs associated with the curriculum, materials and annual training required to operate the D.A.R.E. program, said DODDS-Pacific spokesman Charles Hoff.
The Pacific-based schools have spent more than $300,000 to run D.A.R.E. over the past five years, and the program will continue in Pacific schools where there are already trained officers through next year, he said.
There have been several high-profile studies that suggest the program doesn't have much impact on children's and teen's drug use. A 2001 U.S. surgeon general report said children who participate in the program are as likely to use drugs as those who do not participate.
"One school-based universal prevention program meets the criteria for Does Not Work: Drug Abuse Resistance Education, or DARE," the report stated.
The program — developed by Los Angeles police chief Daryl Gates in 1983 — has been revised in recent years to address potential shortcomings, but to no avail, said University of Michigan research scientist Lloyd Johnson. "I have seen no evidence that the newer version is more successful than the original."
The program's Achilles' heel is its delivery by police officers, Johnson said.
"An enforcement figure seems unlikely to change kids' attitudes," he said. "To me, the most serious consequence of its widespread use has been to give schools and parents the feeling that they are doing something to reduce drug use among their children, which likely has kept many from adopting other programs that may be more effective."
D.A.R.E. America did not respond to emails or answer calls.
Principal Dave Russell said more than 5,000 students have gone through the D.A.R.E. program at Atsugi Naval Air Facility's Shirley Lanham Elementary School in the past decade.
"It has touched every kid in some way," he said.
Military kids travel to new duty stations every few years and they need to be equipped to deal with peer pressure and bullies when they arrive at a new school, he said.
D.A.R.E. gives younger kids the skills to handle peer pressure when they are teenagers, he said.
One recent D.A.R.E. graduate at Naval Air Facility Atsugi's Shirley Lanham Elementary School said Wednesday that the program should not be dropped.
Joshua Moody, 11, said he didn't know how much harm drugs could do before he participated in D.A.R.E.
"I knew drugs could hurt you and make you crazy, but I didn't know it could damage your body that bad," he said.
---
---
---
---