Damages, losses and late arrivals plague military household goods shipments, IG says
by
John Vandiver
January 9, 2020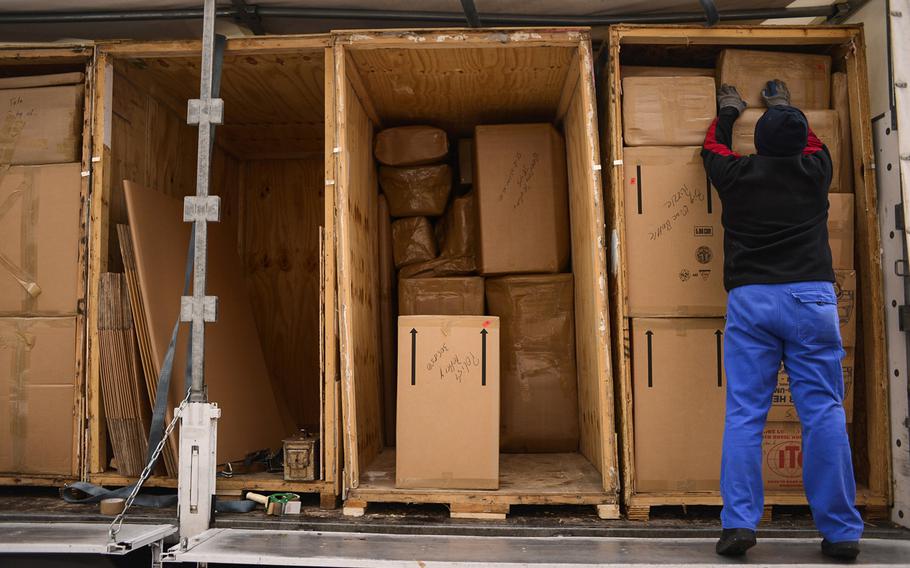 STUTTGART, Germany — Nearly half of military household goods shipments arrive late and one in five are damaged in transit or lost, an audit by the Defense Department Inspector General has found.
Some Defense Department personnel, meanwhile, may be venting their frustration with what they say are poor moving services by filing wildly inflated damage estimates, the audit suggested.
One person filed a claim of $1 million for a busted trash can and another tried to claim $1 trillion for unspecified damages, the IG report said. Both claims were denied.
The IG has made numerous recommendations on how the military can improve moving services, which have vexed service members for years.
The IG reviewed 9,852 shipments handled by four joint shipping offices in 2018 to determine the extent of problems with household goods shipments and whether proper actions were taken when goods were damaged, lost or arrived late during a move.
More than 4,000 of those shipments, or 41%, didn't arrive by the agreed-upon delivery date, the audit found. The delays were caused by problems with scheduling and equipment at the moving companies, the IG said. Those late deliveries alone cost the military $33.1 million, the IG said.
"Additionally, moving companies did not provide an explanation for delivering some of the shipments after the delivery date," the IG said.
That meant DOD personnel and their families had the hassle of filing claims for lodging, food, rental and other costs, the IG reported.
At least one claim was filed In 21% of all domestic household goods shipments, the IG said.
A review of 311 of those shipments found that the moving companies resolved 94 % of the claims for around $8.4 million. Forty claims remained unresolved because they weren't filed through the proper channels, the IG said.
The Defense Department is the largest customer in the personal property shipping industry, representing about 15% of all domestic and international moves, the IG said. U.S. Transportation Command is in charge of administering the military's household moves.
The IG suggested issuing warnings or letters of suspension to moving companies within 14 days of a missed delivery date. Warning letters would impact moving company ratings, which determine what future shipments will be offered, it said.
The IG also urged TRANSCOM to contact personnel who failed to complete a customer satisfaction survey within one month of receiving their shipment of household goods, and help members file inconvenience claims with moving companies within 14 days of a missed delivery date.
In addition, TRANSCOM should review all household goods claims that are more than 60 days old and contact claimants to review shipment status, the IG recommended.
The audit was prompted by an online petition, which had been signed by 107,000 people as of October, calling for moving companies to be held accountable for losses and damages incurred during the military move process, the report said.
vandiver.john@stripes.com Twitter: @john_vandiver