Crowd remembers children who died while parents served in Germany
By
Jennifer H. Svan svan.jennifer@stripes.com
May 18, 2013
---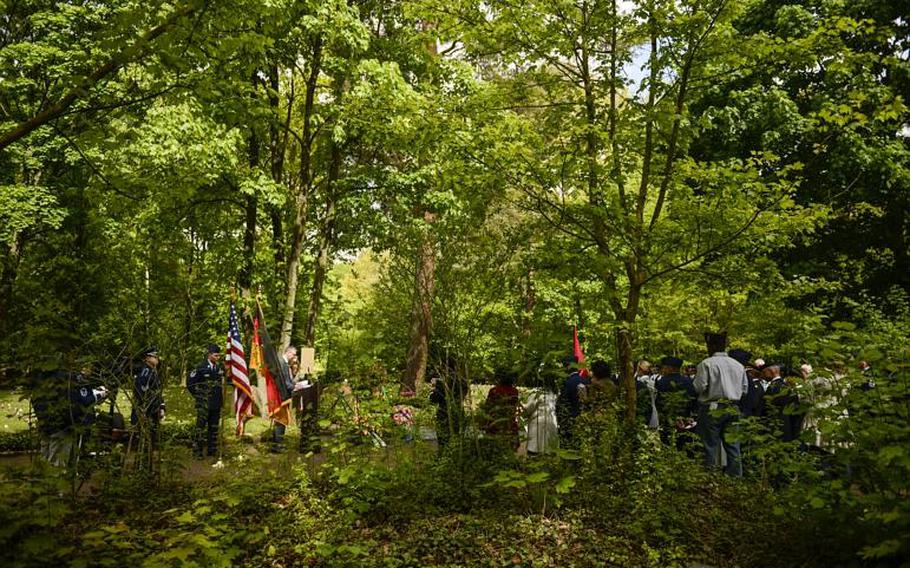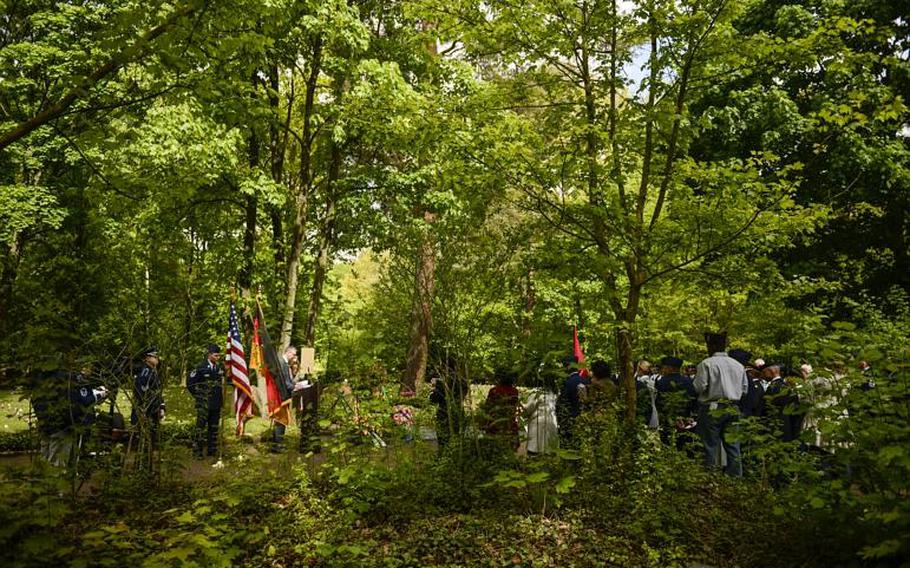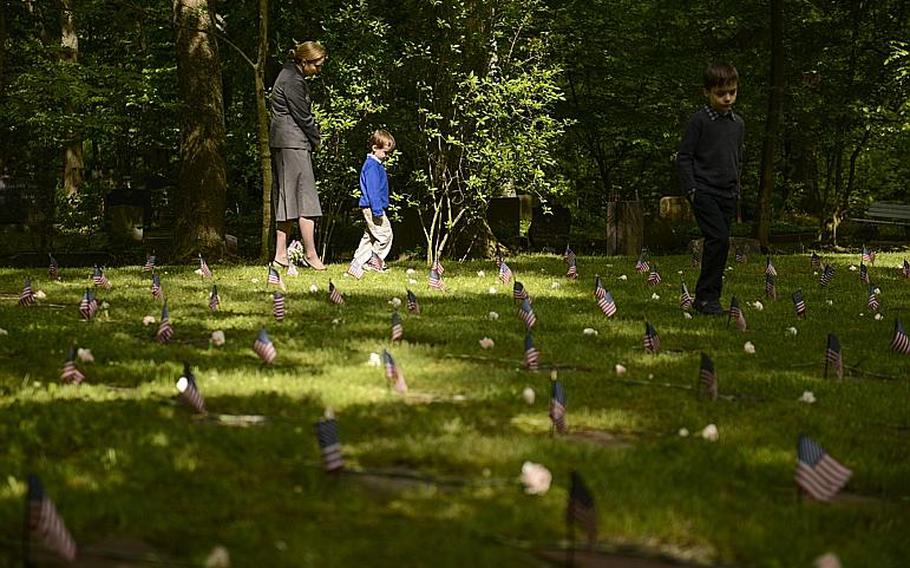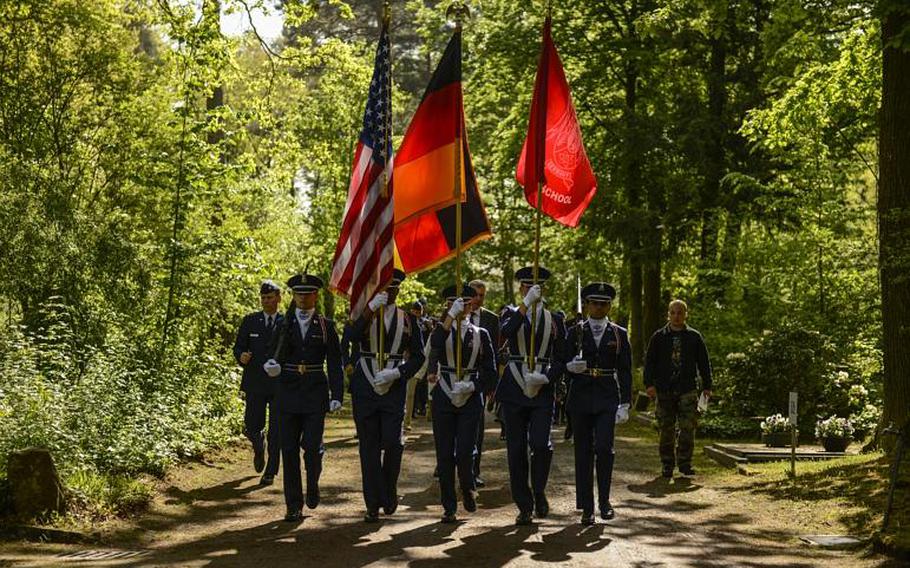 KAISERSLAUTERN, Germany — Joanna Nevadomski was only 7 when her baby brother, born premature, died in Germany from an E.coli infection.
She remembers that she and her older brother cried in their rooms, not wanting to further upset their distraught mother.
It was 1958 and the family was stationed in Heidelberg. Baby Joseph Covelli was buried in a German cemetery that many years later Nevadomski, 62, would learn was the Kindergraves in Kaiserslautern.
Nevadomski said the family would prefer Joseph's final resting place be closer to home in Arlington Cemetery next to Nevadomski's father, an Army World War II veteran and Silver Star recipient. But they take comfort in knowing his grave is well-cared for by a group of dedicated American and German volunteers, she wrote in an email Friday from Lumberton, N.J.
On Saturday morning, many of those same volunteers gathered for the annual Kindergraves memorial service to honor the 451 American children buried at the Kaiserslautern city cemetery.
"We are dedicated to holding this ceremony every year to remember the children and honor" the sacrifices of their parents, Air Force Master Sgt. Justin Hemken told a small gathering of Germans and Americans, including local Army and Air Force senior leaders.
From 1952 to 1971, infants of U.S. military personnel stationed in or near Kaiserslautern who died from complications at birth or shortly after birth were buried in the Kindergraves. During that time, servicemembers in Kaiserslautern were unable to transport deceased dependents back to the States for burial, officials said.
The German-American and International Women's Club of Kaiserslautern and the Ramstein Area Chiefs' Group — working together under the Kaiserslautern Kindergraves Memorial Foundation — maintain the graves with help from volunteers and donations from individuals and private organizations.
On Saturday, a fresh carnation and a tiny American flag adorned each of the stone grave markers, set in a grassy clearing under towering pine and oak trees. Some of the engraved names were worn away, but a program from the ceremony lists all 451 children, including seven sets of twins, and a few with a first name of "Baby."
The women's club and the chiefs' group partnered up in 1986 to preserve the grave site. In the early 1980s, cemetery management announced plans to remove the Kindergraves, said Bruni Puetz, Kindergraves foundation chairwoman. Unlike in America, Germans lease burial spots, she said. The city allowed a private organization directly affiliated with the military to assume responsibility for the graves. The group's current lease is good for another 23 years, Puetz said.
"The idea [of creating the foundation] was to make" the grave site more lasting, she said. "Before that Americans didn't the know the Kindergraves were here."
Puetz, and on the American side, Maximilian Pfauntsch, 83, a native German who retired as an U.S. Air Force chief master sergeant, were key members of that early partnership. Pfauntsch lives a short drive from Kaiserslautern and tries to attend the memorial ceremony every year, as he did Saturday.
Maintaining the site "shows the American community cares for the American dead," he said. "Otherwise, this would all be forgotten. They (Germans) would say, 'The Americans were here. They left.' I feel for the sacrifices our families are making. This is the least we can do, preserve the honor of these American children on foreign soil."
For Nevadomski, it's important that remembrance continues.
"None of the circumstances of my brother's death were ideal," she said. "However, there is closure and comfort in knowing he is buried with so many other young souls that are also far from their families and homeland."
---
---
---
---