Children, parents in KMC being educated on 'stranger danger'
By
svanj@estripes.osd.mil Jennifer H. Svan
May 3, 2012
---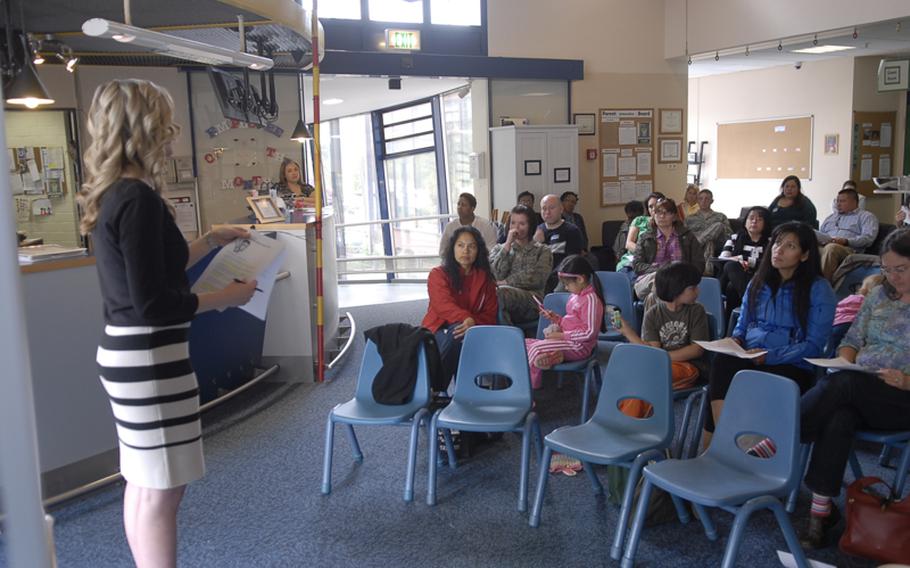 RAMSTEIN AIR BASE, Germany – Air Force Tech. Sgt. Carla Moreno will no longer be sending her 6-year-old son out the door when the ice cream truck rings in her Ramstein Air Base neighborhood.
Moreno and other parents had strong reactions to an NBC "Dateline" program shown at the Ramstein School Age site Thursday in which a paid actor was able to lure children onto his ice cream truck.
The "Dateline" program shown Thursday, titled "My Kid Would Never Do That: Stranger Danger," included actual scenarios that convicted predators have used to target children, including posing as an ice cream vendor.
Moreno said, like the children in the video, her son "would be on the ice cream truck so fast and gone."
"I have an 8-year-old daughter," said Staff Sgt. Sheila Nadzieja. "I know, free ice cream, she'd be gone in a hot second."
The "stranger danger" session, one of several planned, is among measures military and school officials are taking to better protect children in the wake of recent reports of child molestations and an attempted child abduction in the Kaiserslautern area.
The incidents have all been reported as happening on base, and investigators believe the cases may be connected.
At elementary schools and one intermediate school, building access is being tightened starting Monday, said Dell McMullen, district superintendent of Kaiserslautern schools.
All external doors and most of the perimiter gates will be locked, McMullen said in an interview Thursday. Visitors will have to be buzzed in at the main entrance and must show their ID cards if school staff don't recognize them, she said. A new buddy system will require children to travel in pairs or larger groups on school grounds.
"We'll have no child traveling alone," McMullen said.
The change affects Vogelweh, Kaiserslautern, Landstuhl, Ramstein and Sembach elementary schools, and Ramstein Intermediate School.
The schools are presenting "stranger danger" lessons and inviting parents to school to find out what students are learning in the sessions, McMullen said.
With the students, "the counselors go over what to do if something doesn't feel right," said Joe Lovett, principal of Ramstein Elementary School. "We're real careful about the word 'stranger,' because this could be a familiar person, so we tell them there's not just strangers to look out for."
There was a similar message at Thursday's "stranger danger" presentation for parents on Ramstein. Josie Cordova, the Airman and Family Services Flight chief for the 86th Force Support Squadron, said, despite the "stranger danger" title, the focus is more on teaching children to be aware of unusual or suspicious behavior in adults.
"It's teaching children to key in on 'What is it about the specific behavior that's making me uncomfortable?' " she said. "One of the scary things on this base is that everyone has a uniform; everyone has an ID card," Cordova said. Parents need to tell their children that "just because they have a uniform or ID card doesn't make them a safe person."
Other planned events:
• A "stranger danger" presentation Friday at Kapaun School Age site from 11 a.m. to 1 p.m.
• The Air Force plans two sessions for children and teens where law enforcement educators will role-play "stranger danger" scenarios. Both sessions will be May 16. For the ages 5 to 12 program, contact Ramstein Youth Programs at DSN 480-6444/06371-47-6444 or Vogelweh Youth Programs at DSN 489-6504/0631-536-6504; for the ages 13 to 18 program, contact Ramstein Teen Center at DSN 480-3099/06371-47-3099 or Vogelweh Teen Center at DSN 489-6155/0631-536-6155.
• The Army in Kaiserslautern will host three child safety information sessions next week. Those will take place Monday at 4:30 p.m. in Heaton Hall at Landstuhl Regional Medical Center; and at two locations Tuesday at 4:30 p.m.: Kleber Fitness Center, Bldg. 3235, on Kleber Kaserne, and Sembach Elementary School auditorium, Bldg. 17, on Sembach Kaserne. Contact Ellen Harris, U.S. Army Garrison-Kaiserslautern Child and Youth School Services, at DSN 493-4014 or 0631-3406-4014, for more information.
---
---
---
---