Chico the dog wins hearts and minds of US troops in Poland
by
Immanuel Johnson
February 6, 2020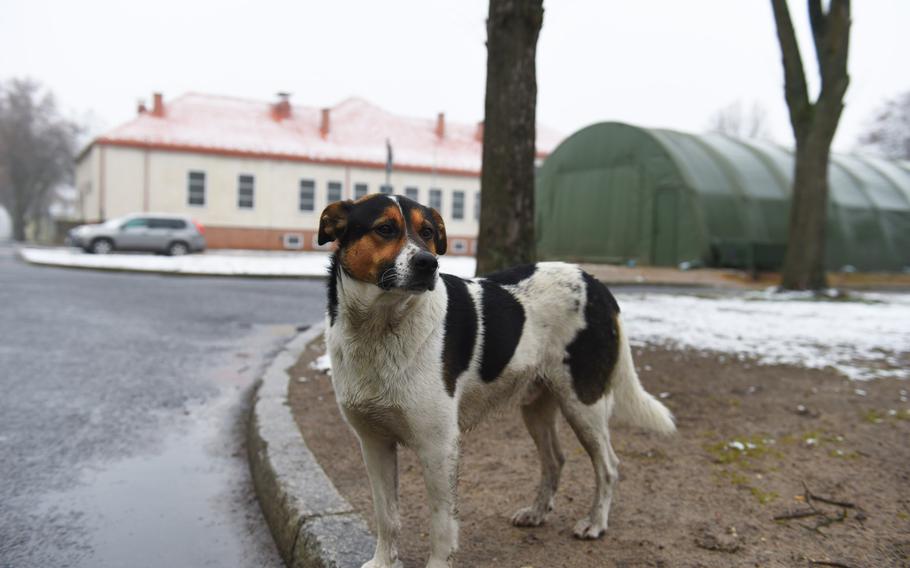 BEMOWO PISKIE TRAINING AREA, Poland — Two years ago, he was a no-name stray who'd bark from a distance at American soldiers every time they'd step off this base in northeastern Poland.
Today, the friendly mongrel has a name, all of his shots, a place of his own, all the food he can eat and plenty of service members to pat and play with him.
"Chico always brings joy to the soldiers, and during every rotation there's a different group that takes care of him," said Gosia Sobolewska, a linguist who works with the NATO Enhanced Forward Presence mission that the U.S. troops are supporting.
Chico came into the lives of the U.S. soldiers at Bemowo Piskie around two years ago, said Cpl. Zachary Foote with the 3rd Squadron, 2nd Cavalry Regiment sniper section, supporting the EFP.
"We were taking part in a competition and as soon as we stepped off base, there was a little white dog in the distance barking. It looked like Chico from the movie 'Friday,'" he said.
The mutt of indeterminate parentage now had a name. A personalized doghouse near one of the barracks soon followed.
The dog is allowed to enter the barracks and is recognized by higher leadership as a distinguished guest.
"I have heard from some of the soldiers that Chico reminds them of home, of their own pets," Sobolewska said.
He also helps soldiers maintain their fitness levels. "Whenever he sees someone running, he will run with them until they are done," Foote said.
When the time comes for the sniper section to leave Bemowo Piskie, they'll pass the torch for taking care of Chico to the incoming unit.
Around 700 U.S. troops began a six-month rotation at the Bemowo Piskie Training Area last month as part of a mission to strengthen NATO's eastern flank and deter Russian aggression in Europe. The training area is in the village of Orzysz, about 50 miles from the Russian military exclave of Kaliningrad.
johnson.immanuel@stripes.com Twitter: @Manny_Stripes