Carter: US to position armor in Baltics, Poland, southern Europe
by
Matt Millham John Vandiver
June 23, 2015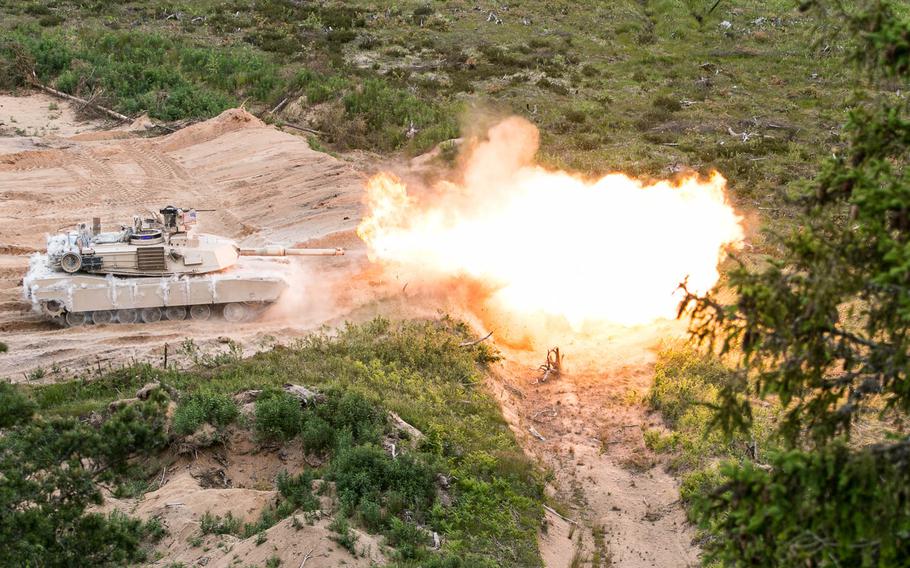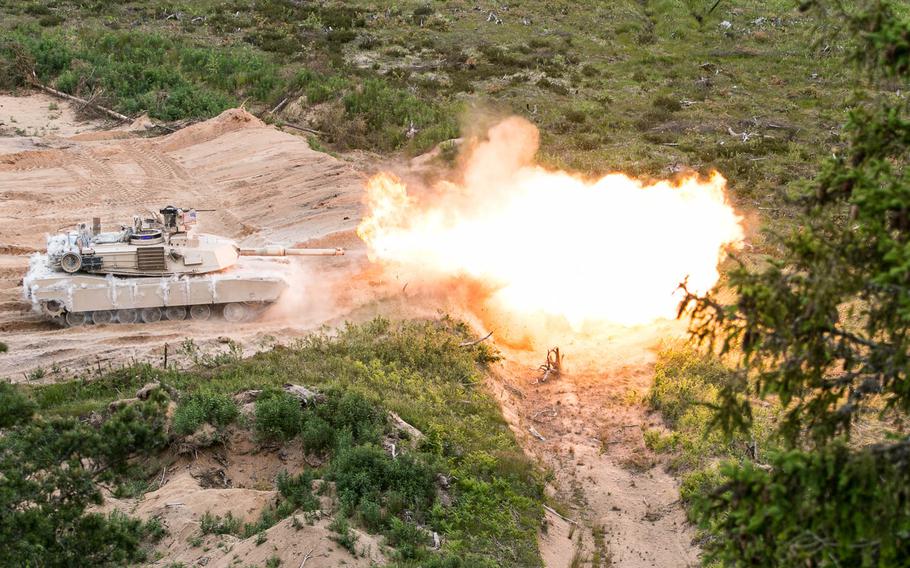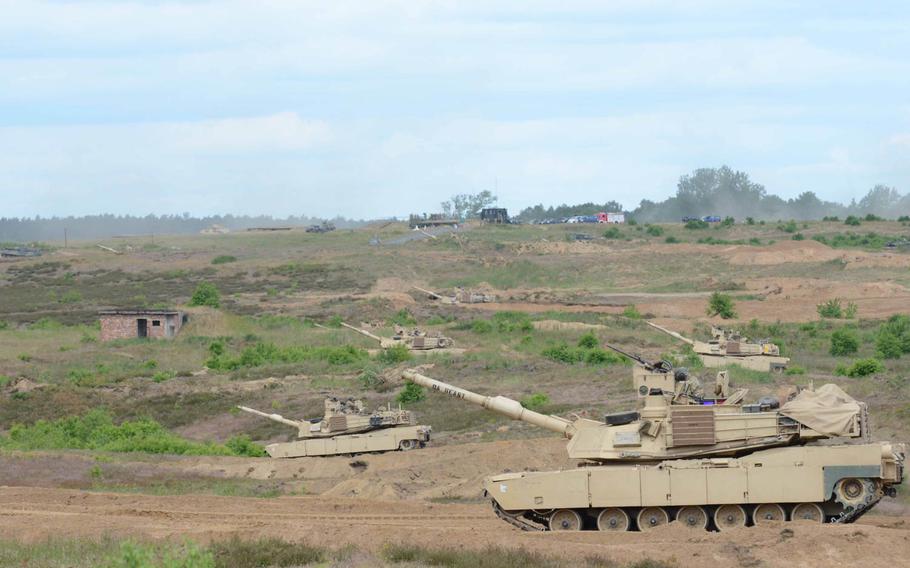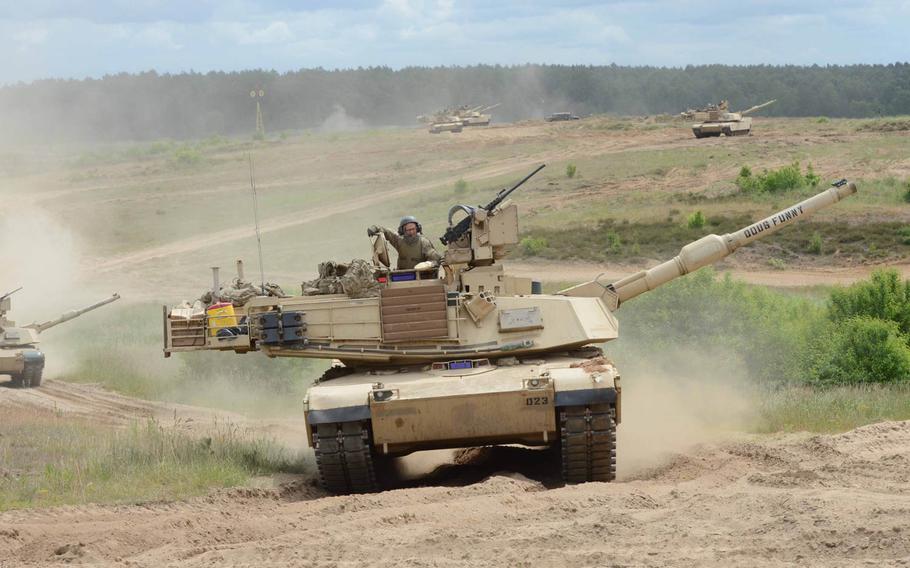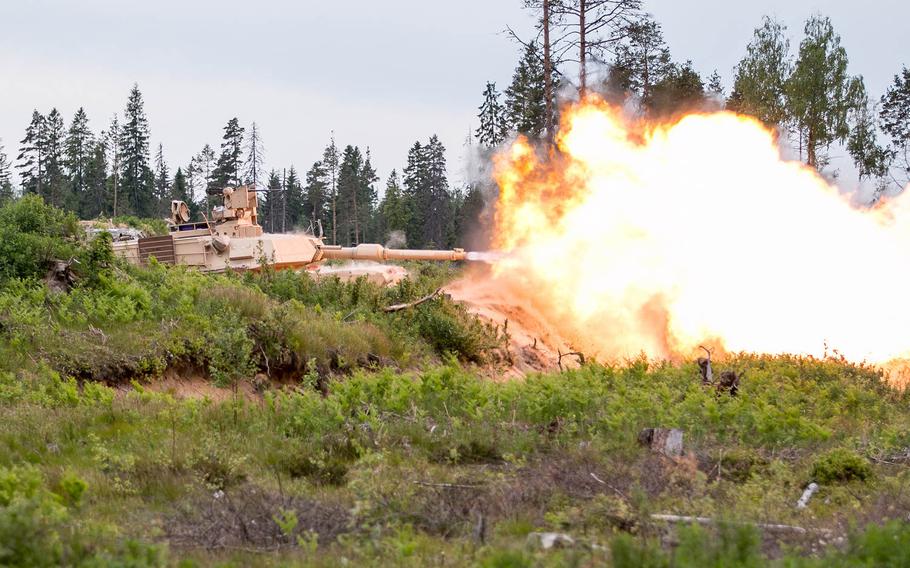 The U.S. will temporarily pre-position a brigade's worth of tanks and other vehicles in the Baltics and elsewhere in eastern Europe, Defense Secretary Ash Carter announced in Estonia Tuesday, as the U.S. continues efforts to reassure allies concerned about Russian revanchism.
The U.S. will spread about 250 Abrams tanks, Bradley Fighting Vehicles, artillery and other equipment around Estonia, Latvia, Lithuania, Poland, Romania and Bulgaria, according to the plan, to make it easier for U.S. forces to participate in training maneuvers in those countries, according to the Defense Department. Such equipment is also stationed in Germany.
All of those countries "have agreed to host company- to battalion-size elements of this equipment, which will be moved around the region for training and exercises," Carter said, according to a transcript of his remarks.
Carter met in Estonia with his counterparts from all three Baltic states. Estonian President Toomas Ilves said the crisis in Ukraine underscored the need for the U.S.-led NATO alliance to demonstrate its solidarity with vulnerable partners.
"For a year and half now, a war has been underway in Europe," Ilves said. "For Estonia, this has brought the realization that our freedom, our sense of security and safety is not as self-evident as we are used to believing. But we have also learned something else. We have learned about the solidarity of Estonia's allies. And now, even the doubters know that Estonia has reliable allies."
The U.S. and NATO have stepped up exercises in the Baltics, Poland and other eastern European countries since Russia's annexation last year of Ukraine's Crimea Peninsula and Moscow's support of pro-Russian separatists in Ukraine's east.
U.S. Army Europe had previously announced plans to expand the number of tanks and other equipment staged on the Continent for use by U.S. forces for training or contingencies.
U.S. European Command said in March that elements of the Army's 3rd Infantry Division, which have been training in eastern Europe, would leave behind about 120 pieces of their equipment, including Bradley Fighting Vehicles, to expand USAREUR's "European activity set" from a battalion to a brigade's worth of equipment when they redeploy this summer.
The U.S. has spent months vetting sites to stage the equipment.
Tuesday's announcement to temporarily base equipment in the countries fell short of expectations that equipment would be stationed there permanently.
The U.S. decision to place heavy vehicles on Russia's doorstep isn't enough to tip the balance of power along border regions, where Russian troops and firepower vastly out-number those of its Baltic neighbors. However, the plan has drawn a sharp response in Moscow, which has warned of retaliatory measures such as increasing troops near NATO territory as well as placing more missiles in the strategic territory of Kaliningrad, which borders Poland and Lithuania.
The decision is also likely to cause angst in some parts of the alliance, such as Germany, where opinions are mixed regarding efforts to strengthen NATO's position along its eastern flank.
"For German Chancellor Angela Merkel, this prospect is not a pleasant one," the influential German magazine Der Spiegel wrote in a June 19 report, referring to U.S. plans to station tanks in eastern Europe. "She shies away from publicly criticizing her American allies, but Merkel is loath to do anything that might heat up the conflict with Moscow."
While Germany has strongly opposed any effort to permanently position troops in the Baltics, the strategy of relying on a near constant presence of rotational forces and warehoused tanks is considered a way around Berlin's concerns.
For the U.S., however, a more assertive military posture is viewed as one way to send a deterrent signal to Moscow.
"We will take necessary steps in the U.S. and NATO capabilities, posture, and plans to deter Russia's maligned and destabilizing influence, coercion, and aggression, including its efforts to undermine strategic stability and challenge the military balance in Europe," Carter said during a speech Monday in Berlin. "To do so, we'll leverage strong and modern U.S. forces — the greatest fighting force the world has even known."
The U.S. announcement on tanks comes ahead of a NATO defense ministers meeting Wednesday in Brussels, where allies are expected to review plans for expanding NATO's crisis response force, which is set to double in size from 15,000 to between 30,000 and 40,000 troops.
On Monday, Carter also announced that the U.S. will be lending support to NATO reaction forces as well as a new 5,000-strong "spearhead unit" expected to answer calls for action within 48 hours.
Bombers, fighter jets, special operations troops and surveillance capabilities are among the measures the U.S. could contribute, Carter said.
The move to place tanks in the east is a marked reversal from where the Army in Europe was just two years ago, when the last Abrams tanks left Germany in connection with the inactivation of two infantry brigades.
At the time, it appeared to be the end of an era — tanks had been a fixture on the Continent since the landing at Omaha Beach in 1944. But less than one year later — in early 2014 — nearly 30 M1A2 Abrams tanks were returned to Europe for use at the Army's training grounds in Grafenwöhr, Germany.
For the U.S., Moscow's moves in Ukraine prompted a fresh look at the U.S. and NATO postures in places like the Baltics, Poland and Romania, all countries once dominated by the Soviet Union and now on edge about Russia's intentions in the broader region.
millham.matt@stripescomTwitter: @mattmillham
---
---
---
---