Car bomb hits near NATO gate at Kabul airport
---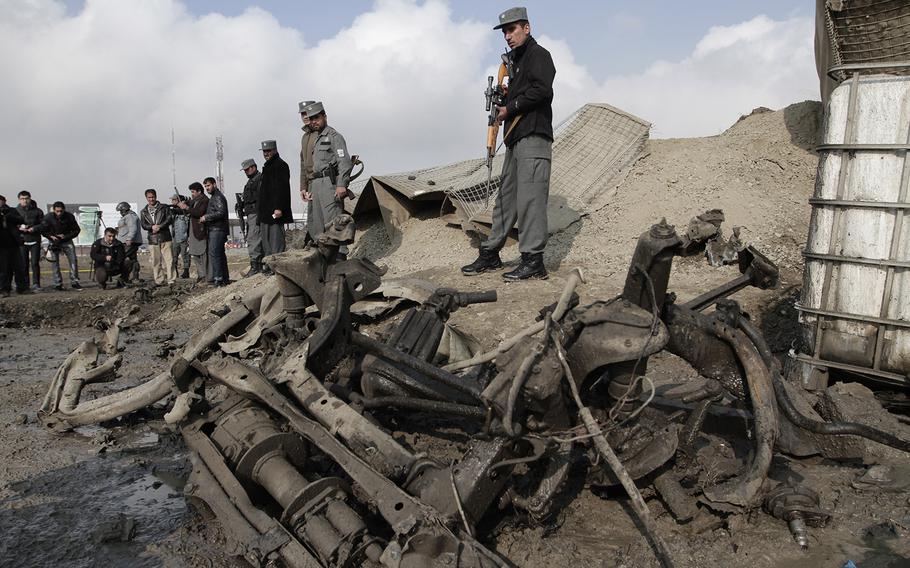 KABUL — A car bomb went off Wednesday near a gate used by NATO troops in the northern section of the Kabul airport, the Afghan Interior Ministry said.
The Taliban claimed responsibility for the pre-dawn bombing, which caused no casualties. The German military said one of its convoys returning to the facility was targeted in the explosion, which damaged two vehicles.
The entire convoy, including the damaged vehicles, was able to continue to the airport, the German military said.
The Kabul airport has both a civilian and a military section and the explosion occurred on the military side, said Afghan police Gen. Sayed Ghafar Sayedzada, chief of the criminal investigations department.
Taliban spokesman Zabihullah Mujahid said in an email to media the attack was a suicide bombing against foreign forces in Afghanistan.
Attacks on Kabul's airport are rare. The last time such an attack happened was in June, when seven Taliban fighters, armed with rocket-propelled grenades and machine guns, assaulted NATO's operational headquarters at the airport. All seven were killed.
---
---
---
---