British man who found a US soldier's WWII dog tag is on a mission to return it
by
Christopher Dennis
September 12, 2019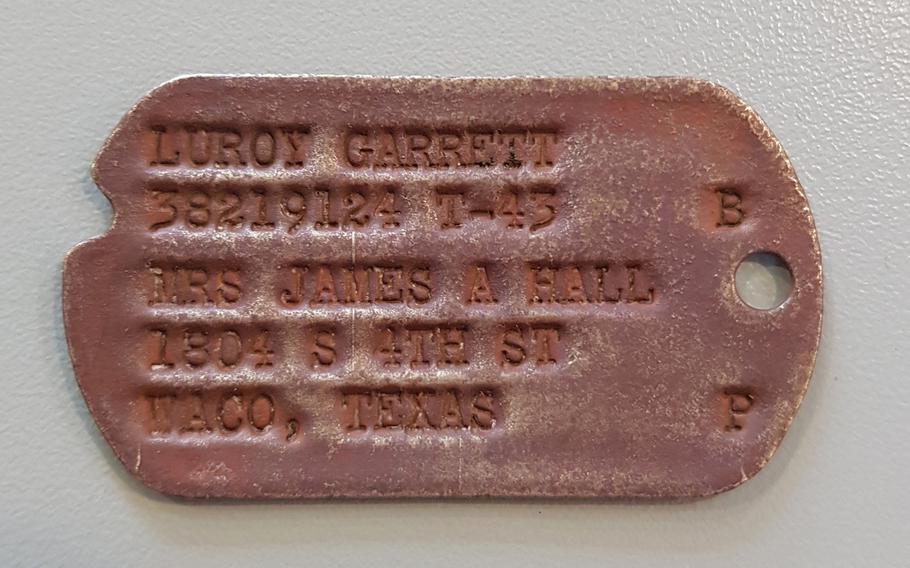 OXFORDSHIRE, England – A British man who found an American soldier's World War II identity tag near an Oxfordshire hotel is trying to find the servicemember's relatives so he can return it.
Kevin Huckins found the ID tag two years ago in the woods near Eynsham Hall, which served as a rest and recuperation center for U.S. Army Air Forces personnel during World War II.
"I cleaned it off and stuck it in some olive oil for nine months. Then, I could read it," Huckins told Stars and Stripes.
The tag bears the name Luroy Garrett, his army serial number, the date of his last tetanus injection, and the name and address of next of kin – Mrs. James A. Hall of Waco, Texas.
Huckins got in touch with newspapers in Waco more than a year ago to try to make contact with any still-living family members of the man on the ID tag, but has had no response.
A few weeks ago, he heard an interview with staff at the Soldiers of Oxfordshire Museum and called them about the tag.
The museum posted on its Facebook page last week that it was trying to help a man who'd found "an American soldier's WW2 identity tag … and would love to return it to the soldier's family."
"Usually when we put stuff on social media, we don't get a good response, but for this, we had an amazing response," the museum's deputy director, Peggy Aimsworth, said.
The museum has been contacted by several media outlets and individuals in Waco, all trying to help find relatives of the owner of the ID tag.
A man who commented on the post said an online search on WWII U.S. Army Enlistment Records, using the service number on the tag, tied the ID to Luvoy Garrett, an African American soldier who was originally from McLennan, Texas.
Aimsworth found information from 1940 that indicated that a man named Leroy Garrett had been a janitor at a medical facility in Waco and lived in the Texas city with his wife and infant son.
And a woman currently living in Waco, Nicole Hoxie, posted on the museum's Facebook page that her research had shown that Garrett had three grandchildren, who she was trying to track down.
Huckins said he felt heartened by response.
"Many may not feel like I do, but I'd like to have owned the tag if it was my grandfather," said Huckins. "It would be something to hold in my hand."
dennis.christopher@stripes.com Twitter: @chrisbdennis