Breedlove: NATO would respond militarily to any infiltration of member state
By
John Vandiver vandiver.john@stripes.com
August 18, 2014
---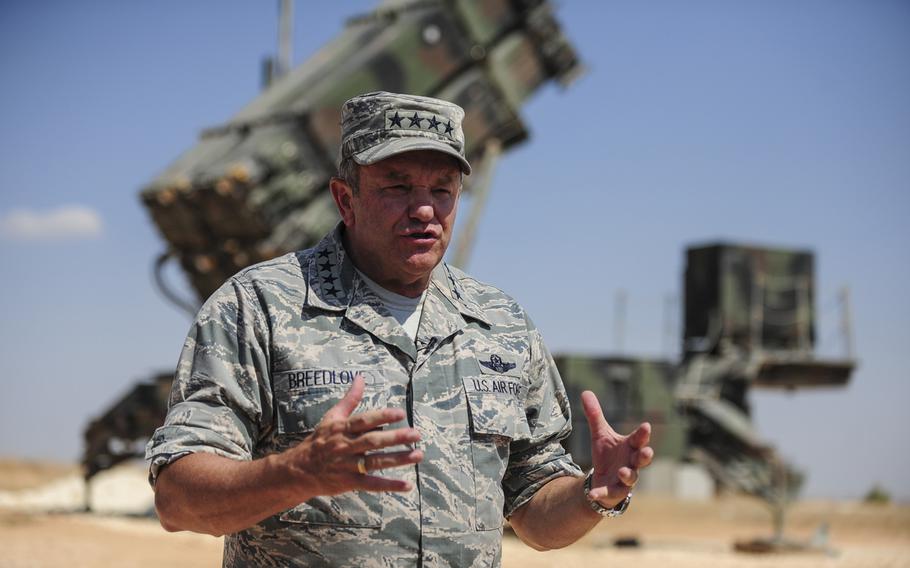 STUTTGART, Germany — A NATO military response would be required if Moscow secretly sent personnel, with or without Russian military uniforms, into a member state as it did during its takeover of Crimea earlier this year, NATO's top officer said.
"If NATO sees foreign forces infiltrating its sovereign territory, and if we can prove it comes from an aggressor nation — then that's Article five," Gen. Philip Breedlove said in an interview with the German newspaper Die Welt. "That means a military response to the actions of the aggressor. Therefore, we have to expand the internal national capabilities to identify such a move and to deal with it."
Article 5, the linchpin of the alliance's founding treaty, ensures that an attack on one member demands a collective response from all. Breedlove's latest comments come as NATO is preparing for a summit next month that will, in large part, focus on shifting the 28-nation alliance's attention back to potential threats inside Europe.
Breedlove, NATO's supreme allied commander and head of U.S. European Command, has said NATO must take into account Russian actions in Ukraine as it prepares for future threats.
Western officials have accused Moscow of arming pro-Russian militants in eastern Ukraine and dispatching Russian military personnel to the country. In the case of Ukraine's Crimea peninsula, Russian President Vladimir Putin initially denied Russian military were present in the country, only to admit it later as Russia formally annexed the region in March.
Breedlove said NATO must be ready to counter such unconventional tactics, which NATO'S eastern member states fear Russia could deploy in areas with large ethnic Russian populations, such as in the Baltics.
"The most important thing is that NATO nations are prepared for the so-called little green men," said Breedlove, referring to the armed military without national insignia who create unrest. "We've seen this in eastern Ukraine ... And there is a danger that it also could happen in other East European states. Therefore, we have to train the police and army there in such a way that they can deal with this kind of challenge."
Late last month, Breedlove echoed those concerns, saying allies must take into proper account unconventional threats such as cyberwarfare and irregular militia operations.
"It is illustrative for us to look at this form of warfare we're seeing from Russia and how we will react to it in the future," Breedlove said at the time.
---
---
---
---