Breedlove: NATO examining role in Aegean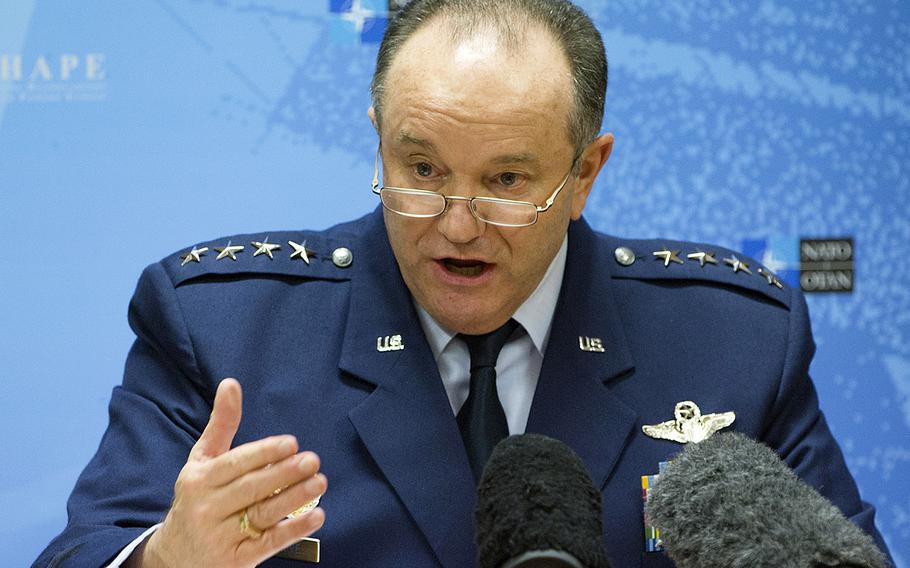 MUNICH — NATO will examine how its warships in the Aegean Sea should respond if confronted with suspected Islamic State militants plying the waterways, NATO's military chief said Saturday. That raises the prospect of alliance firepower being injected into a mission now focused on intelligence and surveillance.
On Thursday, NATO agreed that it would send a maritime group under German command into the Aegean to help stop people smugglers preying on the desperation of refugees, mostly from Syria, trying to cross from Turkey to Greece. The decision was in response to a request from Turkey, Greece and Germany, all nations strained by the flood of refugees.
But questions remain about rules of engagement and how allies should act if confronted with a threat.
"Now what we owe back [to NATO leaders] is a concept of operation that will lay out in much more detail how we will react in the future," Gen. Philip Breedlove, NATO supreme allied commander in Europe, said on Saturday.
Breedlove, speaking to reporters on the sidelines of the annual Munich Security Conference, said five NATO ships are now in the Aegean Sea, having arrived late Friday to take up a mission aimed at curbing illegal trafficking of migrants.
"This area is hard to survey, hard to understand and characterize where these criminal flows, where these trafficking of migrants is happening."
While the mission is now one of reconnaissance and surveillance — NATO's prime role is to provide intelligence to Turkish and Greek coast guard policing the Aegean — there are fears that militants also could mingle into heavily trafficked points of transit.
NATO hasn't spelled out its specific concerns, but as the Islamic State comes under financial pressure, the business of human trafficking could prove lucrative. It also could be a means for delivering fighters to Europe. "If tomorrow or day after Daesh does smuggling activities itself, what will then be our response? How will we react if this is the case?" French Defense Minister Jean-Yves Le Drian said at the conference on Friday, using an alternative name for the Islamic State. "This is a completely new threat. It is a very sensitive issue indeed."
Meanwhile, Breedlove said he expects more ships soon to be added to the NATO maritime mission. The general also lauded the fast movement of naval forces now conducting operations, saying it is a sign of NATO's ability to make rapid operational decisions.
"We have made great improvements in our militaries' speed of response," Breedlove said.
NATO also is working on plans to build up its surveillance capability along the Turkish-Syrian border, where both Syria-bound fighters and fleeing refugeescross.
As allies seek to contain the largest refugee crisis facing Europe since World War II, leaders also must find ways to ensure desperate civilians have safe passage rather than relying on traffickers capitalizing on their desperation, defense officials said.
"We must make sure the smuggling networks are destroyed," German Defense Minister Ursula von der Leyen told the conference Friday. "It is not the survival of the fittest."
Breedlove, who is expected to retire later this year after three years as NATO's military chief and head of U.S. European Command, said the alliance is better positioned to deal with threats to the south as well as a resurgent Russia.
But challenges in Europe remain, particularly with Russia, Breedlove said.
"It is clear Russia remains a nation that continues to move forward with a strategy to fundamentally change internationally accepted norms," Breedlove said. "They are not seeking to disobey the rules. We think their desire is to rewrite them completely."
On Saturday, Russian Prime Minister Dmitry Medvedev accused NATO, with its increased focus on building its presence near Russia's borders in the Baltics, of sparking a new Cold War.
Breedlove dismissed the charge.
"We don't look at what is happening as a Cold War and NATO doesn't want to return to a Cold War," Breedlove said. "NATO is a defensive alliance."
---
---
---