Army to transfer just one brigade from Germany to States
by
Geoff Ziezulewicz
April 9, 2011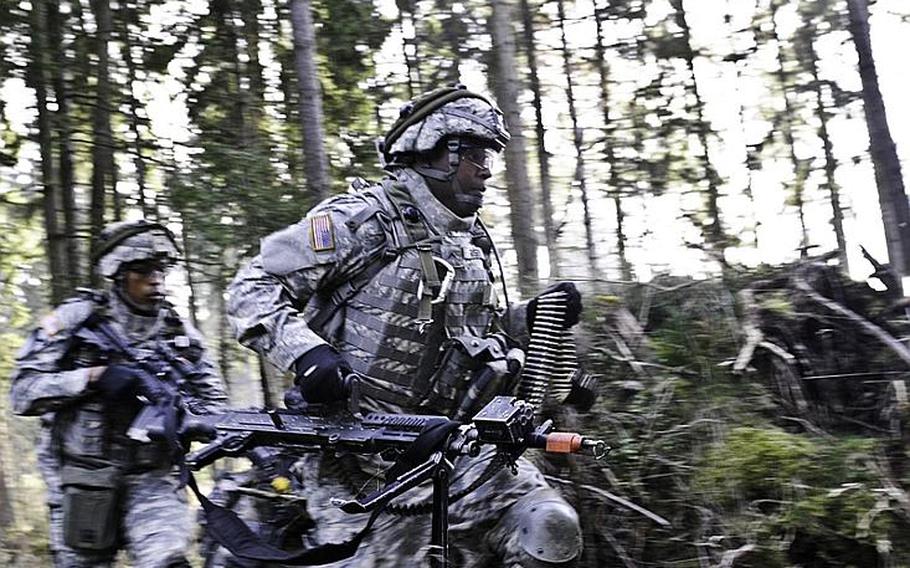 The Army will return one Europe-based combat brigade to the United States in the coming years, not two as previously announced, the Pentagon said Friday.
Since 2004, the Defense Department has been planning to transfer two of its four combat brigades in Europe to the States as part of a larger post-Cold War drawdown. But based on a White House review, NATO's plans for the future and the "broad range of 21st century challenges," officials decided that three brigades would stay put, according to a DOD release.
The fourth brigade will leave Europe in 2015, when the Pentagon expects "a reduced demand on our ground forces," the announcement states.
It has not been decided which brigade will go, according to U.S. Army Europe.
The command oversees the 170th Infantry Brigade in Baumholder, the 172nd Infantry Brigade in Schweinfurt, and the 2nd Stryker Cavalry Regiment in Vilseck, all in Germany, plus the 173rd Airborne Brigade, which has troops both at Bamberg and Schweinfurt in Germany, and Vicenza, Italy.
The Pentagon release announcing the decision states that USAREUR will retain an airborne, Stryker and "heavy" brigade. That appears to mean the 2nd SCR and 173rd will stay put, while either the 170th or 172nd will head home.
Friday's long-expected announcement continues the military's slow but steady shift from its Cold War posture, when roughly 400,000 U.S. troops were stationed in Europe to keep the Soviet Union at bay.
In the last five years, the military has consolidated its overseas bases into five main hubs. And last year, it announced the closure of 22 Army installations between 2010 and 2015.
Today, roughly 80,000 U.S. troops remain in Europe, U.S. European Command head Adm. James Stavridis told the Senate Armed Services Committee earlier this year. About half are assigned to the Army, according to USAREUR's website.
Moving a brigade back to the States will cut U.S. forces in Europe by about 5,000 personnel.
The three remaining brigades will complement other post-Cold War military capabilities in Europe, according to the Pentagon. These will include the forward-deployment of Aegis ships, land-based missile defense systems in Poland and Romania, "forward-stationing of special operations aircraft" and a permanent aviation detachment in Poland.
"Taken together, these measures will enhance and rebalance the U.S. force posture in Europe to make it more capable, more effective, and better aligned with current and future security challenges," according to the Pentagon announcement.
"Europe is a strategic location from which we can support operations throughout this hemisphere, while we work with our allies and partners," Lt. Gen. Mark Hertling, USAREUR's commander, said in a statement Friday. "Our goal is to be postured to respond to the wide range of challenges emerging in the 21st century."
Some critics say the U.S. military presence in Europe remains too high and should be cut even further.
"The Second World War is long over, the Cold War is over, what the heck are we still doing in Europe?" U.S. Sen. Joseph Lieberman asked Stavridis during congressional testimony earlier this year.
Forces stationed in Europe reassure allies, deter regional threats, build partnerships and make operations from Afghanistan to Libya easier, said Stavridis, who is also NATO's commander.
Aside from the strategic question, proponents say a drawdown would help save money for the increasingly cash-strapped U.S. government.
A 2010 plan developed by a congressionally appointed committee found that cutting one-third of the U.S. military presence in Europe and the Pacific would save roughly $80 billion over 10 years. Defense Secretary Robert Gates has said he wants to cut Pentagon spending by $100 billion over five years.