Army ranges in Europe need upgrades to meet more demanding marksmanship standards
by
John Vandiver
September 3, 2019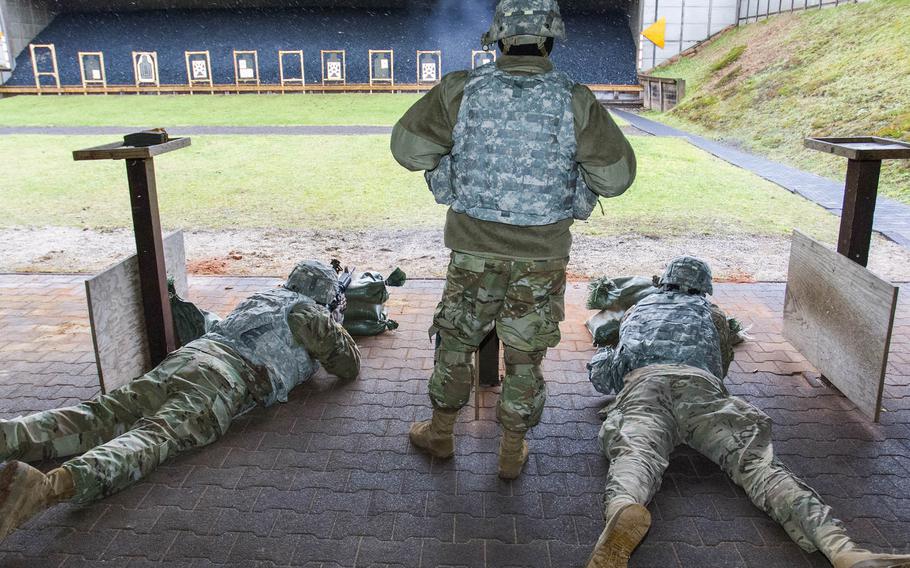 STUTTGART, Germany — The U.S. Army expects to know soon what changes must be made at ranges in Europe to meet new, more demanding marksmanship training requirements for soldiers, service officials said.
Assessments are ongoing and needs should be clearer in the coming weeks, U.S. Army Europe said, following the announcement last month of a revamped small-arms training test designed to better prepare all troops, regardless of their jobs, to shoot accurately while under duress.
"Just like those in the United States, some ranges in Europe will require modifications over the next year to meet the new requirements," said Elisia Lukasik, a USAREUR spokeswoman.
USAREUR hasn't yet determined which locations may need changes.
The U.S. maintains ranges throughout Europe, including the sprawling Grafenwoehr Training Area, where thousands of soldiers are based and others rotate through for training. The ranges also support the Germany-based 2nd Cavalry Regiment and the Italy-based 173rd Airborne Brigade.
Units around Europe also may need to be outfitted with larger ammunition stockpiles to meet the increased training demands, USAREUR Command Sgt. Maj. Rob Abernethy said.
"I am optimistic about (the new training)," he said. "I think it is the right direction, and I am looking forward to making modifications to make sure we in U.S. Army Europe are resourcing the soldier that is going to be taking part."
The new marksmanship standards will be rolled out next month and must be met by October 2020. Among the changes: soldiers will be tested on whether they can rapidly load and reload as they would in combat, and they'll need to quickly switch firing positions and make snap decisions on what targets to hit. Other new requirements include demonstrating proficiency in night combat conditions and simulated chemical attacks.
The Army said it also is eliminating timeouts when weapons malfunction during testing.
The new standards also require units to use indoor and electronic firing ranges as more affordable aids to instruction, rather than just relying on outdoor ranges.
The Army has Engagement Skills Trainers — an electronic system that enables soldiers to train virtually — in Europe, USAREUR said.
vandiver.john@stripes.com Twitter: @john_vandiver