Army DFAC provides familiar food, surrogate family for troops in Germany on Thanksgiving
by
Will Morris
November 22, 2018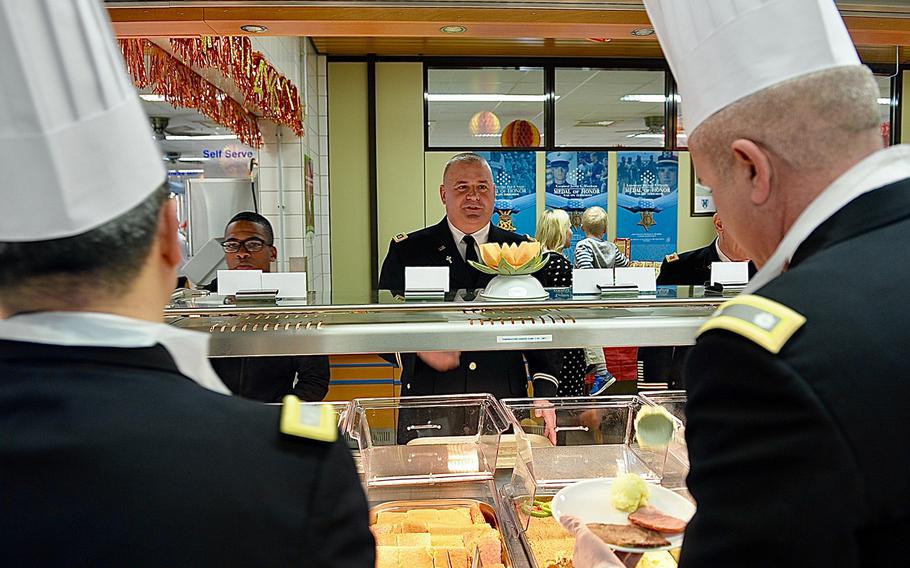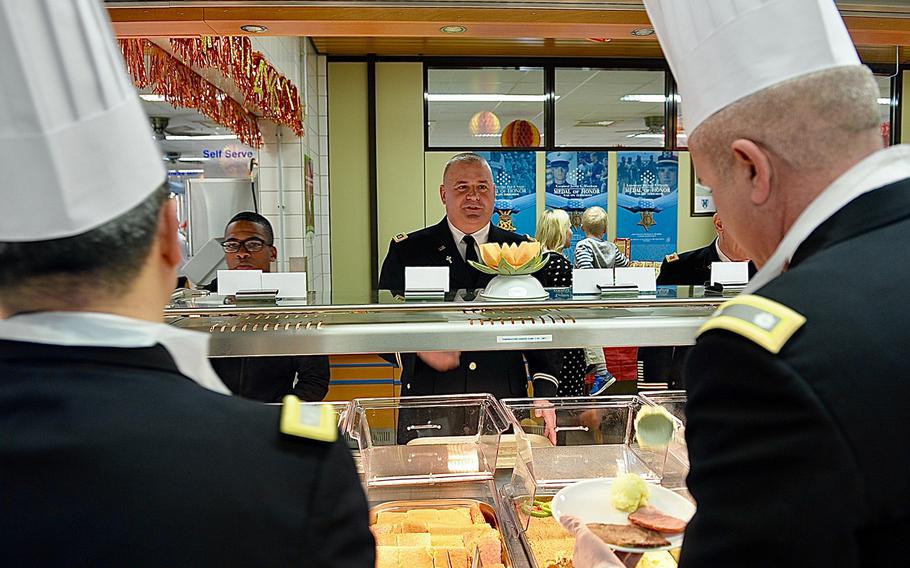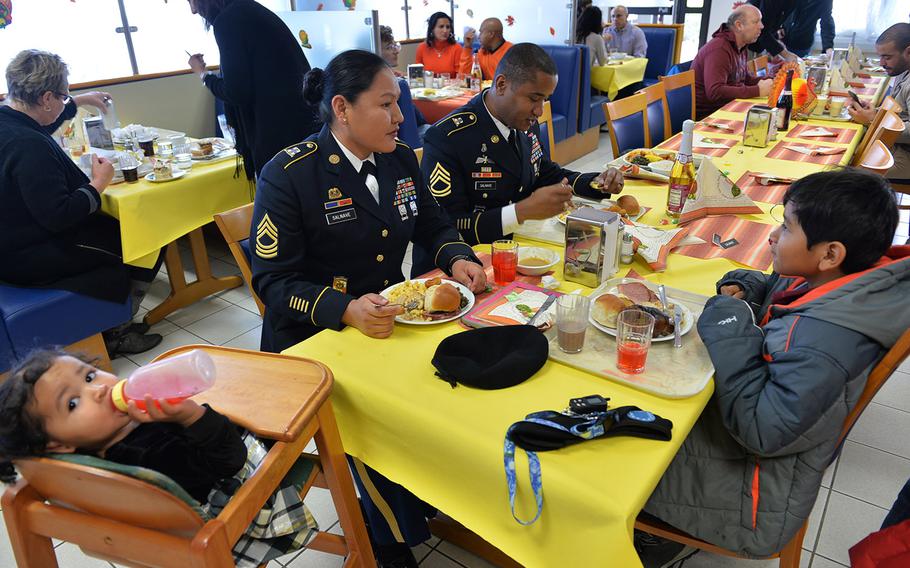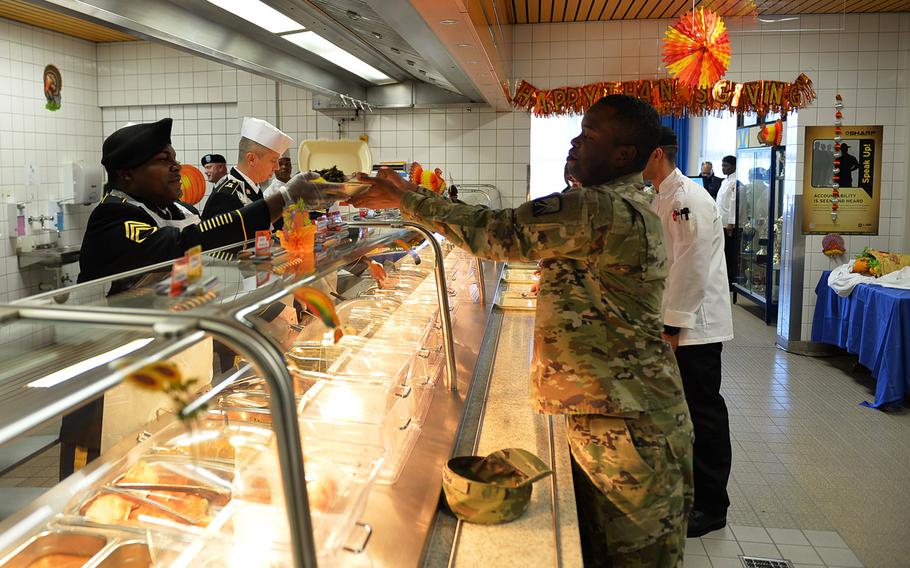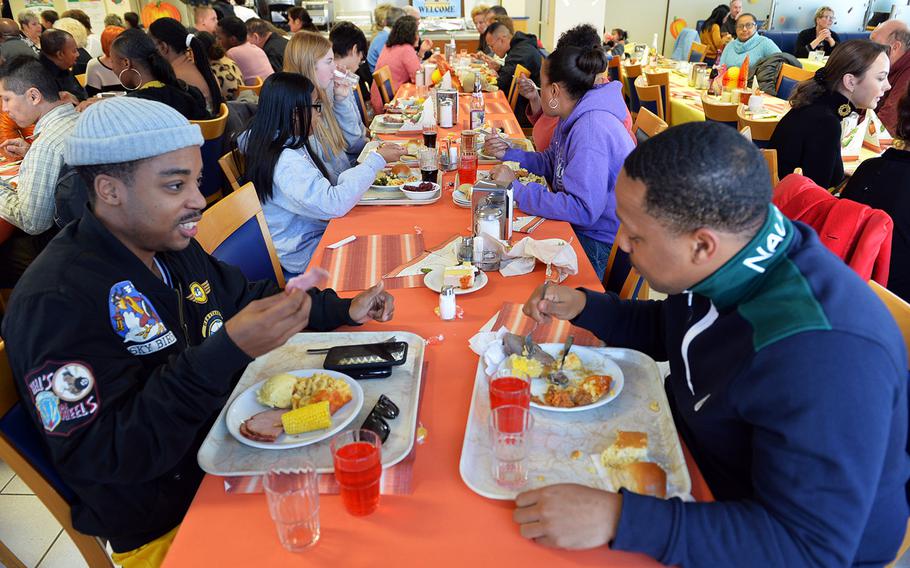 KAISERSLAUTERN, Germany — For the cooks at the Clock Tower Cafe on Kleber Kaserne, Thanksgiving Day is game day, a day they bring all their skills to bear and lays out a feast designed to accomplish one mission: make troops forget for a moment that they aren't home.
It's also a chance to show off a little and despite the work involved in pulling it off, Army cooks look forward to it all year, said Sgt. 1st Class Timothy Morris, who leads the DFAC — or Dining Facility to the uninitiated.
"This is a reward for us, it's a time to showcase our talent as culinary specialists and give back to the community. We like to showcase a meal for some of them who are not at home, away from family and miss family and friends," Morris said.
The entire operation complete with multiple ice sculptures and two ceremonial cakes took about three months to plan and three days for the soldiers and civilian staff of the DFAC to prepare. The feast laid out was, as is tradition, indulgent enough to seriously impress.
All the suspects and a few surprises were present — a massive broiled leg of beef, prime rib, baked ham, pork hocks, baked stuffed fish, fried shrimp, corn on the cob, sweet potatoes, mashed potatoes, Lyonnaise carrots, mac and cheese, dressing, corn bread, green bean casserole, rolls, a desert tray that would send anyone into a diabetic coma and a complete salad bar. Oh, and turkey, lots and lots of turkey.
And as also is tradition, officers and staff NCOs in their dress uniforms served the food.
Two soldiers from the base said they were grateful for all the effort.
"I think it's pretty dope that they took their time and put it together," said Pvt. Toure Watson, of the 635th Movement Control Team. "I think this is really good for first timers in Germany to help them being here."
Unaccompanied Soldiers weren't the only ones in attendance at the dinner. A large number of Germans were present and numerous Army families who opted to let the DFAC do the Thanksgiving work for them were there as well.
Sgt. 1st Class Stephane Salnave his wife Master Sgt. Karie Salnave served troops on the line, but took the time out to eat with their infant daughter and son.
Nigel, 7, had already taken liking to Army food. He said he liked the DFAC Thanksgiving Dinner better than at home.
"Well, we're a family, so we have to be honest."
morris.william@stripes.com Twitter: willatstripes