Armor units outperform airborne, Air Force and Navy in deterring aggression overseas, report says
by
John Vandiver
February 6, 2020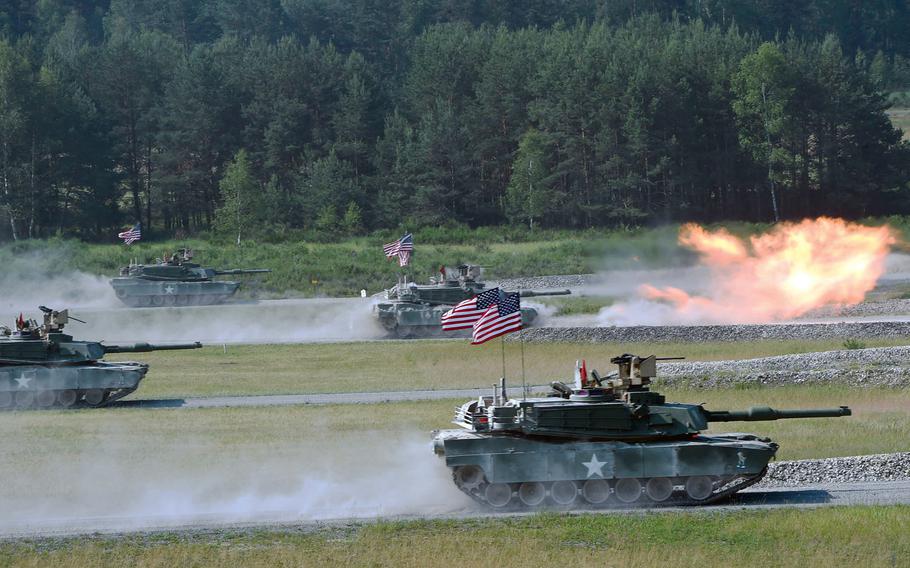 STUTTGART, Germany — Ground troops based overseas with tanks and artillery are better at preventing conflict than their light infantry counterparts, a study said after examining more than 70 years of military deployments to determine what best deters adversaries.
In its report – "Understanding the Deterrent Impact of U.S. Overseas Deployments"– the research group Rand Corp. also found that when the military surges forces toward a flashpoint, it's rare for fighting to break out.
"Despite these risks, the historical record suggests that very few crises escalate when the United States deploys forces to the crisis region … These effects are particularly strong for ground forces, where no crises have escalated to major confrontation or war, and for air forces, where only one crisis has escalated," the report said.
The clearest evidence for achieving deterrence was connected to "heavy ground forces," which included armored units and those with air defense capabilities.
"The effects of these two types of forces were almost consistently positive, strongly statistically significant, and robust to multiple model specifications," the report said.
There was less evidence to show that mobile, rotational forces deter as effectively. A possible reason is they "represent a lesser degree of high-level or long-term U.S. commitment or possibly because measuring their effects is more difficult," the report said.
Light ground forces, which include airborne and special operations units stationed inside the borders of the ally or partner to be defended, could be counterproductive to deterrence, Rand said. Those units were "associated with an increased likelihood of militarized disputes, including those of both lower and higher intensity, though not including war," the report said.
Rand said more analysis is needed to understand why that could be the case, but one possibility is that light forces represent "a more rapidly deployable capability that provokes U.S. adversaries without representing sufficient capabilities to deter."
The analysis also showed "little, if any, evidence for the deterrent impact of air and naval forces," the report said.
"Because air and naval forces can be relatively easily redeployed between theaters, their presence represents a weaker signal of commitment," Rand said. "Similarly, ground forces' vulnerability when stationed overseas also represents a strong signal of resolve."
The Rand report comes as the Pentagon is reviewing whether commands overseas are resourced to deal with the military's top priority of countering China and Russia, even as thousands of troops remain on alert in the Middle East amid tensions with Iran.
For decades, the value of basing large numbers of troops overseas has been a source of fierce debate among security analysts, policymakers and some lawmakers, who have questioned the costs of maintaining big bases abroad.
In military circles, the discussion centers on whether it's better to rely on a rotational model that moves large numbers of U.S.-based troops back and forth overseas, or to instead support permanent bases.
Other analysts contend that long-range strike capabilities are enough to deter aggressors.
vandiver.john@stripes.com Twitter: @john_vandiver
---
---
---