Another child accosted at base in Germany; incident reported in UK
By
svanj@estripes.osd.mil Jennifer H. Svan
May 31, 2012
---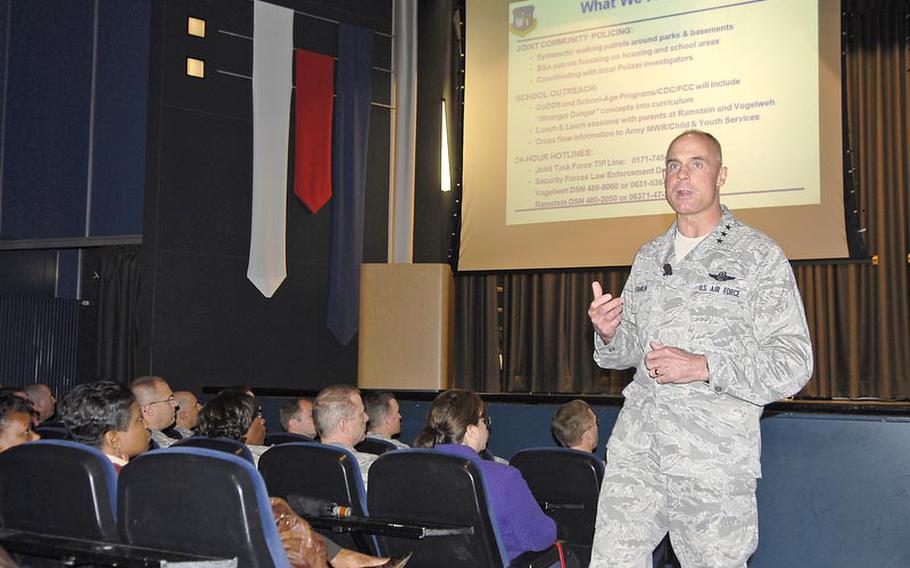 KAISERSLAUTERN, Germany — Despite heightened security on Kaiserslautern-area military bases following two reports of child molestation and an attempted child abduction, Air Force officials said another attempted abduction was reported Wednesday.
In addition, officials at Royal Air Force Lakenheath in the United Kingdom are urging parents there and at nearby bases to be vigilant after an American boy reported an incident while he was walking off base May 2, though officials said there were conflicting accounts of what happened and it was not clear whether it was an attempted abduction.
In Kaiserslautern Wednesday, an 11-year-old boy reported that a man in an Army uniform tried to grab him at about 4:30 p.m. while he was walking alone on the side of Vogelweh that houses Vogelweh Elementary School and Armstrong's Club, said Lt. Gen. Craig Franklin, the commander of the Kaiserslautern Military Community and 3rd Air Force.
Military investigators are treating the incident as an attempted abduction and are seeking additional information and possible eyewitnesses to confirm what happened, Franklin said.
Franklin has called two town hall meetings for Friday to inform parents of the latest incident and to update them on the investigation. The first town hall will take place at 11:30 a.m. at Armstrong's Club on Vogelweh; the second town hall is scheduled for 4:30 p.m. at the Hercules Theater on Ramstein Air Base.
Parents at a town hall meeting in early May expressed anger at not being told sooner of the earlier incidents. Franklin said he wants to "make sure the community is fully informed" and "quell any rumors."
On Wednesday, the boy reported someone tried to grab him, Franklin said. "He immediately broke away and took off," and told his parents what happened.
Law enforcement officials were on scene within minutes of the parents reporting the incident, Franklin said, noting security forces have increased base patrols, including by foot and bike over recent weeks in the wake of the earlier incidents.
The base was immediately locked down, with gate sentries stopping vehicles and checking the identification of all drivers exiting the base, officials said. No suspect was apprehended, but, "based on information from the young boy, we do have some leads that we're looking at," Franklin said.
In the other incidents in Kaiserslautern — two reports of child molestation and one attempted child abduction — the victims were young girls, offiicials have said. They did not all report the incidents right away; in one case, months elapsed between the alleged incident and the reporting, officials have said.
The boy described the suspect as a white male with brown hair in a military-style cut, wearing an Army uniform, Franklin said. While this is similar to suspect descriptions made in previous incidents, Franklin said investigators don't know whether the cases are related.
Air Force officials don't think the incident reported near Lakenheath is related to those in Germany.
"I do not think they are connected," Franklin said, noting the U.K. incident occurred off base and the description of a possible suspect "that I know of does not match these incidents" in Kaiserslautern.
In a story posted last week on Lakenheath's website, Tech. Sgt. Michael Price, 48th Security Forces provost noncommissioned officer, was quoted as saying "a van pulled up next to a student walking home and tried to pull the individual into the vehicle. The student fought back, pushed them off, took off running and got away from the situation …" On Thursday, that story was removed from the website due to the possibility of conflicting information, Lakenheath public affairs officer 2nd Lt. Lyndsey Horn said.
Nicola Atter, a press officer with the Norfolk Constabulary, said local police are investigating the incident as a possible accosting or harassment. She said there's not enough evidence yet to deem it an attempted child abduction. Atter said, according to the report from an emergency phone call, a person exited a vehicle and yelled at a child. The child then felt that his backpack was being pulled, and was able to run away.
Schools have since implemented security measures similar to those in Kaiserslautern, including identification checks and raising awareness, said Bob Purtiman, spokesman for Department of Defense Dependents Schools-Europe. He said bus security attendants also have been advised of the incident.
U.S. Air Forces in Europe officials have not implemented any USAFE-wide guidelines or safety measures as a result of the alleged incidents in Kaiserslautern and near Lakenheath, USAFE spokesman Maj. Rickardo Bodden said Thursday.
Wing commanders in USAFE are working "with their local hosts to ensure their communities are safe," Bodden said. "There is certainly heightened awareness and vigilance" within base communities, he said.
---
---
---
---