Annual walk commemorating Battle of Bulge battalion expected to draw record crowd
---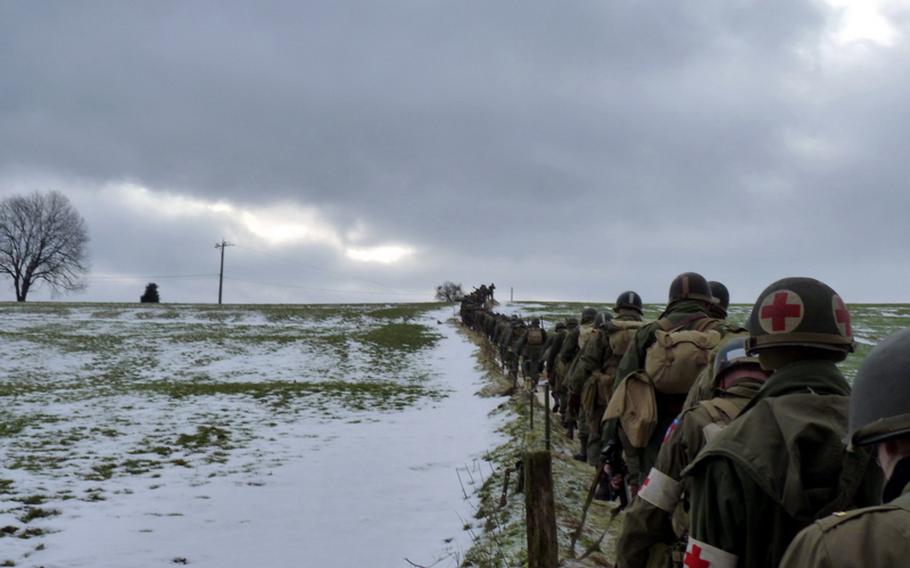 KAISERSLAUTERN, Germany — The 551st Parachute Infantry Battalion arrived in Europe with 800 men, but heavy fighting on the front lines had whittled the force down to just 250 as they headed into their last major battle of World War II.
On Jan. 7, 1945, what was left of the 551st assaulted the Belgian town of Rochelinval and wrested it back from the Germans. After the victory, about 110 soldiers of the 551st were left standing.
The unit's story isn't well known, in large part because the devastated 551st was inactivated soon after and its survivors absorbed by the 82nd Airborne Division. Emile Lacroix has dedicated decades to ensuring the unit's exploits and those of the 82nd are remembered.
For the 31st straight year, Lacroix has organized a walk that will take participants along the trails and roads the 82nd marched during its months beating back the German counteroffensive known as the Battle of the Bulge.
Lacroix is hoping this year's hike, which begins at 9 a.m. Saturday in the Belgian town of Basse-Bodeux, will break previous attendance records.
In the years since the inaugural walk in 1983, the event has grown ten-fold from about 100 participants, Lacroix said.
"This year, I think we will have more than 1,000 people."
This year's 13.6-mile walk follows the 551st and the 505th Parachute Infantry Regiment, hitting monuments and other points of interest along the way.
Starting in Basse-Bodeux, the course winds through the towns of Fosse, Petit-Halleux, Rochelinval and Dairomont before looping back to the start.
As in other years, many of the participants will be World War II re-enactors dressed in period uniforms, Lacroix said. This year, though, is expected to have a record number of actual veterans — at last count 90, he said.
"We never thought we would arrive at the 31st March and have so much people and so much importance."
The hike is similar to annual events commemorating the more famous exploits of the 101st Airborne Division in Bastogne during the Battle of the Bulge. Fighting to the north of there by the 82nd and other units, he said, was even more important to the eventual allied victory over Nazi Germany.
"Bastogne has a big reputation with the movies and everything like this," Lacroix said. "But the biggest part of the Bulge was in the north with the 82nd Airborne, the 3rd Infantry, the 13th Infantry" and other units "that are not well mentioned in all the reports."
Anyone interested in attending can register at the start line before the event. The registration fee is 6 euros, which covers emergency services, soup for lunch, hot wine at the end and a certificate. The start point is located on Rue La Coulee, a short street on the edge of Basse-Bodeaux.
---
---
---
---