Angst over Syria overshadows Munich Security Conference
by
John Vandiver
February 12, 2016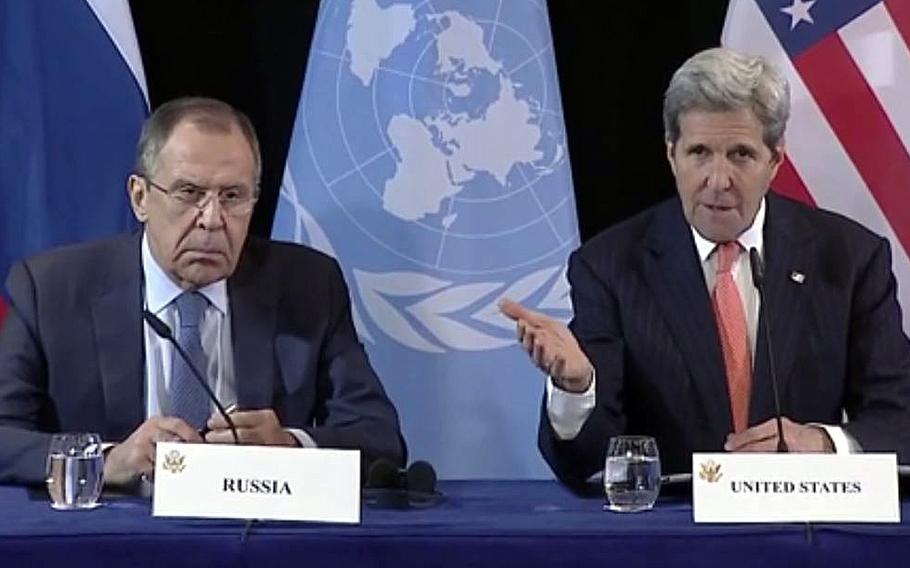 MUNICH — The Syrian civil war loomed as the most pressing issue as global leaders converged here Friday to discuss the world's security challenges against a backdrop of war, mass migration and great state rivalries.
The three-day, annual Munich Security conference opened just hours after U.S. Secretary of State John Kerry and Russian Foreign Minister Sergey Lavrov announced an agreement to work toward a cessation of hostilities in Syria within a week. But questions remained about whether all parties could be persuaded to abide by the agreement.
Lavrov said Russia would continue airstrikes against terrorist groups — which Moscow considers all rebels including those back by the U.S. — and Defense Secretary Ash Carter said the U.S. would continue its campaign against the Islamic State group, The Associated Press reported.
On the eve of the U.S.-Russian announcement, Syrian President Bashar Assad told the French news agency that any proposed truce "does not mean we stop fighting terrorism" until all of Syria is under government control.
Nonetheless, Kerry and Lavrov will likely continue to meet on the sidelines of the Munich conference as they try to cement the deal.
As a refugee crisis fueled by the Syrian war bares down on Europe, skepticism runs deep among Western leaders that a pause in hostilities can be achieved.
"Words must follow deeds," German Defense Minister Ursula von der Leyen said as the conference opened. "The announced cessation of hostilities must take effect in the streets of Aleppo," the rebel-held city under siege by Assad's forces backed by Russian airstrikes.
In Munich, some 30 heads of state and more than 70 foreign and defense ministers are assembled alongside scores of parliamentarians and security experts to debate a range of security issues that are as complex as any the West has faced since the end of the Cold War.
Jordan's King Abdullah II likened the current security environment of diffused threats to a new world war, with the conflict in Syria at the heart of it.
"We are all fighting the next war," said Abdullah, whose country borders Syria and has taken in more than 600,000 Syrian refugees. "I call this struggle a third world war by other means."
Moscow's airstrikes have turned the time of the war in favor of Assad. The U.S. believes peace cannot return to Syria until Assad is gone.
The focus on Syria amid a range of global threats marks a change from recent years in Munich, when the West seemed intent on turning away from the long wars in the Middle East and hopeful of a more peaceful time.
But the hope that marked the start of the Arab spring movements in 2011 has given way to civil wars in Syria and Libya, renewed fighting in Iraq, failed states and Europe's worst refugee crisis since World War II. While the U.S. had hoped to soon have all its forces out of Afghanistan, the American mission there continues and NATO troops will likely be in the country for years to come.
U.S. forces are back in Iraq as well, facing a new foe in the form of the Islamic State group. How to defeat the militants, who have claimed large swaths of territory in Iraq and Syria, and have begun spreading to Libya and elsewhere, also dominated the start of talks in Munich.
"We are fighting against an enemy that chose us. We didn't choose him," said Jean-Yves Le Drian, France's defense minister.
Iraq Prime Minister Haider al-Abadi said his country's forces, widely criticized for their initial failures against the Islamic State on the battlefield, are steadily improving and ready this year to take back Mosul, Iraq's second largest city, after recapturing Ramadi in Anbar province late last year.
Al-Abadi offered a bold prediction: "We intend this year to make it the final year for the existence of Daesh in Iraq," he said, using an alternative name for the Islamic State group. However, some U.S. officials have said that is unlikely to happen this year.
Adding complexity to the unsettled security landscape are Cold War style tensions with Russia, which has reshaped how the U.S. and its allies view security in Europe, once regarded as a bastion of great stability.
After two decades of cutting back militarily in Europe, U.S. tanks are back along with large numbers of rotational troops, whose task is to deter potential aggression from a more assertive Russia and reassure allies rattled by Moscow's muscular military position on NATO's eastern flank.
A U.S. plan to spend $3.4 billion on operations aimed at reassuring allies and deterring Russia — four times the amount of the previous year — signals how much the security landscape has changed.
If western hemisphere challenges are dominating the talks in Munich, China's rise and new tension with North Korea are also expected to draw attention.
As China asserts itself in the South China Sea, some American partners in the broader region are fearful of potential Chinese domination, but are skeptical of U.S. commitment to its so-called pivot to the Pacific, with so many competing challenges in the Middle East and Europe.
Other issues to be looked at in Munich are cyber security, humanitarian challenges associated with the refugee crisis and the risk posed by potential global health pandemics.